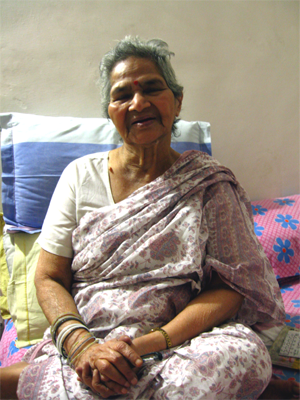 Saradamani Devi, 84, participated in India's freedom struggle when she was just 15. The feisty octogenarian lives in New Delhi in an ordinary middle-class neighbourhood still dreaming of a better India and doing her bit to make it come true.
During the Emergency in 1975, she wrote a "10 to 15 page letter to Indira Gandhi, reminding her about what all of us fought for, what her father fought for".
More recently, Saradamani joined the Gandhian Satyagraha Brigade, an organisation campaigning actively against corruption. "Every Sunday for two years the Gandhian Satyagraha Brigade sat on relay hunger fast at Rajghat," she explains. "When my turn came, I sat on fast. Our demands were for a Lokpal, confiscation of illegally acquired property, and barring persons with criminal background from elections."
Today nobody believes in simple living. Grand parties are thrown in big hotels, while so many starve! Corruption is only one of our problems. There is so much consumerism
When the Gandhian Satyagraha Brigade decided to launch a fast-unto-death earlier this year, Saradamani volunteered immediately and remained steadfast despite remonstrations from friends and family. She rebuffed them saying, "Anyway I don't have many years to live. It is better to die for a good cause!" That was how, on January 30, she sat on a fast-unto-death with four others, including 93-year-old Shambhu Dutt Sharma. Saradamani was the only woman in this group of five as they fasted all day at Jantar Mantar drinking only a few sips of water even as 30,000 people demonstrated against corruption. That evening Kiran Bedi and Swami Agnivesh pleaded with the fasters, saying, "30,000 people have taken over your fight. We want you to live! Younger people will carry on the movement."
Saradamani says, "We agreed and postponed our fast by three months." The anti-corruption campaign continued, with Anna Hazare going on fast and the Union government agreeing to fast-track the anti-corruption Lokpal Bill process.
While the mainstream media focused on some important figures on the stage, Saradamani and her colleagues were overlooked. But it is fitting to acknowledge that it was they who had led the movement, preparing the ground for it over time.
Saradamani's association with such struggles goes back to 1941. Says she, "My mother came to Wardha that year to head the Mahila Ashram – the centre for destitute women. In 1942 she called me to Wardha from Madras, where I was studying. Every Sunday, Amma went to Sewa Ashram in the morning, joined Bapu on his walk, and talked to him about the Mahila Ashram. She stayed there until evening."
Saradamani reminisces, "Once we were eating lunch with Bapu. It was on pattals (leaf plates). I still remember the dal, roti, jaggery. My younger brother Sirish was running around and he fell on Bapu. Bapu's food got splashed all over. Bapu laughed, then went to change his clothes. Ba (Kasturba) also found the incident amusing and cleaned up the place, while Amma cleaned up Sirish!"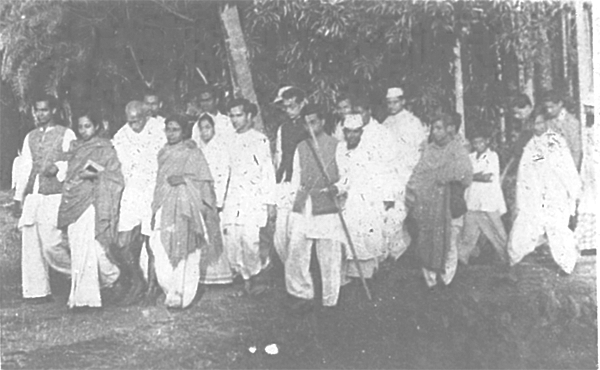 Gandhiji in Noakhali.
Gandhi was the first person to breach the private and public world of women
- because the Gandhi aura was attached,
country-wide protests saw active participation of women.
During the Quit India Movement Saradamani was given some responsibilities. "Aruna Asaf Ali, Usha Mehta and Jayaprakash Narayan ran a secret broadcasting service from Bombay. Mahila Ashram and Sewa Ashram were sealed so we shifted to a sympathiser's home. Every night we heard the broadcasts and made 50 to 60 copies of them by hand. There were all kinds of news. For instance, in Cochin, children were taking out processions and shouting 'Vande Mataram'. Soldiers killed the child carrying the flag. Another child took it and he was shot too. Five children were killed and the soldiers refused to shoot any more…. At 4 am, breaking curfew that was on until 6 am, we would throw news sheets into people's houses. We also hoisted flags in crowded areas, shouting 'Mahatma Gandhi ki jai!'"
Although Saradamani was very young at the time, she too was arrested near Wardha Railway Station along with five others, and taken to Wardha sub-jail. She still remembers how it smelt of rotten onions, "We were given bajra roti and dal (lentils) infested with insects. By August-end, there were 70 of us. The cell where we had to gather every evening was so tiny we couldn't even lie down. Then the jailer came up with a list carrying the names of prisoners to be taken to Nagpur Jail. The list had only women in it, all of them below 21. Our elders, Rehana Tyabji and others, said, 'We will not allow this. We've heard that our young women are taken to jungles and raped'. I was 15. Manu Gandhi, Bapu's granddaughter, was 14, Sarojini, an Assamese child widow, was 14. Despite the protest, all 70 of us were taken to Nagpur Central Jail and placed as 'C category' prisoners. Nearly all of us contracted diarrhoea. Protests followed and our category was changed to 'B', which meant we could cook our own food."
Saradamani goes on, "There were six children in jail with their mothers, in the criminal section. We taught them reading, writing, spinning, dyeing, and making flags. Every morning we hoisted flags and sang. The jailer was British. I think his name was Forester. He changed his duty timings so he wasn't around during the flag-hoisting!"
In May 1943, the children were released. Saradamani went to her father's place in Adoor, Kerala, where her maternal grandmother also lived. Her desire to study was further thwarted. Since she refused to promise to keep away from politics, she didn't get admission into any college. That October her mother was released and in January 1944 they returned to the Mahila Ashram. Because Saradamani suffered from a chronic backache, her mother sent her to Bombay for treatment. Here too she could not help but get involved. "On January 26, we raised flags, shouting `Mahatma Gandhi ki jai!' and went to a police station to place a flag. They promptly arrested us and took some 20-25 of us women to Arthur Road Prison."
Taken for trial after a fortnight or so, they were asked for their names. Saradamani recalls what happened next, "Each of us gave 'Azad Hind' as our name! We were given 15 days' of simple imprisonment and were released on February 22. It so happened that on that very day Kasturba Gandhi died, so we gathered at Chowpatty to sing 'bhajans' (hymns). The police arrested us and brought us back to Arthur Road Prison. Seeing us, the woman in charge exclaimed, 'You left just this morning and you're back again!' They released us the following day."
Back in Wardha, Saradamani began teaching at the Mahila Ashram, after joining Nagpur University as a private student. In 1944, Mahatma Gandhi returned from jail and he too would visit the Mahila Ashram. On one occasion he was very annoyed to notice that a rangoli laid out for him was made up of dal. Saradamani's mother hurriedly assured him that it will be cooked for that night's meal and he was appeased!
Saradamani recounts, "Another time we performed a drama for him. It had one character shouting, 'Gandhi ko bulao!' ('Call Gandhi!'). Before we knew it, Bapu himself had got up and was walking towards the stage. Fortunately, he caught sight of the actor who was playing him coming to the stage and sat down! I too was playing the part of Bapu in that particular play, and can never forget what he told me when I went to get his blessings later, 'You have become Bapu yourself now!' he said."
Saradamani has tried to live her life bearing those words in mind in an age when people have all but forgotten the Mahatma. She muses, "Today nobody believes in simple living. Grand parties are thrown in big hotels, while so many starve! Corruption is only one of our problems. There is so much consumerism."
What worries her most is that cricketers and film stars have become the role models of the young, not a moral giant like Mohandas Karamchand Gandhi.

By arrangement with WFS