When Jaisree Misra looked around the audience that had gathered at her book-reading session in Kottayam, the overriding expression on her face was surprise: "How come there are so many school girls here? I hope they are not reading my books!"
Clad in a simple white salwar-kameez, sporting minimal jewellery and even less make-up - her only up-beat accessory being bright red toe nails - Misra could easily pass off for your typical young mother at a PTA meet. But once this popular writer started reading out from her latest book, 'A Scandalous Secret', she had the packed audience hanging on to her every word. In rapt attention they sat, as Misra introduced her angst-ridden protagonist Neha, a British-born adopted girl of semi-Indian origins, who is dreading her first trip to India to meet her biological mother. 'A Scandalous Secret' is part of the Secrets trilogy that includes her earlier published works, 'Secrets and Lies' and 'Sins and Secrets'.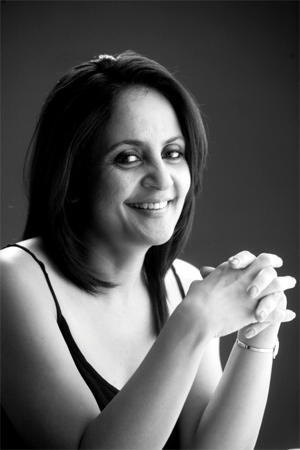 Unassuming, earthy and extremely articulate, Misra has a take on many things and doesn't shy away from answering uncomfortable questions, even when they pertain to her writing. She is surprised when even today, many years after her autobiographical debut novel 'Ancient Promises' was published, "people come up to me and ask me about events in [in the novel] that I have sometimes no recollection of. I mean it's been about 10 years!" But then, as many of her fans would like to remind her, none of her novels that followed has been able to capture the emotional 'rawness' of her first work. In fact, Misra reveals that some readers have even emailed her to tell her how disappointed they were with her second novel, 'Accidents Like Love And Marriage'. "I do agree but it's not because I am incapable of writing like that again. With 'Ancient Promises', it was just me and the computer. Once that was completed, I got over my bout of confessional writing and actually felt free to be flippant," she explains.
Her next 'serious' novel was 'Rani', a semi-fictional historical narrative on the brave revolutionary, the Rani of Jhansi, which was banned by the Uttar Pradesh government for its references to the Raja of Jhansi's effeminate quirks and the Rani's own amorous ties with a British political agent. After that came the Secrets trilogy, in which she says she was at her "flippant best to appease her publishers at Harper Collins." But she admits that this is because "they sell you so well!"
"The original title for the first book in the Secrets trilogy was Golden Friends. The story was of four schoolgirls bound by a common secret shame and who arrange for a re-union when in their 30s. The story was about friendship," says Misra, "and I really liked that title." But her publishing team at Harper Collins, UK, decided it would have a far greater appeal if it was named 'Secrets and Lies'. "I comforted myself saying that at least in terms of theme, the word 'secrets' was actually apt," she adds.
Then when her agent wanted a sequel she wrote 'Secrets and Sins'. 'A Scandalous Secret' rounds up this series. "I asked if I could repeat the theme in any of these novels and my agent said that there are only seven themes in the world and that each of them has been written about," she shares. Adultery, desertion, love and loss are the most common subjects and writers these days only rehash the same old stuff in their new novels. She also admits that while she is writing she keeps a certain readership in mind. She explains, "There is a kind of aspiration reading that British publishers adhere to."
This essentially means that brand names, glamorous lifestyles, upper-class immorality that exists in Indian families straddling the two cultures of Britain and India are some of the must-haves in a novel. Misra recalls listing down designer names like Jimmy Choo and Salvatore Ferragamo from a copy of Vogue to embellish her female protagonist's Victoria Beckham kind of lifestyle in 'Secrets and Lies'. "But although we writers do have this collective moan about not having complete creative control, we also realise that we are selling extremely well," she says. And not just at uppity book stores but even at petrol pumps and super markets. Of course, the "best bit [of all the hard work] is the immense feedback from readers".
Staying on the themes and settings that appeal to her readers, Misra says she is often asked why she doesn't feature Kerala, her home state, more often, or why she chose to keep Delhi as her base. This is perhaps why in her latest novel she chose to have Neha "squeezing in a three-day trip to one of Kerala's water-spots".
However, Misra is not too keen on living in the state. "I shy away from settling down in Kerala. In fact, my husband had suggested this when we moved to Delhi. Although I do get snippets from my nieces on a growing change in the Malayali mindset, I still feel it's not a good place to be, especially if you are an educated woman," she observes. In fact, Misra's only tryst with her native state is when she visits her mother in Thiruvananthapuram.
Misra also admits that she has now completely lost touch with what's happening in her state. At the same time she cannot let go of her roots and that could be because she comes from the same family as that of Kerala's most famous writer/litterateur, Thakazhi Sivasankaran Pillai.
Thakazhi 'ammavan', as she calls him, had read the first short story, 'Raffle Ticket', she had written at 13. It was published in Deccan Herald. "My father was so excited he couldn't keep the news to himself," she recalls. Thakazhi had commented on her wonderful command over the English language. His visits to their Delhi residence were the only times their home saw heady activity. VIPs would pour in; politics, arts, books would be analysed and the living room would turn into an 'adda' (meeting point).
Now Misra is focusing on her next book. She plans to write a historical work based in London and Delhi. It will be a binary narrative, with one narrator being British. "The book will require plenty of research but the hardest part is to get yourself to sit down every day for two hours, irrespective of other demands, and just write," she says. Sometimes she finds that her mind wanders and then it becomes pointless for her to resume writing that day. But despite the bumps, Misra is fairly prolific. 'A Scandalous Secret', for instance, was written in a "tearing hurry".
But once a book is done, she never looks back. Misra has never read a book she has written after it has been published.

By arrangement with WFS