Fluoride is one such injurious element which isessential for our teeth and bones, provided it is not less than 1mg/l and more than 1.5mg/l in our drinking water. Prof. Gerald Judy Cox of Mellon Institute of US had established in 1939 the relationship between the dental health and fluoride. He found that a fluoride content of less than 1 mg/l in water caused dental caries and more than 1.5 mg/l led to mottled teeth and disfiguration and crippling of bones. Since then the US Government has been on the alert and the quality of drinking water is carefully monitored all over. If required, fluoridation of water is carried out periodically.
The scourge of fluoride has spread all over the world. The countries where fluorosis is endemic due to excess fluoride in drinking water are, Mexico, Argentina, Iraq, Turkey, Syria, Jordan, Palestine, Morocco, Algeria, Libya, Egypt, Senegal, UAE, Iran, Ethiopia, Uganda, Kenya, Tanzania, Pakistan, India, Sri Lanka, Bangladesh, China, Japan, Thailand, Australia and New Zealand.
In densely populated and developing country like India, where the quality of water is of least concern to the authorities the risk of fluorosis has become very high. Given below are some scary images from the Village of Kachhariadih, located 210 kms south of Bihar state capital Patna (May 12, 2003) where 90 percent of the village population was affected with bent backs and twisted limbs, due to 'excessive' fluoride content in the drinking water.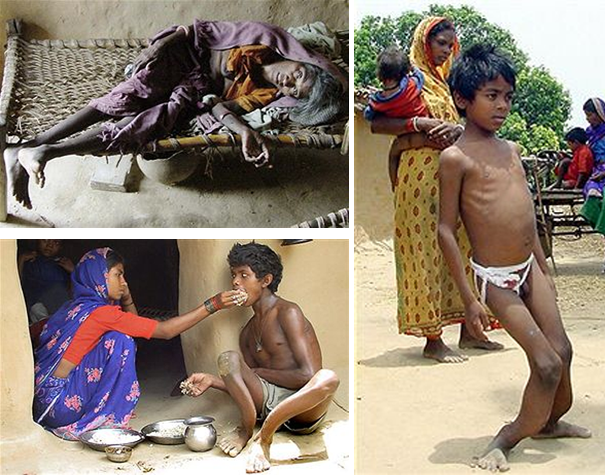 1. An elderly Indian woman suffering fluoride chemical poisoning lies on her bed.
2. Santosh Kumar Rajvanshi, 30, suffering from fluoride chemical poisoning being fed by her sister-in- law.
3. Eight-year-old Indian boy Ram Balak (C), tries to keep his balance as he attempts to stand on his feet .
A recent research work published by D. Muralidharanand his two colleagues from National Geographic Research Institute, Hyderabad says that in the semi-arid Tropical India 16 states are adversely affected by the scourge of fluoride.
The study has revealed that in the rocky terrains of South India where tank irrigation system has been in vogue since centuries, the quantity of fluoride in ground water has increased. In order to find out the root cause of the problem Muralidharan and his team selected Andhra Pradesh as their research area. In this area rain water is stored in tanks. It is also known that the rock types of the area are rich in fluoride. Water is one of the best solvent. Over a period of time the material eroded from fluoride rich rocks reaches the tanks with rain water. Quoting a CGWB study Murlidharan et al state that number of tanks account for 1.2 million, irrigating 1.8 m. ha area. Further quoting from the CGWB records, they state that nearly 60 million people in India drink water containing more than 1.5 mg/l fluoride. In Andhra Pradesh 1.27 million people drink such water each day.
Researches of Muralidharan show that these irrigation tanks act as sinks of fluoride brought by rainwater due to weathering of country rocks. The silt accumulated in the tanks is periodically removed and spread in the fields, as it is supposed to be rich in soil nutrients too. The fluoride laden silt is thus inadvertently exposed to rain or irrigation water in the fields. With water the fluoride content travels to depths and enriches the fluoride content of groundwater and reaches the humans via drinking water. Similarly fluoride rich silt supports good crops including vegetables and fruits.
Thus fluoride in excess of requirement reaches the food chain too. Consequently a larger proportion of rural population is suffering from dental and skeletal fluorosis.
The leachable fluoride content of the tank silt was found to be several folds more than the normal soil silt ofthe area. Quoting a sample survey of the tanks of South India carried out by A.Vadiyanathan, Muralidharan et al state that out of 125 irrigation tanks, 16 tanks had silted more than 50%, 51 tanks between 25% and 50%, 50 tanks between 10% and 25% and only 8 tanks had silted less than 10%. The farmers know the nutrient value of the tank silt and periodically de-silt the tanks and spread it in their fields. The practice has been continuing since ages. But now with this latest find of irrigation tanks acting as sinks of fluoride and further spread of fluoride via the tank silt on the fields has compelled the researchers to think of alternatives.
The values of fluoride via above channel are pretty alarming. Studies were conducted on the silt/soil accumulated in the tanks, percolation tanks, irrigation tank feeder channels and agriculture fields on which tank silt was spread and also the pasture land near the irrigation tanks in Nalgonda and Rangareddy districts of Andhra Pradesh. Muralidharan and colleagues found irrigation tank silt was rich in fluoride and leachable fluoride varied between 40 to 60 ppm. On the other hand silt form new tanks and pasture lands yielded more than 10 ppm fluoride. The soil of the tank feeder channel in the post monsoon period showed 12-28 ppm fluoride. This channel transports water containing the weathered material washed down from the hill slopes in to the channel. Major part of the silt/sediment these channels carry is deposited in the main tanks. From where it is periodically removed and spread on the fields. Crops like paddy and maize grown in these fields pick up fluoride content along with other nutrients form the soil. Their research further revealed that maximum quantity of fluoride is absorbed by red chilies (15.7ppm), followed by sorghum (3.6), wheat and rice (2.4 ppm each). Red chilies and sorghum are the crops which are mainly consumed by the poor people, for whom medical facilities are a far-fetched dream. It was also fund that fluoride content goes on increasing in depth. At surface it was 2 ppm but at depths of 140-160 cm it rose to 10 ppm. This explains how fluoride travels to depths with water. As it travels further down to the water table the enrichment of fluoride is more.
In order to combat the situation Muralidharan et el suggest rain water harvesting at much higher reaches, thus allowing lesser time to water to dissolve and carry the weathered product from the slopes. This water can be allowed to travel via 'pukka' channels and stored in cemented tanks as a source of drinking water.
For irrigation they recommend construction of tanks at spots closest to the catchment area and again transport water from there to fields via 'pukka' channels. On experimental basis this method showed drastic reduction of fluoride content in irrigation water.
Instead of spreading the fluoride laden silt in the fields, the same could be used for making bricks, suggest Muralidharan and his colleagues. This would have the added advantage of saving the local soil/clay from plunder. It may be noted that soil once removed from a spot takes 1000 years to regenerate.
The scourge of fluoride should not be taken lightly. It can cripple large masses of humanity due to skeletal fluorosis and turn them toothless too. Providing clean and safe drinking water is the state's responsibility. It is also the responsibility of the state to enlighten the masses regarding the perils of poisons like fluoride and arsenic in drinking water. Constant monitoring of water and soils of the affected areas for fluoride content is the need of the day.

Images (c) Gettyimages.com