On a Saturday afternoon I set out for Jaitpur Extension 2, otherwise known as Gadhdha Colony (Potholed Colony). I was told that the colony was near my house in Delhi's Jamia neighbourhood, but it was well beyond Kalindi Kunj, across richly cropped agricultural lands, which displayed every sign of turning urban. I was invited to distribute certificates to young colony girls, who had completed their cutting and tailoring course.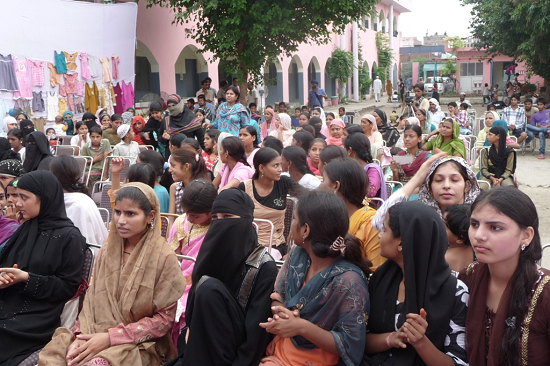 The top priority for Muslims, like for everybody else, is education.
The event was organised by ANHAD (Act now for Communal Harmony and Democracy), a civil society organisation that had been running a centre there for the last year under the banner 'Pehchan'. I was pleasantly surprised to see that the invitation card had placed the students' names on top - unlike most which list VIPs in order of importance. It had a lively sketch of a girl holding a large pen-like a banner in both hands with the inscription 'Mein likhna seekh rahi hoon taki apni kismet khud likh sakoon' (I am learning to write so that I can write my own destiny). This phrase is now a popular slogan among women's groups. It was written long ago by a poet Kamla Bhasin and the drawing executed by that creative genius, Bindia Thapar.
The venue for the function was a school called Real View School. Next to me on the stage was the MLA from the adjoining Okhla area, the Councillor, the proprietor of the school and some organisers. The MLA of the area, Ram Singh, had been invited but he had not shown up. On the 'shamiana' (tent) walls they had pinned up garments produced by the girls – outfits which they had made, probably with Eid on their mind.
One by one the girls walked up on to the stage. Their voices rang loud and clear in the open air. Farahnaaz, Mahenoor, Firdaus, Shabeena, bright-eyed confident young women, around 15 or 16 years old, who spoke with eloquent passion about their desire for education.
"Our dream is to do something with our lives. We girls of Gadhdha Colony are as capable as boys. All we need is a chance. We are happy that ANHAD and Shabnam didi (Shabnam Hashmi, the executive secretary of ANHAD) have given us this centre. We pray, hamare sapnon ko udaan mile (May our dreams get a chance to soar)."
I distributed the certificates that were neatly tied up with red ribbons. The girls looked beautiful in the shalwar suits they had designed themselves. I noticed several mothers and a few fathers sitting in the back rows. I thought that, given half a chance, these girls could measure up to their peers anywhere in the world. Gadhdha Colony girls stole my heart with their youthful exuberance and unashamed expression of their innermost desires.
This is a 'basti' of 50,000 - mostly Muslim residents. I was told that the nearest government primary school was about five or six kilometres away. There was no public health centre in the entire colony. But on my way to the school I had noticed names of private schools and private doctors that dotted the landscape. Signs bearing names such as 'Toronto School' and 'Hazra School' were all over. Medical shops bore signs such as 'Free kidney stone medicine given here'.
In the local bazaar there was no space to move. Women in 'burqas' (veil) and men in 'namazi' caps were pushing against each other to keep walking, while children of all ages were weaving in and out from between their legs. Shops bore signs that showed that local enterprises were being run by both Hindus and Muslims.
Coming back to Real View School, it's an institution that caters to 1,100 children, aged from three upwards. It runs classes from Nursery to Class Eight with fees starting at Rs 250 (US$1=Rs 45.2). The Managing Trustee of Pehchan, Farida Khan was a deserted child bride whom Shabnam had happened to meet 30 years ago. Trained by her, Farida is today a woman of substance. With the help of two teachers she has been able to coach 13 girls and make them write their Class Ten board examinations privately – eight of them actually passed! This in a milieu where most girls drop out of school after Class Five, since the middle school is invariably too far away and parents are uneasy about their security.
It was getting dark by the time I left, feeling in my bones each one of the hundreds of gadhdhas (potholes) over which the car negotiated its way. It was the day before the month of Ramadan, so the bazaars were bright and lively. And so was the glow in my heart because that decrepit colony, not very far from the beautiful campus of Delhi's Jamia Millia Islamia University, bore testimony to the fact that the top priority for Muslims, like for everybody else, is education. In this matter they don't discriminate against their daughters. With rare exception, they strive to educate them. It is only for security considerations in some quarters that many girls are forced to stay at home.
This longing for education I have seen in many parts of the country. Whether it is Kashmir, Kargil or Malegaon, I have met Muslim girls who are not just eager to go to school but also to complete their education and become teachers, doctors and engineers. Their aspirations are no different from their counterparts in any other community. But their situation is. Census figures show that Muslims are disproportionately poorer; that most of them are employed in declining sectors such as handlooms, handicrafts, powerlooms, and so on. The Prime Minister's 15-point programme and the Multi Sectoral Development scheme of the Government of India are meant to fill this gap and meet the aspirations of the community.
My other takeaway from this event has to do with voluntary action. As Member, Planning Commission, one of my responsibilities is to bring the voluntary sector into the Planning process. The Voluntary Action Cell, which I look at, is the government's nodal point for liaising with non-government organisations and civil societies groups. Where the government cannot reach, the volunteer can; this is our Gandhian legacy. In Gadhdha Colony, I saw how a neglected and forgotten section in India's capital city was being serviced and nurtured by one person's quiet work. In seven years of my work, I have personally seen hundreds of such endeavours all over the country. During the last year, the Planning Commission joined hands with India's voluntary sector to help envisage the contours of the 12th Five Year Plan through nation-wide consultations.
From the muck of the gadhdhas of our bastis and villages, the Farheens and Farahnaazs can be drawn out to become the pride, not only of the Muslim community but of the country.

By arrangement with WFS