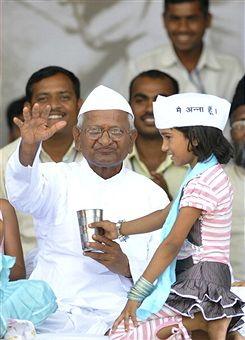 Rarely in the history of propaganda have hidden persuaders notched a greater achievement to their credit than they did in the recently concluded soap opera featuring Mr. Anna Hazare. The fasting legend described his success as only a half victory. Much more, he said, will have to be done. Doubtless he will attempt what needs to be done. But what has he done so far?
He has aroused hope across the nation that now corruption will end. But it has not ended as yet. However, already Team Hazare members have called of the agitation and will organize victory marches in different cities across the nation. Mr. Hazare himself will tour the nation to ensure that people choose only clean candidates for the legislatures. People are dancing across India to celebrate the victory against corruption. People are intoxicated at the prospect of real change and an end to corruption.
Before the advent of Mr. Hazare's movement national attention was riveted on the progress of the corruption cases in the 2G scam, the CWG scam, the Hasan Ali scam and other scandals. Does anyone remember those cases now? Instead many of the tainted ruling politicians hogged the limelight as they negotiated to loud public applause with members of Team Hazare to end the fast. With the fast being called off the overriding national gratitude encompassed even these ruling politicians who in the past were being reviled for promoting corruption.
Up till now therefore the Anna Hazare movement has ignited anger against the notion of corruption, created hope for real change, and diverted attention from the ongoing corruption cases that had gripped national attention in the past.

In the future the movement may well become the instrument of ending corruption and cleaning up the system. As yet it has only diverted national attention from specific corruption cases. We must see whether those cases reclaim national attention. That is the harsh truth that people might ponder even as they dance for a better future. Future events need careful watching.