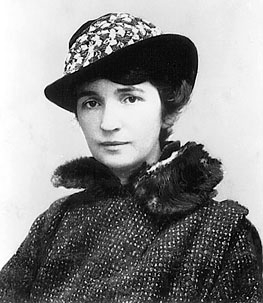 Margaret Higgins Sanger (1883-1966), birth control pioneer was born in Corning, New York, the sixth of 11 children. Watching her mother's endless struggle to raise a large family on a small income, and her early death at the age 49 fueled Sanger's commitment to secure reproductive choice for all women. She attended nursing school at White Plains Hospital, and in 1902 she married William Sanger, an architect with whom she had three children in eight years of married life.
Margaret Sanger is America's heroine in the family planning movement. She has described an incident in her life that triggered her commitment to what became a life long cause. In 1912, she and a doctor were called to attend a mother who had performed an abortion on herself and had very nearly died. After some weeks of care the women recovered, but the doctor warned her that another abortion would kill her. The woman asked the doctor how she could prevent another baby. The doctor's reply was, "You can't have your cake and eat it too, young woman. There's only one way. Tell Jake to sleep on the roof". Three months later the woman was dead of another self-induced abortion.
Within a few months Margaret Sanger was publishing articles on contraception, and it became a part of the Women's Emancipation Movement. After World War II Sanger founded the International Planned Parenthood Federation. Contemporaries to Sanger existed in many countries: Dr. Aletta Jacobs in Holland, Dr. Marie Stopes in England; Mrs. Elise Ottesen-Jensen of Sweden, and Lady Dhanvanthi Rama Rau of India. They all formed this federation in 1952, and Sanger served as its first president. Her efforts led to the introduction of the first birth control pill in 1960. Margaret Sanger died of heart failure in Tucson, Arizona in 1966.