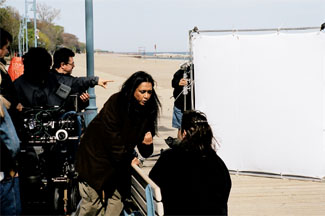 "The film fraternity has let children down," exclaims Nafisa Ali. "The film world has left children behind. All the investment goes into films for adults!" As Chairperson of the Children's Film Society of India (CSFI), Ali claims to be working hard to correct this state of affairs. "I have proposed more substantial funds for children's films, and this has been accepted by the Information and Broadcasting Ministry. With bigger budgets for children's films in the Eleventh Five Year Plan, we should be able to attract more talent. Once the quality improves, we hope multiplexes will agree to show children's films regularly. For instance, there could be a 10 a.m. show exclusively of children's films," suggests Ali.

Documentary filmmaker Samina Mishra notes that, for better or worse, media technology today is part of every child's life. Since there is no getting away from this, the question is how to use it in ways that capture children's imagination and sensitize them. At present, there is a severe paucity of good programming for children on Indian television. Most of the time children are addicted to cartoons from the West and Japan.

Tone C. Ronning, producer of children's programmes from Norsk Rikskringkasting (NRK), Norway, reiterates the old truth that successful children's programmes are basically "good stories, well told". She believes that even though today's children are media-savvy, "faith in storytelling is still the way to go". Observing how children are often attracted to commercials, she muses, "As broadcasters, we should have humility towards the commercial channels, analyze what qualities fascinate children, and ask whether we can do it even better."

Nutan Manmohan, who made the award-winning children's TV programme 'Zara Hat Ke', opines that Indian children need a lot of "masala" (spice) in their movies. She extols some recent films such as 'Iqbal', 'Makdi' and 'Chak De India' for getting it right.

But television programmes, according to Manmohan, lag far behind. She suggests that in order to improve, "Channels should be provided incentives for making good children's programmes. A 'C-Chip' - Children's Chip - could be awarded to the channels that air the best children's programmes. This involves no investment - just a grading of channels. Once it is done, the best channels will even attract the relevant advertisements. There is no lack of funds, but the funds have to be directed in the right direction. Right now, entire families watch 'K' soaps, and a whole generation of girls is growing up behaving like vamps, while the boys are behaving like Rambo."

Perhaps the publishing world could provide clues to broadcasters on what attracts children. Anita Roy, editor with Young Zubaan, says, "People are always asking me why there is no 'desi' (indigenous) Harry Potter. We need stories with a tight plot, but too many people have the general attitude - 'Anything goes - after all, it's just for kids!' There is a desperate need for children's books with local style, content and outreach. If well written, such books can make national, and even international, impact. The 'local' can actually reach out far beyond the local."

Ronning agrees, adding, "Some plots are universally valid. We make programmes for a multicultural audience in Europe, and my experience is that even small local stories carry very well across borders."

India being a multicultural, plural society, the European experience of consciously programming for multiculturalism is very relevant for us. We need to put in place a policy for positive multiculturalism, which would get reflected at every level - in casting, characterization and plot. While Roy agrees on the need to push the borders of what children need to be told, according to her, "The pluralism in many of our books and programmes is merely token. An easy nationalism or secularism is propagated. Much of it remains superficial. It is a sort of preaching of morals." She thinks that a lot of things that are barely ever mentioned in children's literature in India ought to be thoughtfully included - such as violence, swear words and sexuality.

Dr Asha Singh of Lady Irwin College, Delhi University, speaking from decades of experience with making children's programmes for television, notes that the urban middle-class audience has very different tastes from its rural counterpart. "Programmes with local flavor have been immensely popular with rural children in the rural areas, but not so popular with urban children. We need to think specifically of the categories of children when we design programmes." With a touch of nostalgia, she adds that she grew up watching excellent CFSI films, screened on Sunday mornings in Sapru House, New Delhi, in the 1960s and 1970s.

Ali proudly notes, "CFSI has traditionally made films with family values, and these have done very well. We have always tried to show these films at a low cost. It is important that any film called a family film with children in mind should automatically get tax exemption."

When Mishra objects, saying, "Feature films like 'Ta Ra Rum Pum', 'Makdi' and 'Chak De...' did well, they didn't need tax exemption!", Ali is quick to retort, "There are different realities in which different children live. A film may do well commercially, yet most children in our country may not be able to access it. At CFSI, we used to charge Rs 3 per child (US$1=RS 40) when we organized a screening, but even that was too much. I told P R Dasmushi, the Union Minister for Information and Broadcasting, that many children are not able pay that amount, so the fee should be scrapped. Schools should take over the financial aspect. The state should provide financial support for production, distribution and marketing of good children's films.

"I'm pushing for free shows, even in multiplexes, for children from slums. Last year was CFSI's Golden Jubilee year, and we held a film festival at which over 28,000 children viewed our films. This year, we are planning a Children's Film Festival in Hyderabad. Next year, we will award national awards for the Best Children's Films. We're hoping that will encourage young filmmakers to turn to this audience."

Eminent filmmakers, media professionals and administrators had gathered in the capital for a seminar, "Capturing Children's Imagination", held on August 27, under the aegis of Open Frame International Festival of Documentary Films and Television for Children, organized by the Public Service Broadcasting Trust (PSBT). Documentary filmmaker Samina Mishra moderated the seminar, whose objective was to jointly deliberate and throw some light on ways and means to create better films and television programmes for children in India.