Asia is a worst hit region by sudden impact disasters; include floods, earthquakes, tidal waves, tropical storms, volcanic eruptions, and landslides. Sudden impact disasters Floods are the type of natural disaster most frequently associated with sudden migration of large populations and food shortages. Earthquakes cause the greatest number of deaths and overwhelming infrastructural damage.
Asian countries including Pakistan face the greatest risk from severe climate change, which could force millions of people to flee their homes and trigger environmental migration, according to an Asian Development Bank report. The report titled "Climate Change and Migration in Asia and the Pacific" says Bangladesh, India, Maldives and Pakistan face the greatest risk, but Indonesia, the Philippines, Thailand, Vietnam, Japan, China and South Korea are also especially vulnerable.
Over 42 million people across the world and 30 million just from Asia were forced to flee due to Natural hazard's disasters in 2010, according to a new study by the Norwegian Refugee Council (NRC)'s Geneva-based Internal Displacement Monitoring Centre (IDMC). In 2009, 17 million people were displaced by such disasters, and 36 million in 2008. Considering that figure, projections that 50 million people will be displaced by climate change globally by 2020 seems an optimistic projection. Reports from the International Organization for Migration say by 2050 there could well be 1 billion people driven from their homes.
The number of natural disasters reported has doubled from around 200 to over 400 a year over the past two decades. In 2010, over 90 per cent of disaster displacement within countries was caused by climate-related hazards, primarily floods and storms.
In 2009 major floods of India and China which covered a huge area of the southern provinces, as well as some in central and even the north displaced over 15 million people. And in 2010 flood of Pakistan. In Pakistan in mid-2010, at least 11 million people were forced to leave their home areas, and had their homes and livelihoods destroyed by the flood waters.
"The scale of displacement is enormous. Every single number in this report is a person whose life is severely affected, and it is vital that those women, men and children who are being displaced by the impact of climate change and natural hazards receive the assistance and protection they need", said NRC Secretary General Elisabeth Rasmusson at the launch. "This report provides us with evidence of the extent and urgency of the problem that we cannot ignore. We must increase collaborative efforts to prevent displacement by natural disasters, and do a better job of protecting those displaced".
"Globally, eight to 10 countries with the largest number of people living in low-elevation coastal zones are in the region," the report says. Bank warns that migration driven by environmental factors is emerging as a serious concern. "It's not just a threat. It's something we've already seen," said Bart Edes, director of ADB's Poverty Reduction, Gender, and Social Development Division, stressing the need for policymakers and leaders "to take action now in order to help address the problem."

Table 1 seven sudden-onset Asian disasters causing most displacement in 2009.


Country
Type
Start Date
Number
Displacement
Source
%age
of total
Displaced
India
Flood
Sept 25, 2009
2,500,000
Reuters
AlertNet
15%
India
Storm
(Cyclone
Aila)
May 25, 2009
2,300,920
Reuters
AlertNet
14%
China
Storm
(Typhoon
Marokot)
Sept 8, 2009
1,620,000
UN OCHA
10%
China
Flood
July 1, 2009
938,000
IFRC
6%
Bangladesh
Storm
(Cyclone
Aila)
May 25, 2009
842,000
UN
5%
Indonesia
Earthquake
(West
Sumatra)
Sept 30, 2009
675,000
UN OCHA
4%
India
Flood
July 1, 2009
500,000
Action Aid
3%
Total
9,375,920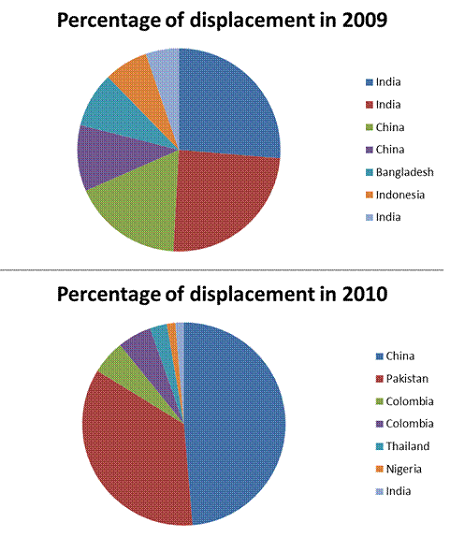 Country

Type

Start Date

Number
Displacement

Source

%age of
total
Displaced

China

Flood

May 7, 2010

15,200,000

IFRC/DMIS

36%

Pakistan

Flood

April 6, 2010

11,000,000

Pakistan
Flood Shelter
Cluster

26%

Colombia

Flood

April 6, 2010

1,500,000

Center for
International
Disaster Info
(CIDI)

4%

Colombia

Flood

July 1, 2010

1,500,000

National
Red Cross
Colombia

4%

Thailand

Flood

Oct 10, 2010

1,000,000

AFP
News Agency

2%

Nigeria

Flood

Sept 13, 2010

560,000

AFP
News Agency

1%

India

Flood

Sept 5, 2010

523,000

Dartmouth
Floods
Observatory

1%

Total

312,83,000

74%
Some 26 million people worldwide currently live in situations of internal displacement as a result of conflicts or human rights violations. They were forced to flee their homes because their lives were at danger, but unlike refugees they did not cross international borders. Although internally displaced people now outnumber refugees by two to one, their plight receives far less international attention.
Heart breaking data results shows that natural disasters all increasing rapidly with passage of time and due to which more refuges are moving from affected area to safe place for their survival. In these disastrous conditions of flood, storm and earthquake a large number of contagious and epidemic diseases are spreads amongst affected due to sanitation and water contaminations.
The need of the hour is to sensibly utilization of energy resources and preplanning for coming disaster changes. As many countries faced already such destructive hazards but they even learn nothing from their past experiences.