Money Matters
The Incredible Banker; Ravi Subramanian, Rupa & Co. Rs. 195, pp301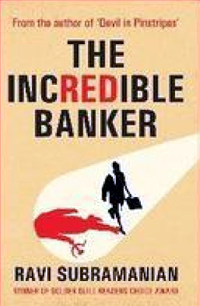 Ravi Subramanian who carries a wide experience in the financial services and especially in the foreign banking operations has proved himself to be a writer of interesting tales with the back drop of finance, banking, and also the risks and dangers lurking in these sectors through his earlier books 'If God was a Banker' and 'Devil in Pinstripes'.
These two novels have made Ravi Subramanian is a force to reckon with in the field of Indian writing in English who can write with facility on the topics otherwise complicated for a common man. In his latest novel 'The Incredible Banker' revolves around Deepak Sarup an over zealous bank official of an inflated ego working with the Greater Boston Global Bank (GB2) at Mumbai. His ability to climb the ladder of success with his sharp acumen makes him more overbearing and vindictive. He intentionally makes the life and profession of his sober and sensible colleague Karan Panjabi difficult just because he retaliated to his arrogant remark. Karan was forced to leave GB2 but crosses in the path of Deepak as a media person quite unexpectedly. What Karan finds out and reports about GB2 sounds a death knell to Deepak's increasing popularity and status. The bank's CEO, Ronald McCain an expat was got in a quagmire of illegal money laundering carried out through GB2.
Ravi Subramanian never wastes words in unnecessary details; conversely, he enlightens the reader with the highs and lows of a retail banking job and how the work can become a boon as well as a bane if one does not tread his path carefully. Cleverly conceived and intelligently presented, 'The Incredible Banker' brings the contrasting situations prevailing in the present day India. The influence of computers, the greed of the ambitious, the frustration of the deprived and the ever increasing threat of terrorism were interwoven in the story with style.
The suspense that runs through the last segment of the story makes the novel into a thriller. How the technology developments help the good, bad and the ugly was brought in this novel without any judgmental values.
Ravi Subramanian should be lauded for presenting the story which moves back and forth without creating any confusion. When one completes the book he/she is bound to feel a sense of exciting satisfaction of taking a roller coaster ride in a field which is not too familiar to them otherwise.
11-Nov-2011
More by : Devavratan Kaundinya
---