Rasam with Dry Coconut
Ingredients: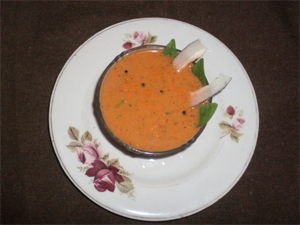 Grated Dry coconut (copra)- ¼ cup
Milk - 250 ml Water – 350 ml
Cumin seeds (jeera) – 1 tea spoon
Coriander seeds (dhania) – 1 tea spoon
Mustard seeds – ¼ spoon
Black pepper – ¼ spoon
Black gram – 1 tea spoon
Dry Red chilli – 4 (according to taste)
Asafetida – 1 pinch
Curry leaves – 10-15
Finely chopped Coriander leaves – ¼ cup
Jaggery - ½ lemon size
Turmeric- 1 pinch
Pure ghee – 2 tea spoon
Salt to taste

Method:

Heat a small wok. Put ½ tea spoon of ghee to it. Fry black gram, ¾ tea spoon cumin seeds (jeera), 1 spoon coriander seeds (dhania), dry red chillies and pepper, in low flame till black gram turns golden brown in color. Allow this to cool. Transfer the fried ingredients to small mixer jar, add grated dry coconut and blend this to a smooth paste adding water. Now place a thick bottomed vessel on stove and heat it. Pour remaining ghee to it. Add ¼ tea spoon jeera, ¼ spoon mustard seeds, curry leaves, turmeric and asafetida to warmed ghee. When jeera and mustard seeds splutter, add prepared dry coconut masala paste to this and fry for 2-3 minutes. Add water to fried masala and stir well to avoid lumping. Add jaggery and simmer the flame. When it starts boiling, pour milk and stir . Allow the rasam to boil. Add salt and coriander leaves when milk mixed rasam boils well. This rasam can be eaten with rice or can be used as soup in winter season. Persons who are on weight loss program can use sunflower oil instead of ghee. Precaution: Add salt only when the whole rasam along with milk boils well. Or else the milk will get curdled.
17-Nov-2011
More by : Dr. Savitha Suri
---
---
Ms. Suri:

Why go through all these elaborate cooking and spending time in the kitchen! The Rasam may taste good all right but it always produces cooking smell in the entire house. Remember Indian house holds are notorious for retaining strong smell of spices. This can only purged with only a powerful kitchen-exaust fan. Very few Indians even bother to think about it.

If I were you, I would just buy the recipe and brand-ingredients from any well known producer. Just try it. The taste may be as good as any or yours.

Rao
---