Soya - Baby Corn Masala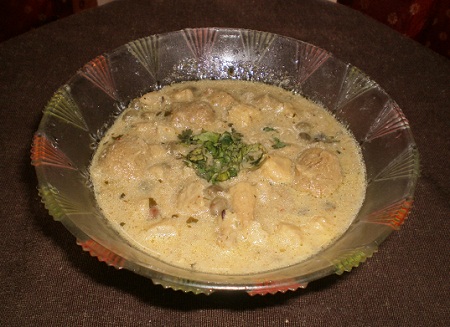 Ingredients:

Soya chunks – 1 cup
Baby corn – 6-8 ( roundly cut)
Grated coconut (raw) - 1 cup
Cream – ½ cup
Cashew nuts – ¼ cup
Onion medium size – 2 (finely chopped)
Garlic – 2 cloves Ginger – 1" grated
Green chillies – 2 (finely chopped)
Cumin seeds (jeera) – ½ tea spoon
Cumin seed (jeera) powder – 1 tea spoon
Coriander seed (dhania) powder – 1 tea spoon
Garam masala – 1 tea spoon Finely chopped
Coriander leaves – ¼ cup
Water – quantity required
Oil – 1 ½ table spoon Salt to taste

Method:

Soak soya chunks in water for 15 minutes. Soak cashew nuts for 1 hour and grind it to make paste. Grind grated coconut with little water in a blender and squeeze the milk.

This process has to be repeated twice or thrice to extract milk completely from coconut. (Do not waste coconut residue. This can be kept in freezer and reused for sambar or chutney )

Grind chopped onions, green chillies, ginger and garlic into smooth paste.

Heat a pressure pan and put oil into it. Put cumin seeds (jeera) into heated oil. When the seeds splutter pour ground onion, garlic, ginger and chilly paste to it. Fry this paste till it turns golden brown. Now squeeze soya chunks and add to it. Add baby corns too. Turn this well and leave this on low heat for five minutes. Add 1 cup of water and close the lid. Pressure cook this for 1 whistle.

When cooker cools take out the lid add coconut milk, cream and cashew paste. Stir well and bring it to boil. Add salt when it starts boiling.

Transfer this to a serving bowl and garnish with coriander leaves. Serve with, rotis, nans or pulavs.

Soya bean is a good source of protein. It is considered as complete protein. It is popular among vegetarians, vegans and people who want to reduce meat. Soya bean is rich in fiber, calcium, and magnesium. It has high biological value as it contains all essential amino acids. But soya has to be cooked in warm water to make it suitable for human consumption.

Baby Corn is a good source of folate and vitamin B. It is rich in several other nutrients such as potassium, vitamin B6, riboflavin, vitamin C and fiber.

Milk contains nutrients like protein, fat, mineral matter, water and lactose. It is rich in calcium and vitamins. It is the natural food of all young mammals. Milk is a reservoir of nutrients and forms an important ingredient of a balanced diet. As it is rich in calcium it makes our bones and teeth strong. It helps to nourish the body with high quality proteins and vitamins.

Coconuts are rich in lauric acid. Lauric acid is known for its antiviral, antibacterial and antifungal properties. Coconuts help to boost immune system. Coconuts and coconut oil help to lose weight and reduce risk of heart diseases. It helps to lower cholesterol and help in chronic fatigue. The health condition of persons who suffer from diabetes improve with the use of coconut. The coconut oil helps to rejuvenate skin and prevents wrinkles.

25-Nov-2011
More by : Dr. Savitha Suri
---