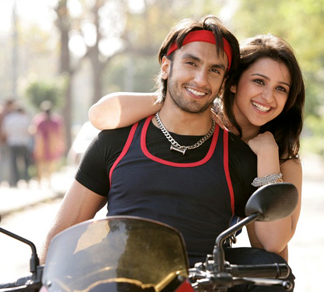 To begin with I must inform - All the boys must watch this movie, as they can learn how multi-talented and exuberant a male should be in his youth. For females its a worthwhile learning that do not let emotions carry you away and sway, hold and control your emotions while getting into an intimate relationship.

Ranveer is looking great, his personae is charismatic and it appeals even out of the screen. I saw not only girls but women as well who were throbed deeply by his appearence inside the theatre. He is certainly a reverie for the aforesaid cadre. I must also appreciate the screenplay as it is consistent and it throws funny and thrilling punches like a combo which is the best way to behold the viewer throughout the movie.
Anushkha is looking extremely fit and energetic, her mere appearence fills fun mixed with amor and that scintillates every scene and makes it fresh. No doubt she is a natural actor and she moves the second half of the movie. Her dialogue delivery is clear and just.

The movie revolves around 'Ricky Behl' (Ranveer Singh) a professional conman who is a master of disguise and an extremely smart thug. On his mission of treachery, he encounters three young ladies who became a victim of his quackery and enables him with loads of money. Coincidentally the trio unites in a subtle and mysterious way. They plan of a counter-con mission to trap Ranbir strategically.

Planning 'An eye for an eye' strategy the trio beckons 'Ishika Desai' (Anushkha Sharma ) to join the mission and trap the conman. Executing this placid trap Anushkha and Ranveer gets close and their intimacy leads to love and stuff. They both fall for each other and what happens next is ..................if I'll write the entire story then it'll be unfair for the movie, its 'Virtual Piracy of the movie', but what happens next is amazing and let me keep it a secret.

A special vote of applause and kudos goes to a cute punjabi girl in the movie and she is Parineeta Chopra and her character 'DIMPLE' is just amazing, she is extremely cute and appealing, her stupid jokes and foolish wit has galvanised great bonding and fun in the movie. Trust me one will certainly fall in love with this girl and her smile, she is a different attraction altogether :)

All in all the movie is a refreshing hit that's what I personally feel and I know this duo (Ranveer and Anuskha) will definitely make heads turn. So the best part is If you are still planning my suggestion is just stop doing that and book your tickets and If you were planning for it, get motivated reading my review and wear your socks. You'll not crib wasting your money on this one and above all its a family movie.

Happy Reading