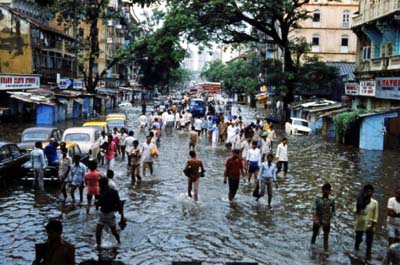 First showers of monsoon are heartily welcomed by everyone after experiencing the scorching heat of summer. But monsoons reduce the immunity of our body and make us susceptible to many diseases which are commonly associated with this season. It is time for us to keep our body resistant against diseases by boosting our immunity and taking precautions against these diseases.

The diseases associated with monsoon are malaria, jaundice, gastro intestinal infections like typhoid and cholera. Apart from these, viral infections like cold and cough also make their presence felt.

Puddles of water formed due to rain become breeding grounds for mosquitoes which spread diseases like malaria and dengue fever. As a precautionary measure against mosquito bite born diseases one can use mosquito net around the bed which is better choice to mosquito repellants like mats and coils. A mosquito repellant cream is the best choice when you are away from home. Fumigating the house with smoke of dried Neem leaves in evenings for 1-2 minutes is an excellent Ayurvedic method to keep mosquitoes away.

Pollution of drinking water during monsoon is very common. It is very necessary to drink clean and pure water when water borne monsoon diseases like diarrhea and gastro intestinal infections threaten us. Drinking boiled water at home is strongly recommended to tap water. Prefer mineral water of government certified companies when you are away from home.

Walking in dirty water during rainy season leads to numerous fungal infections which affect toes and nails. Diabetic patients have to take a special care about their feet. Always keep your feet dry and clean. Avoid walking in dirty water. Keep your shoes, socks and raincoats dry and clean. Drying clothes with fumes of Loban and dry Neem leaves is recommended in Ayurvedic texts.

Precautions have to be taken to prevent dampness and growth of fungus (mold) on and around the house where asthmatic patients live. Avoid fumigation in case of asthmatic patients.

Ayurvedic Tips to Increase Body Immunity
and Preventing Diseases of Monsoon.

The digestive system gets weakened due to dehydration in summer. This leads to low digestive power. This is further weakened by vitiation of doshas and dhatus due to monsoon. Hence following diets which increase power of digestion and strengthen the digestive system would be beneficial in rainy season.
Light foods prepared out of old barley, rice and wheat.
Sour and salted soups of vegetables.
Drinking boiled and cooled water mixed with little honey.
Consuming little quantity of wine prepared out of grapes.
Adding ginger and green gram in daily diet.
Eating warm food.
Avoid the following
Sleeping in daytime.
Over physical exertion.
Over exposure to sun.
Additional Precautions
Always keep the surrounding dry and clean.
Do not allow water to get accumulated around.
Keep your body warm as viruses attack immediately when body temperature goes down.
Do not enter air conditioned room with wet hair and damp cloths.
Dry your feet and webs with soft dry cloth whenever they are wet.
Wash vegetables with clean water and steam them well to kill germs.
Avoid eating uncooked foods and salads.
Drink plenty of water and keep your body well hydrated.
Do not allow kids to play in stagnant polluted water filled puddles.
Ayurvedic Home Remedies for Monsoon Diseases

Apply castor oil or sesame oil for cracked feet and skin. A freshly prepared paste of turmeric, neem and sesame seeds is recommended in Ayurveda for fungal infection between toes.

Drink a glass of warm water mixed with a tea spoon of honey in empty stomach. This flushes out accumulated toxins. Freshly prepared radish juice is the best remedy for cold. A pinch each of long pepper powder and rock salt mixed in warm water reduces cough. The following home recipes can be used as home remedies for digestive disorders of monsoon
In Indigestion
Ingredients:
Rice-1/2 cup
Water -4 cups
Long pepper- 2or 3
Ginger -1

Method of preparation
Cook rice with recommended quantity of water with crushed ginger and salt. Powder long pepper and fry it in a spoon of cow's ghee and add it to gruel. Consume this when it hot. This is very light to digest and relieves colic pain.
In Diarrhea
Ingredients:
Rice -1/2 cup
Water - 4 cups
Ginger paste - 1/2 spoon
Salt to taste
Pomegranate juice: 1 cup

Method of preparation
Cook rice with recommended quantity of water with ginger paste and salt
Add pomegranate juice when the gruel is warm. This gruel rehydrates body and supply energy . This soothes inflamed walls of intestine and controls bowel movements.
In Flatulence
Ingredients:
1 cup of rice
4 cups of water
Haritaki (Terminalia chebula) - powder-1/2 spoon
Roots of pippali or long pepper
Ginger paste -1/2 spoon salt to taste

Method of preparation
Cook Rice, haritaki powder , roots of pippali and water together. Add salt to it.Consume this when it is warm. This relieves flatulence and regularizes the bowel movement
Thus precautions coupled with care really help you to enjoy monsoon. Have a healthy and safe monsoon.
Dr. Savitha Suri, B.A.M.S is Chief Consultant physician at Chaitanya Integrated Medical Center, Udayagiri, Mysore, Karnataka, India. She is practicing Indian Systems of Medicines since 12 years. By arrangement with http://www.ayurhelp.com
Disclaimer:
Information provided in this article is for the sole purpose of imparting education on Ayurveda and is not intended to diagnose, treat, cure or prevent any disease. If you have a medical condition, please consult your physician.