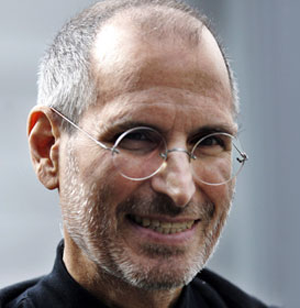 It's a long-held belief that a person's actual worth comes out after her/his death. This idea became particularly alive when Steve Jobs died. All over the globe, people from all walks of life, people of diverse background, and age came together in mourning the death of this true genius of our times. Jobs actually transformed the communication landscape of the world. His basic principle that simple methods are the best went a long way in shaping his inventions.
Jobs came to India in 1974. A globe-trotter, a real cosmopolitan, Jobs was a child of our turbulent, fractured, and alienated age. Son of an unwed mother, Jobs was always a refugee in this big, bad world. He was on shaky grounds right from the beginning. He left college without completing the degree. He roamed with hippies, even did drugs and had unkempt hair.

Such was the life of no ordinary man but Steve Jobs. He used to be lost in philosophical and spiritual questions. Hr was interested in electronics and technology. He worked in a company that developed software for video games. One fine day, he declared that he was going to India in search of a guru. This was indeed a very typically bohemian step. We cannot say that his trip to India did miracles for him. But it was certainly a step in his evolution as an extraordinary person. His desire to break free from conventional chains and fulfill the heart's cherished dreams resulted in that oriental trip.
Those who knew Jobs well feel that there was unfathomable vacuum within him and he was forever trying to fill it. His experiences in India left an imprint on him, especially the book that has metamorphosed many a lives, 'The Autobiography of a Yogi'. I've heard many people in educated circles claiming the life-changing impact of this book. Delhi, Hardwar, and Nainital were his destinations. Jobs had an oriental soul; he converted to Buddhism. What he exactly took from India was a sense of intuition. Walter Isakson in his version of Jobs' life accepts that Jobs came to know the power of the psychic energy in India. Coming from a materialistic culture, Jobs was shocked to witness the laidback approach of Indians, especially in the rural areas. Here was a country so deeply soaked in intuition, understanding, experience and hidden layers of knowledge. Realization of the mystery of existence, that everything cannot be known is perhaps the biggest knowledge. The inexplicable is an integral part of life. Everything cannot be reduced to 'two plus two is equal to four'. When logic sleeps, intuition awakes; it evolves. It's a gift that comes from within through patient practice.
The real cultural shock came to Jobs when he returned to the U.S. but he used to say that the light from the East enabled him to witness the madness of the West. Right from I-pad to I-phone, he depended on intuition rather than reason. He never showed any interest in numerical puzzles and number games. He did not look at things necessarily from the rational point of view. Well, as they say, this is the difference between being smart and being a genius.
Jobs had developed his imaginative faculty to the maximum. By constant practice, he kept sharpening his imagination. He had a life-long romance with Eastern philosophy. Being a Buddhist, his faith in a Zen guru was complete. His only dictate seemed to be 'Chase your dreams because life is short'.
The life of Jobs raises basic questions on methods of learning, the role of rote learning, and cramming. It forces us to think of the ideal learning environment for our children and coming generations. It forces us to say what must have been said thousands of times earlier, 'Let the sharp edges of the unconventional intellect bloom!' Therein lies the future of humanity.

My only tribute to the great soul of Steve Jobs is my conviction that his already huge fan-following will keep on increasing as years pass.