Quick Capsicum (Green Bell Pepper) Subzi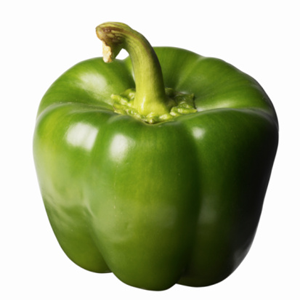 Capsicum is also known as "Shimla Mirch" in India. This vegetable is widely used in Mexican, Chinese, and Indian cuisines. Here is a quick capsicum dish which goes good with rotis and chapatis.

Ingredients:

Capsicum - 4 (longitudinally sliced)
Whole cumin seeds (jeera) – 1 tea spoon
Cumin seeds (jeera) powder – 2 tea spoons
Dhaniya powder (coriander seeds powder) – 2 tea spoons
Turmeric - ¼ teaspoon
Red chilly powder – 1 tea spoon
Fresh finely chopped coriander leaves – 2 tea spoons
Oil – 1 table spoon Salt to taste

Method:

Place a frying pan on stove. Pour oil into the pan. Add jeera or cumin seeds to heated oil. When seeds crackle add cut capsicum, turmeric, chilly powder, dhaniya powder (coriander powder), cumin seeds powder and salt. Turn everything well and cover the lid. Allow it to cook in simmered flame till capsicum becomes tender. (It hardly takes 8-10 minutes to get cooked). Take it off the stove and transfer the subzi to a serving bowl and garnish with finely chopped coriander leaves. Serve it hot with rotis, prathas and spiced curds or raita.

Medicinal properties of Capsicum:

Researchers have found that capsicum has immense medicinal qualities. Capsicum contains a powerful compound called capsaicin which makes capsicum hot and spicy. According to scientists capsicum can be more beneficial if used carefully. It helps in physiological disorders like indigestion, migraine, increased blood cholesterol and diabetes. It boosts body immunity and increases blood circulation. It reduces pain and acts as an anti oxidant. The capsicum ingredient capsaicin is currently used in topical ointments to relieve the pain and also in peripheral neuropathy caused by herpes virus. It may also be used as a cream for the temporary relief of minor aches and pains of muscles and joints linked to arthritis, simple backache, strains and sprains. Capsaicin is also available in large adhesive bandages that can be applied to the back.

16-Jan-2012
More by : Dr. Savitha Suri
---