Nestled in the far corners of the Gulf Coast, an hour's drive from Gainesville on SR-24 lies the tiny, peaceful fishing hamlet of Cedar Key (pop. <1000). This is a far cry from the bustling, maddening crowds of any major metropolis and is a perfect place to unwind, which is no wonder why so many migratory birds make their annual sojourn to this place in winter.
Waking up in Cedar Key to watch the sun rise gently over the Gulf waters as it breaks its way through the clouds is divine, while fishermen set sail for another day's work! It is absolutely magical to hear nothing but the placid waters still calm at low tide and the music of the birds.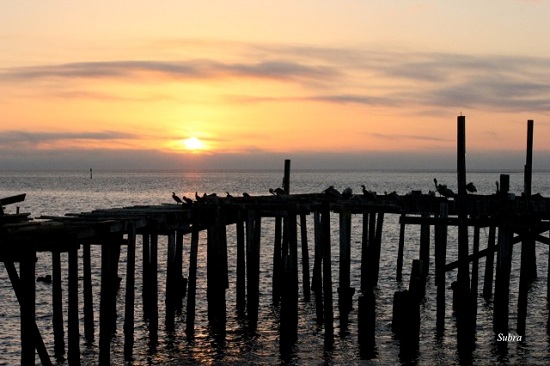 At dawn break, one of the first locals that I encounter is this Northern mockingbird which perches a few feet from where I am standing and is a perfect subject willing to pose for as many pictures as I want. Interestingly the Mockingbird happens to be the official state bird of Florida. A talented artiste, the mockingbird can imitate the sounds of several other birds and is a fast learner. Overhead an Osprey flies past majestically towards its nest.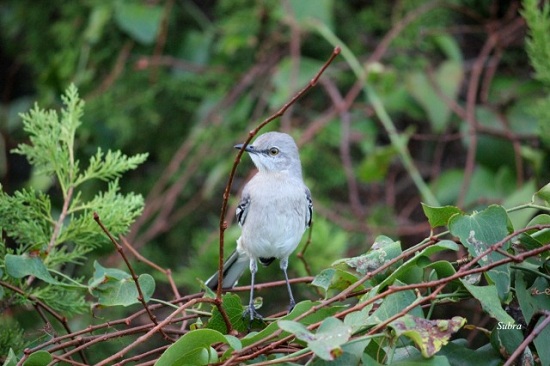 Trudging along on 3rd St, I happen to peek through the vegetation into the Bay and notice a Willow flycatcher looking up at the overcast sky, while a Wood Stork (a formerly endangered species) is feeding alongside a Snowy Egret! A Brown Pelican magnificently flies in and lands on a wooden post. Brown Pelicans like the wood stork have come back from the brink of extinction, thanks to conservation efforts. I am distracted briefly by a red-bellied woodpecker that has landed on a nearby wooden pole and starts tapping away!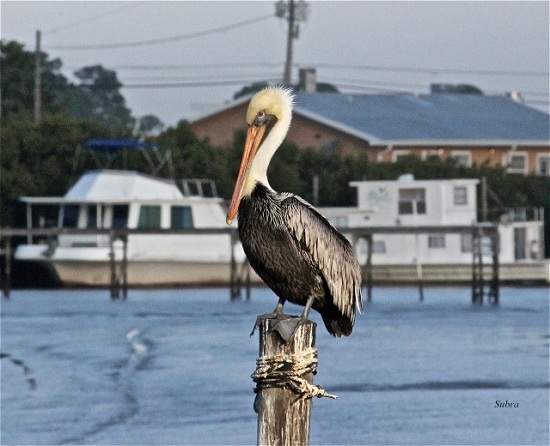 Later in the day it is time for a boat tour with Captain Doug to see the Cedar Key National Wildlife Refuge which encompasses a group of thirteen islands, mostly off-limits to humans! The Captain points out to a solitary Loon swimming in the distance while Cormorants and Gulls hang out in the nearby docks. It is a little disappointing not to see any dolphins which should have been there this time of the year. But soon we are treated to a wonderful spectacle -a colony of several White Pelicans basking in the open on a small island. As we slowly approach the birds, some of the Cormorants get excited, triggering a massive lift-off, although the pelicans and the gulls are hardly bothered by this. We also spot a Horned Grebe bobbing up and down in the water and back on the marina, hidden amongst several laughing gulls is a lone Ruddy Turnstone! As I approach the 'beach' a Sanderling flies in effortlessly and is joined by the Ruddy Turnstone and both of them busy themselves in digging the sandy beach for morsels. The best way to explore the town is on an eco-friendly golf-cart, stopping at will to take photographs and explore the artists' shops on 2nd St.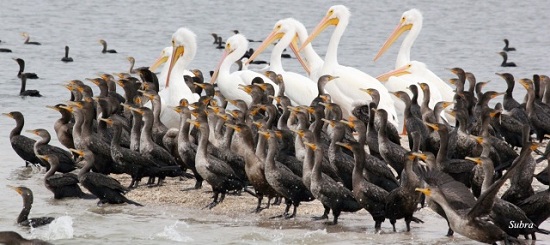 Driving down south along the coast, we stop at Lido Beach in Sarasota to watch Royal Terns and Black Skimmers relaxing on the quartz sandy beach. Skimmers are very unique in that they are probably the only birds with strikingly colored but different sized upper and lower mandibles, which help them in skimming the surface of water for food as they fly over! The presence of non-feathered two-legged species doesn't seem to bother them a bit and they are quite photogenic!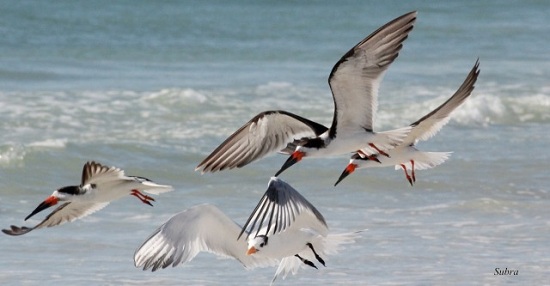 It's time to head further south to the Ding Darling NWR on Sanibel island, another haven for birds, where the sun is shining brightly as Roseate Spoonbills in their bright pink plumage glide gently to settle down and preen themselves. A Reddish Egret is focused intently, waiting for the slightest movement in the waters.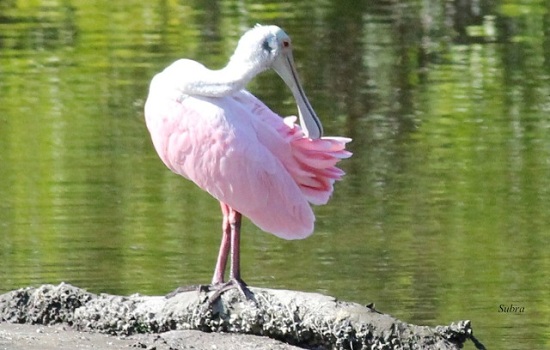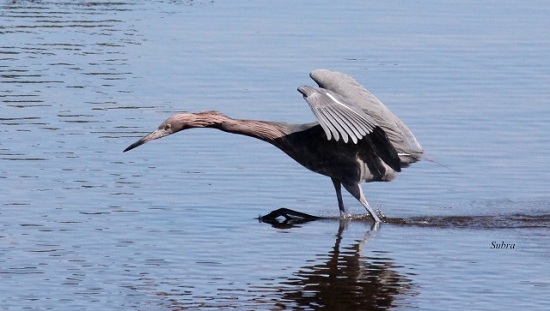 Several Tricolored herons are flying in and out, while an Anhinga is sunbathing in the bushes, spreading its wide wings. As low tide set in, there is a feeding frenzy and White Ibises, Snowy Egrets and Great Blue Herons go on a wild eating binge. I was lucky to spot some Red Knots amongst Willets feeding rather peacefully.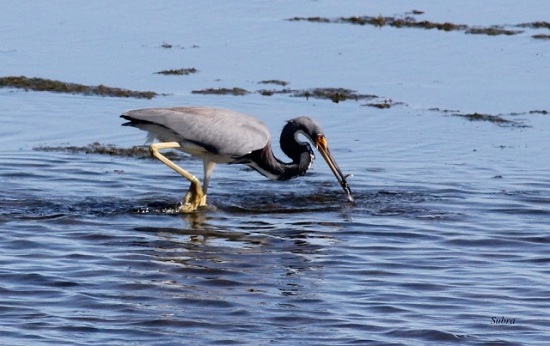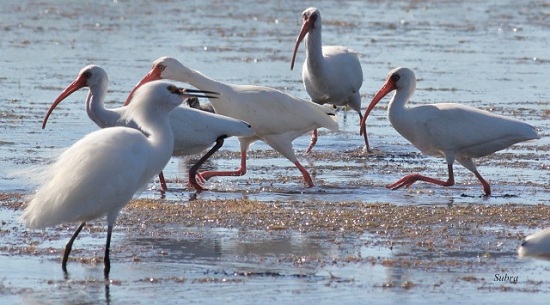 There is so much action going on here that it is hard to keep up with every little detail. But it's absolutely enchanting to watch these colorful birds go about their routine in Nature, allowing mere mortals a glimpse into their lives.
Watching the sun set over the ocean, we suddenly notice something bobbing in and out of the waters – a couple of dolphins that have come to greet us as we bid adieu to the Gulf!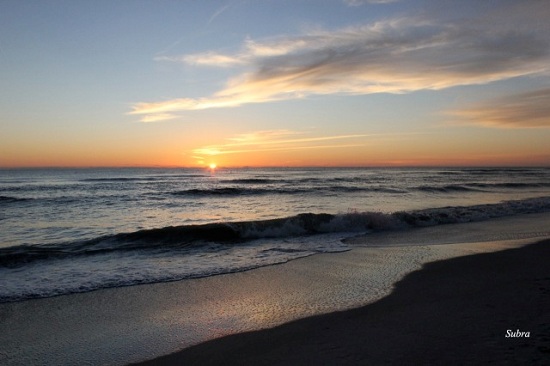 All Images (c) Subra Narayan