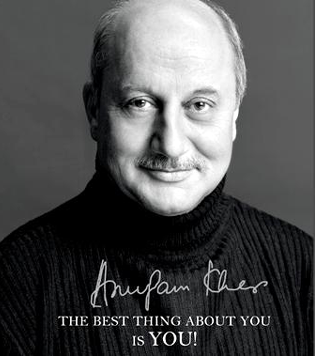 The 'Best Thing' about the book 'The Best Thing About You is YOU' by Actor Aunpam Kher is its 'Brevity'.
Yes. Kher has touched almost all topics of self realization and improvement with the clarity and commitment of a counselor. He quotes examples form literature, music and his personal life and other's lives. He drives home on simple aspects for a contended living through examples which are not too complicated but simple.
The present day fast world where the life's the emphasis lies mostly on the financial status and positions, we find people either highly stressed out or overbearing. The human relationships exist on flimsy threads. The snapping of relationships, stress induced anger and outbursts, constant bickering and bemoaning about one's own failures, undue fear about tomorrow, lacking self confidence in the case of people with low self esteem have been discussed by many psychologists and authors.
Here, the actor turned writer tries to share his views mainly on the human psyche focusing specifically on the steadiness and composure of self, realizing the importance of the people around you, and the need to accept the ups and downs in life with equanimity are inevitable in life.
Kher's language is brief and straightforward. His care to impress the reader through his views in simple terms makes the reading a pleasure. Of the 50 topics he had chosen some like 'Be Detached', 'Learn to Laught Yourself Too', 'Don't Allow Inhibitions to Limit You', 'Accept Change, but with Wisdom and Grace', 'Never Put off till Tormorrow What You Can Do Today', and 'Coping with Loss and Death' are well written and make the reader ponder over the contents.
However, on closer analysis one cannot but feel that these sorts of books are meant only for the elite and enlightened and who HAVE the EDUCATION and MIND to change. But what we see in India is, unfortunately, the major population is just STUDIED and not really EDUCATED. Most of the problems of the rich populace are man made. For those whom life is unfair on many ways suffer silently. For them such preachings can only be empty words and can never bolster their morale.
Well, we feel that India has grown, developing and the younger generation is more practical than antideluvian. But, for them only the personal problems are many. Hope Anupam Kher's book reaches out those populations for making their lives cheerful.
The book is a good choice for presenting as a gift to people of any age.