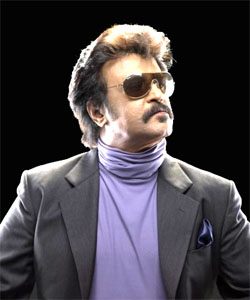 Chennai
Rajnikanth may be one of India's highest paid actors today. A long time ago he was a humble bus conductor but with stars in his eyes. And when he joined the Tamil film industry, he struggled for years - to pay his room rent, to commute in Chennai and to be simply accepted as an actor.

Three long and tough decades later, the 57-year-old is the heartthrob of millions, and not just in Tamil Nadu. His popularity can put even the best-known political leader to shame. That was more than evident as sale of tickets opened here for "Sivaji: The Boss", to be released Friday.

The budget for the movie is reported to be in excess of Rs.100 crore ($24 million) -- and the fees Rajnikanth commands along with its director Shankar is said to be 30 percent of this, a Himalayan amount considering that a long time ago the man drew the salary of a bus conductor.

He then went by his real name, Shivaji Rao Gaekwad. His mother tongue was Marathi. He was a conductor in Bangalore in the mid '70s and it was Madras, or Chennai, that drew him when he decided to take to acting.

The man wanted a name befitting a star. At that time, a runaway Tamil hit movie had a character called Rajnikanth. The khaki-clad conductor chose it as his screen name.

An uneventful period of training as an actor got Rajnikanth a glorified extra's role in a black and white film, "Apoorva Raagangal" (Rare Tunes).

Rajnikanth played a geriatric husband to a wayward wife who chooses to love a man young enough to be her son while her daughter falls for the son's father. His screen presence lasted under 15 minutes and his face was hidden behind a shaggy beard.

Nobody noticed him except for a few filmmakers who felt Rajnikanth's first shot in which he opens the gates of a concert theatre showed a glimpse of his acting talent.

That still didn't make Rajnikanth's life in tinsel town easy.

He hired single rooms in a small lodge in a suburb which had a dubious name Kolaikaran Pettai (Murderer's Den), simply because he couldn't afford anything better. No one was ready to rent him a house because he smoked and drank.

Rajnikanth's mentor K. Balachander asked him to play an anti-hero. Bharati Raja made him a bigger villain in his maiden venture "Pathinaaru Vayathinile" (Sweet Sixteen), and for a while claimed 'Rajnikanth' was his find.

The film critics of the 1970s found Rajnikanth a cruel joke.

In 1980, the set was garish and big. The film was Balachander's "Nettrikkan" (The Third Eye).

Rajnikanth's costumes were old-fashioned and looked as though hired from a shady launderer.

His three leading ladies were studies in contrast - Lakshmi, a minor actor from a generation before the hero, Saritha, who was definitely more saleable than Rajni, and Monica, who could not make a mark in the industry.

Rajnikanth was playing a dual role. The meatier of the two was that of a philanderer. The other was a straitjacketed do-gooder who pretends to marry his own father's rape victim.

This correspondent wandered into AVM studios, to interview the man who was just emerging from doomsday predictions.

Rajnikanth had been called a crackpot, drug addict, drunkard and worse because he was said to be interested in a fading actress.

Those were the days when air-conditioned make up rooms weren't there.

Rajnikanth had removed his jacket and upcoming stars like him smoked State Express 555 cigarettes. Was he willing to answer a few questions?

"Is it for a movie magazine?"

"No!"

"Then you are welcome. Ask whatever you want. But please remember to print my answers verbatim."

What was supposed to last a few minutes stretched to four hours, till the shooting ended that day and the chat continued a day later, during a drive from Rajnikanth's bungalow to the studios in his modest, air-conditioned Fiat.

"I only fear god and my conscience," he said.

"When I started to earn a living, I did not know that one day I would come to Madras and become film actor. For me, no matter how famous I become, I will always be a pal to my pals, because they are my roots," the not-yet superstar had said.

"Tamil Nadu has become my preferred home because people of this state have given me a new identity and my modest claim to fame.

"When I left Bangalore, I wanted to be an actor, not a star, because of three things: It would fetch me a little more money than the salary of a conductor. I could choose my women and get plenty of time to sleep - in that order. I have achieved much more. I want nothing more," he said. That was the 1980s.

He recalled he had gone to, later chief minister, Jayalalitha's house to talk to her about a role offered to him - to play second fiddle to her.

"I was riding a scooter, something I was sheepish about. The film didn't work out for various reasons.

"It was at that moment that I decided that one day I would have my house in the same area she lived in - Poes Gardens - so that I could shed the complex once and for all. I have done that now," Rajnikanth said, with a glint in his eye.

No Tamil newspaper printed the 1980's interview because Rajnikanth wasn't news then.

By 1990, Rajnikanth became a superstar and the most beloved actor of the audience.

One day in 1992 Rajnikanth's car was making its way towards Radhakrishnan Salai, a major artery. Suddenly, a police jeep overtook his vehicle and forced it to stop.

"We are clearing the road for the chief minister to pass," the cop announced. The chief minister was J. Jayalalitha.

Something snapped. Rajnikanth got out of his car, walked on to the busy road, crossed the intersection, went to a kiosk, bought a packet of cigarettes, shook one out -- and began smoking.

Within a few minutes, a small crowd gathered, just to have a glimpse of the star.

News spread like wildfire and a huge multitude began milling around the area. Rajnikanth did not seem to have a care in the world and puffed away merrily. The whole area was grid locked.

It became impossible for Chief Minister Jayalalitha to come out of her residence. Finally, realising their folly, the police begged Rajnikanth to drive away. The chief minister, they said, was getting late.

"I am waiting for her to go. I don't mind waiting," Rajnikanth said, feigning reluctance. Finally, he shrugged, got into his car and drove off.

That was the star's way of making a chief minister understand that she may be the administrative boss of the state, but the icon of the masses was indeed Rajnikanth.

Baring a flop "Baba", all of Rajnikanth's releases have accorded manifold returns to his producers. With each film, his remuneration has multiplied four times.

Rajnikanth's last film "Chandramukhi", released in 2005, has been the biggest grosser in the history of south Indian films.

He has in the meantime given up smoking due to medical advice. After every film, he goes away on pilgrimage, most often to the Himalayas.

Despite his age, his fans from all over the world, a sizeable number in far away Japan, Britain, the US and South Africa, want to see him paired on screen with much younger women.

They lap up his antics, innovative song-and-dance and fight sequences.

His fans in Tamil Nadu burst crackers on the roads, bathe his cut outs with milk, beer and whisky before his films get released, and the same is expected on Friday -- when "Sivaji: The Boss" is released.