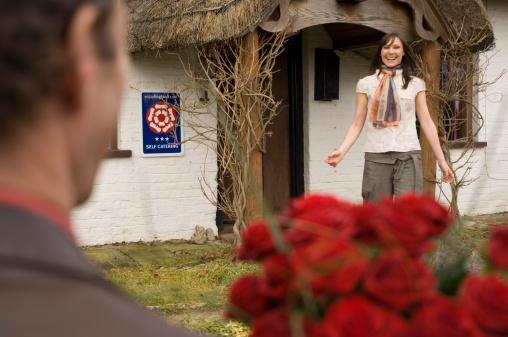 I tried to ignore the gentle prodding. I was trying to digest the impact of the meeting at the office.
I stood waiting for the bus to arrive…finally her voice reached my muddled thoughts…
"If you buy this, a wish will come true"…
I looked down at the tiny old lady with a basket, she was clean, but shabby…she had a hat that most people would not use in this day and age, but she looked good in it.
I teasingly said, "Will prince charming come along to sweep me off my feet?"
She smiled and nodded, "The one with the heart on it; buy it and you shall see."
I felt an urge to be daring, why not, I thought, can't hurt.
"How much?" I asked.
"Only a dollar, miss."
Hmmm, mustn't be too powerful, I asked out loud, "Which one is the most powerful?"
She handed me a dull looking bag, it was a clutch purse, with a draw string through it. Though it looked faded and old, it drew me to it.
She chanted over it and said, "It will be ten dollars."
I took it without argument, I felt excitement didn't know why, but I was happy she came along.
I went home, placed my keys and newly acquired purse on the counter.
Then the impact of the meeting came back to haunt me. They wanted me to go to a foreign land, update the antiquated office place, including their equipment. I was good at implementing money making deals. I had a head for it. I knew why they were doing this, but I had put so much into the house I was in. Now I would have to sell it. I had mixed feeling about it. But if they wanted me to, I would. I didn't have family or anything else holding me back…I would take the job. It would be a long haul, but I felt excitement with the new challenge.

My move had proved to be daunting. First of all, I didn't get met at the airport. Then my girl Friday was a man. I did not feel comfortable with him. He was much too handsome and charming. I didn't want to become involved with an office romance. In fact I was regarded as "Iceberg"…I did not like to show emotions.
"Miss Dallas?"
"Yes," I responded, askance.
"I am here to escort you to the office' then we will take you to your place of residence." He spoke fluent English, but there was a bit of an accent.
"I am Roger Conner, your office manager. I am happy to be of assistance to you."
I nodded in acceptance; then to show good will, said, "I am happy to have your help."
We went through the tiny office, there were about two or three people around, who were busily working.
"Katy, please meet Miss Dallas." Katy shyly nodded and said in a tiny voice, "I am glad you've come."
"Frankie, please meet Miss Dallas." He was a tiny man, I towered over him, and I was of average height.

He nodded and said in a clear voice, "Pleased to meet you, Miss Dallas."
Roger spoke as we walked to the back of the room, "we are able to fill in if one or the other should take ill or are unable to come in." He seemed apologetic for the skimpy staff. I guessed that their office got very little pay, for the work that was required. I would have to get funds for their department. I held the power of finances in my hands. No wonder they were they were uncomfortable and nervous. I could fire the whole lot and hire new people. But that was not my intention. They knew the language and they knew what to do when the company had problems. They only needed to be updated, that's where I came in, and I had to see where the needs were.
Roger knew that, he was brilliant, but could only do so much. With the new technology, they needed to be updated. Miss Dallas was here to remedy that, he was grateful for her. But he was hoping for a man instead of a woman. His idea of a woman was low at the moment, his fiancée of many years, had tossed him off for a richer man.
I understood what he was going through, had experienced the same thing a few years back. I thought I was madly in love, and thought I would never live through the breakup, but I did survive.
Roger was an excellent helper. I only needed to ask and he would provide.
He saw my need to have a friend, someone to care for, and they for me. He introduced me to Henry. He was handsome, tall, with a ready smile. I liked him, but there was something missing in our relationship. I always felt comfortable with Roger, but as I said earlier, I looked upon office romances as taboo.
One day flowers arrived in the office; it was a beautiful bunch of English Tea Roses. How romantic, I thought. I never knew who sent it. The other people brought goodies to munch on and I bought sandwiches…
Our group brought notice to the head office. The chief, CEO called to congratulate us. I was to go back to headquarters, I had mission accomplished.
One day, on Valentine's Day, the doorbell rang. I opened the door, and to my surprise, there Roger stood. He held a bouquet of Tea Roses in his hands.
"I've missed you. I have taken over another position, it is at another firm. They saw what was accomplished when I was Office Manager, and said I could take over their business. So I am in the process. Will you be my Valentine?"
I laughed and nodded…so he was the rascal that sent the Tea Roses and I never suspected he liked me.
The little Old Lady's promise to me did come true.