Prologue
I consider it a privilege, a God-send opportunity to be writing for our beloved deity Arulmigu Sri Peruvembudayar Sastha. The entire content is based primarily on historical details provided by the temple trust. The trust has done a marvellous job of restoring the temple to its original glory.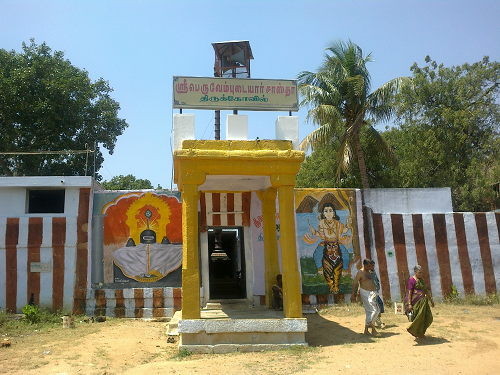 Believe me and this is no exaggeration, I have experienced lot of positive energy after visiting this place recently (February 2012). Even an agnostic will be mesmerised at the power of Lord Ayappa, our beloved sastha. Vibrations in the temple are intense and positive. The locales around the temple are breathtaking.
A strange sense of calm pervades your being as you enter the temple precincts. You feel emancipated from all negativity. The placid environment surrounding the temple takes you back to another era. The very fact that your forefathers have visited this place is reason enough to get enchanted and mesmerised.
The temple has a rustic charm and an earthy feel about it. The temple trust informs me that they have struggled against all odds to restore the lost glory to this temple as the Sastha (Lord Ayappa) in this temple is the kula-deivam (family deity) of most trust members.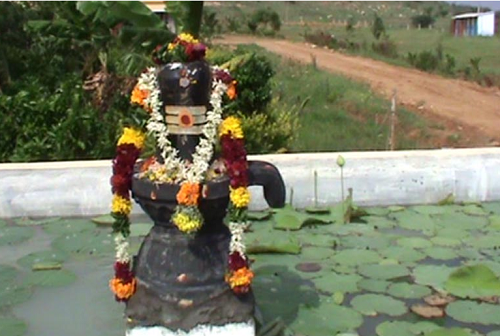 Kula-deivam in Tamil means a deity that protects generations of your family. But with the younger generation moving away to cities in India and abroad, most families propitiate the family deity after a marriage or a special occasion in the family but fail to visit the temple on an annual basis. But when they are faced with an adverse circumstance in their lives, they are suddenly reminded of their lapse and they rush to their family deity to appease him.

Contrary to what is generally tom-tommed , our kula-deivams are always kind and benign. We may have kept our kula-deivam waiting but our kula-deivam will not keep us waiting. Our family deity will ensure that the desires in our heart are fulfilled. All that you need is complete faith in our family deity. Our family deity is like a foster parent to us. Pray with a pure heart and our Sastha will take care of us. Period.
Not many know that, Sastha – our dear Lord Ayappa has the greatest capability on the earth to cure anyone of mental ills. If the Sastha in question happens to be your family deity, then this only means that a visit to him will solve all your myriad problems in ways that you would have never envisaged at all. All those who are reading this – please do not forget your kula-deivam at all. Can we ever forget our parents? If we can't, then how can we forget our kula-deivam ?
Temple address
Arulmigu Sri Peruvembudayar Sastha Annadana Trust
Vagaikulam, Sasthapuram, Rajakalmangalam. Perumazhinji.
Tel No: 09003799344, 09363346436
Closest places: Tirunelveli, Kalakad, Valliyoor, Nanguneri
Contributions: State Bank of Travancore, Vallioor branch, A/c.No. 67114986632. Contributions to temple are exempt from tax.
Important festivals
25th April 2012 – Wednesday – Kodiyetram
2nd May 2012 – Wednesday , Chithirai festival.
During the "Kreda" yug, an asura (a demon) threw away Goddess Mahalakshmi in the ocean. Lord Naryana took upon the form of "koorma" avtar and killed the demon to rescue his beloved consort Goddess Mahalakshmi. So says the Vishnupuran.
A demon who tortured all the Devas and people had to be decimated. So, Lord Shiva created Dharma Sastha and directed Sastha to kill the demon. Later on, once the mission was successfully accomplished, Lord Shiva gave a "linga" form to Dharma Sastha who is popularly known as Lord Ayyappa. So, the unique feature of the Sree Peruvembuadayar temple is that Lord Ayyappa along with his consorts Poorna and Pushkala are in the form of a "lingam" in this temple. Lord Ayyappa , as we all know, is Hariharan (a combination of Lord Vishnu (Hari) and Lord Shiva (Haran). Further, a "vel" is also a part of the legacy of this temple which definitely adds to the significance.
It is believed that after killing the demon, Lord Narayana visited Perumazhinji and conducted Shiva-pooja in his "korma" avtar to rid himself of the dosha. This is the reason this place is also called as Koormagirimalai.
Years ago, the Dharma Sasta was seated atop a hill to give darshan to his devotees. One day, as usual, the priest who conducted the rituals in the temple was climbing the hill. Suddenly, he tripped and fell down. Who would come to his rescue other than Lord Sastha himself ? How would he allow his devotee to suffer ? The priest heard a voice that said , "O, Priest, there is no need for you to come all the way up to propitiate me. To ensure that all my devotees can access me freely, I am already present along with my wives Poorna and Pushkala in the lingam form beneath a Neem Tree. I will be glad if you can do the rituals for me at that location where red ants and white ants are appeasing me with flowers".
As if on cue, the priest went near the Neem Tree and discovered the three lingas. As the Dharma sastha was found beneath a neem tree (called as "veppa maram" in Tamil), the Sastha is fondly referred to as Sri Peruvembudayar Sastha. It was also believed that siddhars were devoted to Dharma sastha and prayed to Lord Ayyappa in a formless manner. Legend has it that the Dharma Sastha who was created by Lord Shiva in Perumazhinji also took upon the onerous task of killing a female demon and was anointed as Lord Ayyappa in Sabarimala.
Devotees who were unable to take the trip to Sabarimala, prayed at the Sri Peruvembudayar Sastha temple. Lord Ayyapa in the "lingam" form is very much special. The triumvirate kings – Chola, Pandian, Cheran- in Tamil Nadu also seemed to have visited this place. This is as per archaeological records that were retrieved. Records show that devotees visited this shrine enroute to Sabarimala, took bath in the "Nambi" River and cooked food near by.
The temple trust has constructed a separate building for conducting "annadahna" (free meals). During the months of Karthikai and Markazhi , annadana is conducted thrice in a day. Annadana is also conducted every Saturday.
The trust has created a Lotus Pond in which Lord Shiva is seated in the centre and the arrangements have been made to ensure that water flows on Lord Shiva 24 x 7. A mini-poultry farm, a resting station for birds, creation of a beautiful garden – all these have been created and are also being maintained.The construction work in the temple is in progress and has been delayed due to paucity of funds. All those who can contribute are requested to contact the temple office at 09363346436 / 04635 295048/ 7373520900
The grace of Poorna-Pushkala sameda Lord Ayyappa is remarkable.
The temple is located on the highway in a village called Rajakkalmangalam which is exactly between Valliyoor and Nanguneri.
Those who have visited this holy shrine have been blessed with boons from Lord Ayappa. Only those who have visited this shrine can understand the power of Dharma Sastha (Lord Ayappa). The Pandia kings reconstructed the temple.
Those who wish to fix the marriages of their daughters, childless couples and those with mental and physical illnesses have come to this shrine and have been blessed with the grace of Sri Peruvembudayar Sastha. Wealth will pour in and all your diseases will vanish without a trace when you are the recipient of the grace of Lord Ayyappa.
Devotees and all those for whom Sri Peruvembudayar Sastha is the family deity are requested to spare no efforts in popularising this temple by spreading a word about the temple far and wide and contributing for future temple renovation works.
Devotees who are coming from outside Tirunelveli can contact the temple office as there are boarding and lodging facilities within the temple premises.Toilet and washroom facilities are available. Devotees can also book their tickets through Internet facility in the temple office. The temple trust has also arranged for pick up and drop of devotees from near by stations.

Acknowledgements
Temple Trust - Shri Mani Pandian, Ms. Subarna
My grandfather Shri. K C Dharmaraja Iyer