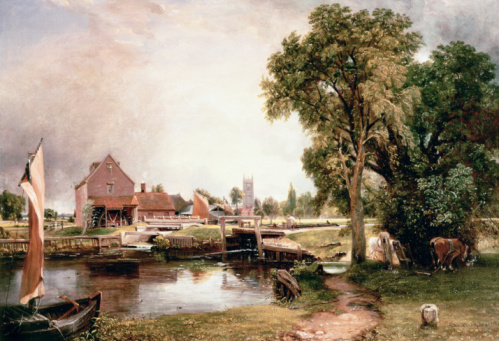 Dedham Lock and Mill, 1820 by John Constable

Painting is an art of coloring your imagination with the blots of joy and strokes of cherish. Every painting to me is a celebration and every new thought to paint a season of festival. Painting is one that thing that rejuvinates my senses as good as sitting in a dark room alone, when one is sad. For those who love painting I raise a toast for today I am going to start the journey to a new festival, a new celebration. And by remembering what the Masters' said:
What I see is a marvellous painting. But how are you going to make it? And, of course, as I don't know how to make it, I rely then on chance and accident making - Francis Bacon 1909-92 : The Brutality of Fact.

Painting became everything to me... Through it I made articulate all that I saw and felt, all that went on inside the mind that was housed within my useless body like a prisoner in a cell - Christy Brown 1932-81 : My Left Foot.

The sound of water escaping from mill-dams etc... willows, old rotten planks, slimy posts, and brickwork... those scenes made me a painter and I am greatful - John Constable 1776-1837 : Letter to John Fisher.

What I dream of is an art of balance, of purity and serenity devoid of troubling or depressing subject matter... a soothing claiming influence on the mind, rather like a good armchair which provides relaxation from physical fatigue - Henri Matisse 1869-1954 : Notes d'un Peintre.

No; painting is not made to decorate apartments. It's an offensive and defensive weapon against the enemy - Pablo Picasso 1881-1973: March 1945

There was a reviewer a while back who wrote that my pictures didn't have any beginning or any end. He didn't mean it as a compliment, but it was. It was a fine compliment - Jackson Pollock 1912-1956 : Francis V. O' Connor.