If your concept of including mung in your diet means topping off a salad with a few bean sprouts, think again. Mung beans, and their split, hulled version, mung dhal, can be used to create main dishes, salads, soups, spreads, savories, beverages and desserts. Mung beans combine well with a host of grains and flours, vegetables and greens, tart fruit, other sprouts, spices and herbs, and even rice, soy or nut milks.

Mung or moong beans (Phaseolus aureus) are small cylindrical beans with a bright green skin and yellow insides. They are eaten whole, split with skins on, split and hulled as mung dhal, or sprouted. They are used extensively in both Indian and Chinese cooking.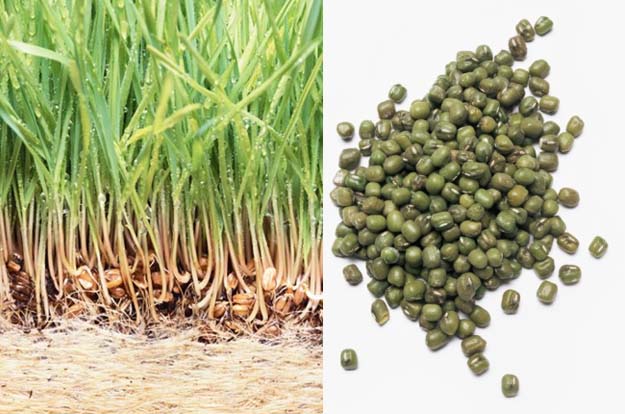 Ayurvedic healers consider the mung bean valuable because it is highly nutritious and delivers sustenance while being easier on the digestion that most other beans. When cooked to butter-soft consistency and combined with digestion-enhancing herbs and spices, mung beans can be digested even by the recuperating, the very old and the very young, and individuals with a weak digestive fire. Mung beans offer the astringent and sweet tastes, are cooling for the physiology, light and soft. When cooked with appropriate herbs and spices, mung beans are balancing for all the doshas.

From the modern nutrition perspective, mung beans offer protein and dietary fiber, and are a source of phytoestrogens. They also contain vitamins A, C and E, folacin, phosphorus, magnesium, iron and calcium.

Buying and Storing Mung Beans

Mung beans are available at Asian groceries, health food stores, online and even some supermarkets. When buying whole mung beans, look for whole, unbroken beans of uniform size and rich color, with unbroken skins. Store the beans in clean airtight jars in a cool, dark place. Buy no more than what will last you for about a month. Older beans take longer to cook and produce more flatulence.

If you buy your mung sprouts, look for fresh, crisp sprouts without brown stains or marks. Prepare and eat the mung sprouts as soon as you can after purchase, definitely the same day. You can also sprout mung beans at home.

Preparing

Dry mung beans and dhals can contain small twigs, stones and other foreign material. Spread out the beans or dhal on a white serving dish and pick them over carefully before use. Also pick out and discard any discolored or shriveled beans.

Dry beans and dhals should be washed thoroughly in several changes of water before use. Discard any that float on top of the water.

Dried mung dhal does not generally require pre-soaking. Whole mung beans are cooked both without soaking and after soaking. Mung dhal and beans can be cooked in a pressure cooker, in a slow cooker or on the stovetop. If cooking on the stovetop, foam that builds at the top can be skimmed off and discarded. Dhals generally have the best flavor when they are slow-cooked for a long time. In all cases, cook beans until completely tender.

Combining with Other Foods

Mung beans can be combined with brown or white rice, cracked wheat or oatmeal to make a one-dish meal known as khicharee. They can also be cooked to a soupy texture with lots of water and spices. Stews and soups that combine mung beans or mung dhal with a wide variety of greens and vegetables and grains such as barley are also common. Mung dhal flour can be combined with whole wheat flour to make fresh flatbreads on a griddle.

Cook mung beans with lots of herbs and spices. Fresh ginger, basil, cilantro, rosemary, sage, thyme, parsley, curry leaves and tarragon, fresh garlic, lemon juice, and spices such as turmeric, cayenne, ajwain, cumin, coriander, garam masala, black pepper and bay leaf go wonderfully with mung dhal or mung beans.

Recipes

Here are some mung recipes from our Ayurvedic Mung Bean Recipes e-booklet available for purchase.

Basic Mung Dhal
1/2 cup split hulled mung beans (mung or moong dhal)
3-4 cups water
Rock salt to taste
1 tsp - 1 tbsp ghee (clarified butter) (use less ghee for Kapha)
1/2 tsp cumin seeds
1/8 tsp turmeric
Sort and wash the dhal. Drain. In a heavy-bottomed pot, add the washed dhal, turmeric and 3 cups water. Bring to a boil; then turn heat down to medium/low and simmer-cook until dhal is butter-soft (about 30-40 minutes). Stir occasionally to prevent sticking, and add more water as needed to maintain desired consistency. If foam forms on the surface, skim it off and discard. When cooked, add salt and stir. In a separate pan, heat ghee until melted to a clear oil. Add the cumin seeds and stir to release aroma. The cumin should turn a rich dark brown but not burn. Pour the ghee-spice mixture carefully over the dhal. Stir and serve immediately with boiled Basmati rice or other whole grain and vegetables. (In a thinner consistency, this dhal can be drunk as a nourishing soup-beat with a metal whisk to a smooth consistency and heat through).
Bitter Greens, Mung Sprouts, Avocado and Orange Salad
1 cup baby spinach leaves
1 cup mixed bitter greens (arugula, dandelion, watercress etc.)
1 cup fresh mung sprouts, cut in half
1 cup orange sections, deseeded
1/2 cup diced avocado
1 tbsp soaked walnut bits, soaked for 15 minutes in warm water
2 tbsp extra-virgin olive oil
1 tbsp lemon juice
1 tsp lemon zest
Rock salt to taste
Fresh cracked black pepper to taste
1 tbsp tahini
1/2 tsp minced fresh ginger
Heat one tbsp of the oil in a skillet. Toss in the spinach leaves and mung sprouts and stir briefly to wilt the spinach leaves. Remove to a bowl and cool. Add the mixed bitter greens, orange and avocado. In another bowl, briskly whisk together the lemon juice, rest of the olive oil, lemon zest, salt, pepper, ginger and tahini. Pour the dressing over the salad and toss to coat. Garnish with the chopped walnuts and serve immediately.

Note: If using garlic, add to the oil in the skillet before you add the spinach. About 1/2 tsp minced garlic would be plenty.

Mung Bean/Herb Spread
1/2 cup mung dhal
2 tbsp almond butter or tahini
1 tsp minced ginger
1 tbsp chopped fresh parsley
1 tbsp chopped fresh basil
1 tbsp mild olive oil
1/4 tsp ground cumin
Rock salt to taste
1 tbsp lemon juice
Fresh-cracked black pepper to taste or large pinch sweet paprika
1-2 tbsps water if needed
Heat a skillet and dry-roast the mung dhal until golden brown, about 10-12 minutes. Stir constantly to toast all sides and prevent burning. Grind to a coarse flour in a spice-mill. Combine all the ingredients in a food processor and process to a smooth, spreadable paste, adjusting the water as necessary. Tastes excellent on crisp toast or crackers, on flatbread wedges or as a dip for vegetables.

Note: If using garlic, add one medium clove, peeled, to the ingredients.

Shreelata Suresh is a yoga instructor from the Bay Area, and she writes on yoga and Ayurveda for different publications. To subscribe to free newsletters on Ayurveda, or for more information, please visit http://www.ayurbalance.com.

Disclaimer:
Information provided in this article is for the sole purpose of imparting education on Ayurveda and is not intended to diagnose, treat, cure or prevent any disease. If you have a medical condition, please consult your physician.