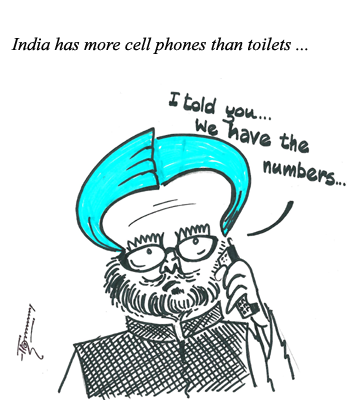 The recent news item in the leading newspapers screams that 'Half of the Indian Homes have cell phones but not toilets'. What an irony! We still crying hoarse that India is a poor country and developing but we the people prefer to have connectivity in our hands than having a clean, hygienic, well maintained toilet.
Is it because of ignorance or arrogance? Certainly the latter. One cannot just say that we are unaware of the importance of having a toilet and it is as important as having food. But, we are inclined to spend more on food than on toilets. Toilets are still considered mostly by the people as a dirty place and we should give the last priority to that. That is the reason we find majority of the public places have poor toilet facilities like hotels, offices, temples, malls and shopping places.
However rich we become, we have our own queer preferences. I have seen many of my relatives and friends who have constructed houses have given the last preference and importance to the toilets and less said the better about their maintenance. Public toilets in even reputed government offices are terrible to enter. Recently, I happen to go to a court at Chennai and when I have entered the toilet I was appalled by its horrible status. In trains they stink like hell and those compartments that are close to the toilets are uninhabitable.
No other country boasts of great culture or intellectual inheritance as India. We are the public who are very particular about purity of mind but turns a blind eye to impurity of surroundings. We never felt ashamed of defecting in the public or urinating in a crowded street. As once mentioned by the foreigner when we commented on kissing in the public as crime and ugly and watched us relieving ourselves in the public 'You do in public what we do in private and what we do in public you do in private'.
Further the government policies and prerogatives are also funny and make such items accessible to the common man. Still I wonder should India have so many television entertainment channels and electronic gadgets. We lived comfortably earlier also without these gadgets.
It is also true that television entertainment, cell phones and internet charges are much lower and cheaper in India than what they cost in other countries. The country's as well as the population's vision always seems to be blurred. We love to live in lopsided luxuries. This is no exception.