Ten Tips to Increase Healthy Hair Growth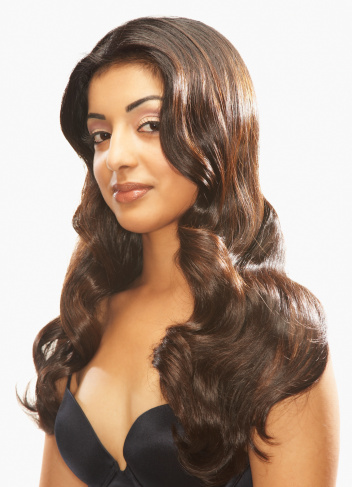 Eat a healthy Balanced diet. Include plenty of green vegetables, fresh fruits, minor millets, milk and milk products. Vegetables and fruits provide antioxidants and minerals which are necessary to keep the body healthy. Amla (amalaki or Indian gooseberry or emblica officinalis), is considered as a fruit which help in hair growth. Include banana in your diet as banana contains plenty of calcium which is a vital nutrient required for hair growth. Healthy diet prevents hair loss and improves quality and quantity of hair.

Drink plenty of water (2 liters or 12 glasses per day). Water flushes out toxins and increases moistness of skin and hair. This prevents splitting of hair.

Our body produces natural oil which is secreted through oil glands of skin and scalp. This oil keeps our hair strands conditioned. Hence do not use harsh shampoos or soaps which strip off natural oil of scalp. Always use mild shampoo to wash hair.

Wash your hair once in three days. Repeated hair wash leads to dry hair and split ends.

Exercise regularly. This helps to increase blood circulation and keep our whole body healthy and rejuvenated. A brisk walk for 30 minutes is advisable for all ages.

Massage your scalp with good hair oil. Hair oil which is processed with hair friendly herbs help to condition the hair and prevent drying of hair. A good head massage help to increase blood circulation to scalp skin and aid hair growth. Head massage also reduces stress, tension headaches and induces good sleep.

Take measures to prevent formation of dandruff. Dandruff leads to hair loss and stunts hair growth.

Brush your hair from root to tips before taking head bath.

Wear a swimming cap to prevent hair damage due to chlorine.


Avoid tying hair tightly with hair bands. This leads to baldness.
21-Mar-2012
More by : Dr. Savitha Suri
---
---
| | | |
| --- | --- | --- |
| | pls some1 help me i'm suffering frm hair fall very badly.. 3 days 1ce ill apply oil and wash my hair but wen i wash my hair bunch of hairs getting fall. my hair became vry vry thin. im suffering so much because of that... pls advice me some1 for regrowing my hair naturally... | |
---
I just want my hair to be long smoooth and shiny...
My grandma recommend hair oil but its just too out of fashion
Would u plzzz help me out in this????
---
| | | |
| --- | --- | --- |
| | my hairs are becoming thin and dry day by day...splits ends and grey hairs are also my problem...i want my hairs long and black...what should i do...plz help me out | |
---
| | | |
| --- | --- | --- |
| | very gud tips i followed it thnk u so much | |
---
| | | |
| --- | --- | --- |
| | my hairs used to be thick but they ave become thin now can they become thick again plz reply | |
---
| | | |
| --- | --- | --- |
| | very good | |
---
| | | |
| --- | --- | --- |
| | my hair are very thin, dry and breakage problem.plz give me a advise......... | |
---
| | | |
| --- | --- | --- |
| | my hairs are very thin, dull brown colour, breakage problem is in my hair and not strong. as well as the quality of my hair is very bad so pls give me some tips for good and healthy black hair. i use panteen shampoo once in week and i dont use any hair oil so pls tell me good hair oil and shampoo for me. i saw there is some good effect from panteen shampoo on my hair touch wood bt my hair is very thin and not strong. | |
---
| | | |
| --- | --- | --- |
| | my hairs are very thin and dry. my scalp is also very dry and has dandruff as a result i have loads of hairfall.. i'm afraid of washing my hair because after washing my hair my hairfall increases. i regularly apply oil on my hair and take all the healthy measures but i'm helpless. please help me. | |
---
| | | |
| --- | --- | --- |
| | my hairs are very thin.nd small plz help me plz | |
---