The arrest of Jadavpur University don Ambikesh Mahapatra on charges of circulating "derogatory images" of West Bengal Chief Minister Mamata Banerjee through emails and social media, and mocking Trinamool government's policies has again brought into focus crimes on cyber space.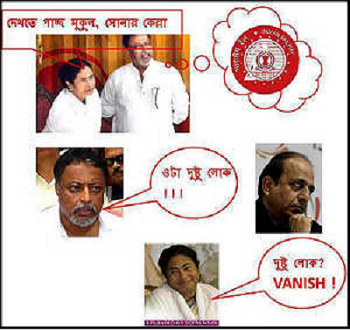 The 'cartoon' that led to JU professor's arrest.
From top to bottom:
Mamata Banerjee points to Indian Railways' logo and tells Mukul Roy: See Mukul, the Golden Fortress;

Mukul Roy points to former railway minister Dinesh Trivedi and exclaims: That's an evil man!!!;

Mamata says: Evil man, vanish!
The collage of cartoons, a spoof by Mahapatra allegedly includes photographs of Mamata and Railway Minister Mukul Roy, and uses some dialogues of Satyajit Ray's detective masterpiece film Sonar Kella showing the duo discussing how to get rid of party leader Dinesh Trivedi, who was forced by Banerjee to give up the railways portfolio. 'Mukul' is incidentally the name of the child protagonist in the movie.
Political reasons apart, the arrest has raised several issues on the use of the Internet and the social media, a technological boon.
Cyber crime is a term used to broadly describe criminal activity in which computers or computer networks are a tool, a target, or a place of criminal activity, covering a host of activities.

Mahapatra has been charged with defamation and insulting the modesty of a woman and using a computer or communication device to spread false information--IPC Sections 500 and 509 and Section 66A of IT (Amendment) Act 2008.

IPC Sections 500 and 509 deal with E-Mail Abuse and Online Defamation.

Section 500 deals with punishment for defamation: Anyone defaming another shall be punished with simple imprisonment for a term which may extend to two years, or with fine, or with both.

Section 509 deals with word, gesture or act intended to insult the modesty of a woman. "Anyone intending to insult the modesty of any woman, utters any word, makes any sound or gesture, or exhibits any object, intending that such word or sound shall be heard, of that such gesture or object shall be seen, by such woman, or intrudes upon the privacy of such woman, shall be punished with simple imprisonment for a term which may extend to one year, or with fine, or with both."

The specific section 66A deals with sending offensive messages through communication service, etc and stipulates punishment.
"Any person who sends, by means of a computer resource or a communication device,
The terms "Electronic mail" and "Electronic Mail Message" mean a message or information created or transmitted or received on a computer, computer system, computer resource or communication device including attachments in text, image, audio, video and any other electronic record, which may be transmitted with the message, the act says by way of explanation.
The IT act was amended in 2008 to bring in changes following a sudden spate of terrorist attacks on Parliament, public places in Mumbai and other cities and towns. And also, the misuse of cyber cafes, for sending messages through the Internet. Clauses A to F were included in the Section 66, where Sec 66F is quite vital as it deals with cyber terrorism.
It remains to be seen whether the charges are valid.

In recent years, social media have been perturbing various governments, making them jittery, intolerant and hysterical. Within three days of Mahapatra's arrest, social media have gone viral: more than 10 million netizens have posted comments and spoofed the arrest, poking more fun.
To add more histrionics, the state government has reportedly deputed a crack team of about 450 members of the Trinamool students' wing to infiltrate Facebook, Twitter, Orkut and other networking sites. The team's target—derogatory pictures, posts and remarks against the Poschimbanga stormy petrel, her party and the government. Mamata has a gigantic mission ahead—to hunt for a needle in a haystack.
Just a day after the arrest, the Kerala Cartoon Academy (KCA), a 30-year-old academy with more than 100 members, launched its 49th exhibition of cartoons on Mamata on its website keralacartoonacademy.c0m.
The cyber space is free for all and scouring the deep maze is a Herculean task. Besides, the Indian Constitution, under Article 19 (1) (a), guarantees freedom of speech and expression to all citizens. "The arrest is a clear assault on the minimum democratic right of freedom of expression," cartoonist and KCA chairman Prasannan Anikkad writes. The website displays around 50 cartoons, most of them on Mahapatra's arrest.
Assuming her team of young "sleuths" is successful in tracing the "culprits", who already run into millions, can her government arrest all of them, on charges of abetting crime, from across the world? Is there a gigantic police force in West Bengal? Will jurisdiction issues not surface? Her critiques may be spread wide over. Even if she hoards them all from across the world, does she have jail rooms in the State to lodge them? Even if she shelters them, are there countless courts and judges to try them?
And by the time Didi succeeds in arresting the abettors, cases are filed and trials start, will she be in the saddle? Is this why the West Bengal masses elected her, banishing a 34-year Left rule?