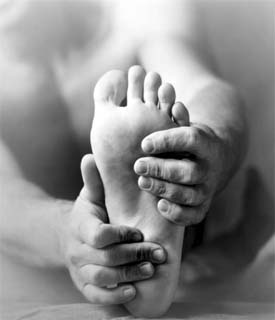 Our feet are often the least pampered parts of our bodies. Here are some suggestions from Ayurveda, the ancient science of healing from India, for taking care of your feet on a regular basis:
During your pre-bath Ayurvedic massage (abhyanga), pay special attention to your feet. Massage the feet, each toe, the ankles, the heels and the soles in turn with the warm oil, gently stretching the feet and toes as you massage them and using circular motions around your ankles and heels. (Pat excess oil off your soles with paper towels before you step into the bath or shower and watch your step because oil can be slippery). This daily foot massage enhances lubrication and circulation, and helps draw toxins to the surface for release. Using massage oil that has been fortified with nourishing Ayurvedic herbs provides added support to help keep your feet strong and flexible.
During your bath or shower, let your feet enjoy warm water for a few minutes, then cleanse with a gentle, non-irritating cleanser and a foot brush or washcloth, working between the toes and scrubbing the heels to slough off dead skin. Use a neem based cleanser to help rid feet of odor or bacteria. After your bath or shower, pat your feet dry and apply a moisturizing body lotion if you use one anyway, otherwise massage a little plain shea butter or coconut oil on your feet before slipping on a pair of cotton socks.
Once a week, apply a natural exfoliating mixture on your feet, especially on the heels and soles, when you cleanse, to remove hardened dead skin. Make your own exfoliating mixture of 2 parts coarse oatmeal, 2 parts chickpea flour (available at Indian grocery stores) and 1 part rose water. Add warm water as needed to form a thick paste. Apply on your feet and scrub gently, then rinse off with warm water. Pat dry and follow with an application of coconut oil, shea butter or natural body lotion.

Follow basic rules of comfort. Wear footwear that fits properly and is roomy enough so that no part of your foot feels pinched. Do not wear high heels except when you absolutely have to. Replace shoes before they wear out or become lopsided with use. Wear cotton socks indoors to protect your feet from the cold. When the temperature is comfortable and you are indoors, walk barefoot occasionally to allow your feet to breathe. Sit, stand and walk with an erect posture. If you work at a sedentary job, take breaks every hour or so and walk around a little. Use a footsie roller at your workstation.
A nightly foot and lower leg massage not only relaxes the feet, it also helps promote restful sleep. Use a light, non-staining oil such as almond or jojoba, and if you like, you can add 4-5 drops of a relaxing essential oil such as lavender or sandalwood to every 2 oz. of base oil. Take a very small amount of oil, just enough to offer lubrication, in your palm and gently massage your lower legs and feet for 3-4 minutes each until the oil is absorbed by your skin. Use soothing strokes and breathe deeply as you massage. No need to wash the oil off--you can go to bed as soon as you are done.
For tired, stressed feet, try a foot soak. Either of the following two recipes will have you sighing, "Ah, this is bliss," as you soak the tension away.



Herbal Foot Soak


1/4 cup lavender flowers
1/4 cup lemon peel
1 tablespoon dried rosemary
2 tablespoons fine oatmeal
2 tablespoons almond meal

Wrap the ingredients in a cheesecloth and tie with a string. Bring a pot of water to a rolling boil. Drop the herb sachet in and turn off the heat. Let steep for 15-20 minutes. Combine the herbed water with enough comfortably warm water to immerse your feet up to your ankles, and soak your feet for about 15 minutes. Stay relaxed as you soak, either just sitting in silence and breathing deeply or hearing relaxing
instrumental melodies. Pat you feet dry and rub on some lotion or shea butter.



Aromatherapy Foot Soak


1/4 cup sea salts
1 tbsp Epsom salts
1 tsp baking soda
2 drops essential oil of lemon
2 drops essential oil of sandalwood
2 drops essential oil of coriander

Combine well all of the above in enough comfortably warm water (about 2 quarts) in a foot basin or bath-tub to immerse your feet up to your ankles. Soak your feet in the mix for about 15 minutes. Stay relaxed as you soak. After you're done, pat your feet dry and apply some moisturizing lotion or shea butter. Mmmm!
If your feet tend to perspire a lot or to help your feet stay fresh in warm weather, dust them lightly with the following natural powder:

1/2 cup arrowroot
1/2 cup cornstarch
1 tsp baking powder
2 drops essential oil of peppermint
2 drops essential oil of lemon

Pass the dry ingredients through a sieve two or three times to mix well. Add the essential oils to the mix, stir well, and sieve again. Store in a dry container.
Notes:
If you have any medical condition, please consult your health professional for proper care. Foot soaks, Epsom salts and essential oils, for example, are not recommended in certain conditions.

Exercise proper care when using salts and essential oils.
Shreelata Suresh is a yoga instructor from the Bay Area, and she writes on yoga and Ayurveda for different publications. To subscribe to free newsletters on Ayurveda, or for more information, please visit http://www.ayurbalance.com.
Disclaimer:
Information provided in this article is for the sole purpose of imparting education on Ayurveda and is not intended to diagnose, treat, cure or prevent any disease. If you have a medical condition, please consult your physician.