We all know that actor Aamir Khan always is different in the tinsel world. He thinks and acts on many of his ventures. In his movies, he tries to infuse freshness as well as modernity whether they are acceptable to all or not.
He had boldly (really!) ventured into a TV show 'Satyameva Jayathe' and it was indeed a surprising first episode. The talk and interview show which was based on the female foeticide prevalent in India alone where the whole nation is said to be worshipping 'Devi' as the 'Supreme Goddess'.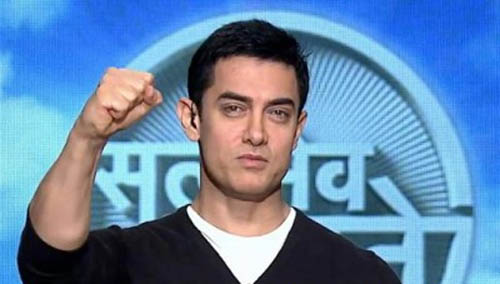 The show managed to bring to light some of the poor as well as urban educated class of victims who had suffered the hypocritical and cruel punishments for bearing a girl child. Those who spoke and whose cases are in the court also spoke with conviction. Aamir Khan brought several facts and figures to the huge gathering and also today (May 9, 2012) he had taken the matter to the Chief Minister of Rajasthan personally for the delay in justice on the sting operation done in Rajasthan on the topic. Further, the show ended with a positive note on a poor girl expressing pride over her daughter and a village in Punjab where the population of boys and girls are being balanced with care.
It is really good to see a popular film personality trying to rise to the cause of a social evil which seems to be exclusive to India. Aamir has proved that he wants to do more than to entertain people. As in his movies, he had dominated the show but without creating the feeling that he dominates.
Wow! No doubt Aamir is one of our best actors and also a creative and inspiring citizen!


Image (c) Aamir Khan