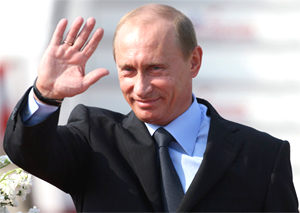 Few in Indian media gave much importance to Vladimir Putin's inauguration as the newly elected president of Russia with a thumping majority, which was telecast in grand style by Russian TV, now available in India (It is a good antidote to western spins and outright lies of BBC and other Western channels. Arab Al-Jazeera too has joined the western gang)
There are signs that the post WWII institutions and arrangements by which WE and the West exercised political and economic control and power, arrogantly, are getting undermined for a new order to emerge.
Just some years ago, West appeared to be doing Russia a favor to let it into basically an exclusive western club (plus Japan) which laid down the economic law and ground rules for the world to obey. China and India are outside this group, at a time when most Western nations are bankrupt and into recession and surviving on stimulus which exists only on computer screens.
The G-8 forum originated with a 1975 summit hosted by Paris that brought together representatives of six governments: France, Germany, Italy, Japan, the United Kingdom, and the United States, giving it the name Group of Six or G6. The summit became known as G7 the following year with the addition of Canada. In 1997, Russia was added making it the G8.
Putin to Skip G8 Summit and Meeting with Obama
But Russia's newly-inaugurated President Vladimir Putin has pulled out of the G-8 summit on May 18-19 at Camp David, Maryland, US, and his ice-breaker talks with US President Barack Obama next week.
Instead, Russian Prime Minister Dmitry Medvedev will attend the summit. Putin, who took the oath as the new Russian leader last week, informed Obama of his decision during a telephone call and his need to stay in Moscow to finalize cabinet appointments in the new Russian government. The White House said, that Obama and Putin agreed to meet on the margins of the G20summit in late June in Mexico. This attitude raises some questions about Moscow-Washington ties. Putin was expected at Camp David to hold talks with Obama in a first test of whether the "reset" policy between the Kremlin and the White House.
Putin's decision not to attend the meeting comes a week after Russian Defense Minister Anatoly Serdyukov said that talks between the United States and Russia over the US-backed European missile system have reached a dead-end.
Moscow has repeatedly objected to the move, saying the deployment undermines Russia's sovereignty. Russia has called for sharing control of the missile system, a request rejected by the Washington.
Washington has been trying to persuade Moscow to let USA have its way on Missile Defense, even in Europe, next door to Russia to leave the country unprotected under the non-brainer excuse that it was to guard against rogue states like Iran and North Korea. Go and tell it to Marines!
This was the line George Bush tried to sell to Vladimir Putin in June 2001 when the former looked Putin in the eye and said he "was able to get a sense of his soul", first of many Bushisms. The White House was then apprehensive of how Putin will react to US plans. The statement was greeted with bemusement and also relief. But Bush's sudden effusiveness wasn't as sudden as it appeared. He had talked tough about Russia during the electoral campaign as remains the practice even now when Washington's hand is weak. Bush had wanted Moscow to drop its objections to his missile defense plans.
Since then Putin and other Russian leaders have objected to the US plans.
Russian Bear Growls at the West (2007)
But it at the 43rd annual International Security Conference held in Munich on 10 February, 2007 that President Putin spoke on the importance of the role of United Nations, U.S. missile defense, NATO expansion, Iran's nuclear program and the Energy Charter. He accused Washington of provoking a new nuclear arms race by developing ballistic missile defenses, undermining international institutions, trying to divide modern Europe and making the Middle East more unstable through its clumsy handling of the Iraq war. The war of words has continued since then. The world will hear more of it in coming days.
President Ronald Reagan had hoodwinked Gorbachev by threatening Moscow with Star Wars (on which hundreds of billions of dollars have been sunk without a proved destruction of an incoming missile yet). Obedient US corporate media flattered Gorbachev daily as a great democrat (The Russians rebuffed him when he got 0.50 % of votes against his successor Boris Yeltsin, mostly drugged or drunk, in the 1996presidential elections for the Russian Federation)
Since the break-up of USSR it is believed that under the charade of globalization, between $400billion to $ one trillion wealth was transferred from Russia to the West on advice by throngs of Harvard trained and other business experts in league with complicit Russians, mostly former Communists . The Soviet Union's collapse was ruthlessly exploited by US led West .Its capitalist controlled media sang praises of economic reforms and democratization which brought economic disintegration and ruination to Russia and the worst kind of depression in modern history with economic losses more than twice those suffered by USSR in World War II. Russian GDP was trimmed to half and capital investment fell by 80 percent. People were reduced to penury and misery, death rates soared and the population shrank. According to an estimate an extra million Russians died. And in August 1998, the Russian financial system collapsed.
In what has been described as the Privatization of Russia, the plunder of its natural resources is a story of intrigue, adventure, and of the incestuous relationship between government leaders, corporate directors, and bankers. It is about insider deals, golden parachutes, corporate jets, villas in the south of France and Spain, and instant millionaire status for those who shrewdly played the game. It created seven (six Jews) Oligarchs, half of whom have escaped or do not live in Russia and one remains jailed in Siberia for trying to take over the country on behalf of Western bankers and financiers.
Vladimir Vladimirovich Putin; Brief Bio

(Born 7 October 1952) has been re-elected and sworn in as the President of Russia since 7 May 2012. Putin previously served as President from 2000 to 2008 and as Prime Minister of Russia from 1999 to 2000, and again from 2008 to 2012. Putin also serves as chairman of United Russia and Chairman of the Council of Ministers of the Union of Russia and Belarus. He became acting President on 31 December 1999, when President Boris Yeltsin resigned in a surprising move. Putin won the 2000 presidential election; in 2004 he was re-elected for a second term lasting until 7 May 2008.
Because of constitutionally mandated term limits, Putin was ineligible to run for a third consecutive presidential term. After his successor Dmitry Medvedev won the 2008 presidential election, Putin was nominated by Medvedev to be Russia's Prime Minister; Putin took office on 8 May 2008. In September 2011, Putin and Medvedev agreed he should seek a third, on-consecutive term in the 2012 presidential election, which he won in the first round on 4 March 2012.
Putin has overseen a return of political stability and economic progress to Russia, ending the crisis of the 1990s During his presidency, the Russian economy grew for nine straight years, seeing GDP increase by 72% in PPP (six old in nominal), poverty decrease by more than 50%, and average monthly salaries increase from $80 to $640. These achievements have been ascribed by analysts to strong macroeconomic management, important fiscal policy reforms, surging capital inflows, access to low-cost external financing and a several fold increase in price of oil and gas. The fast formation of the modern middle class in the country, the 2.3 times increase in real incomes between 2000-2011 as well as improvements in healthcare and public order allowed Russia to achieve the highest level of life expectancy in its history.
As Russia's President, Putin passed into law a flat income tax of 13%, a reduced profits tax, and new land and legal codes. As Prime Minister, Putin oversaw large scale military reform and police reform. His energy policy has affirmed Russia's position as an energy superpower. Putin established a number of national champions, i.e. state corporations which oversaw the restoration of high-tech industries in the country (such as nuclear and defense industry). Significant rise in foreign investments contributed to the boom in such sectors as automotive industry. Economic mega projects which Putin endorsed have included the construction of major export pipelines (notably ESPO, Nord Stream and BPS-2), the restoration of the global satellite navigation system GLONASS, and the building of infrastructure for top level international events held in Russia (2006 G8 Summit, APEC 2012,and multiple sporting events).
Putin's leadership has enjoyed considerable popularity in Russia with continuously high approval ratings, though some of his actions have been criticized by Western observers and domestic opposition as undemocratic. As Russian Prime Minister, Putin's approval rating was52 percent in January 2012, according to the state-run pollster VTSIOM. In the media, Putin often projects an outdoor, sporting, tough guy image, demonstrating his physical capabilities and taking part in unusual or dangerous activities, such as flying jet planes, driving race cars and motorbikes, attaching satellite tags to animals and engaging in a multitude of sports; some of these publicity stunts have occasionally been criticized. A keen practitioner of martial arts and several times Champion of Leningrad in judo and sambo in his youth, Putin has played a major role in development of sport in Russia, notably, helping Sochi to win the bid for the 2014 Winter Olympics.

See below what Anna Arutunyan had to say in the Moscow News.
(Published with permission.)
Will the real Vladimir Putin please stand up?
by Anna Arutunyan - May 10, 2012
As Putin's spokesman, Dmitry Peskov, once explained to me in an interview: "Those who wanted to understand Putin have already done so, those who don't want to –they never will."
And yet there's no end to the angst over what Russians will see in their new old president as Putin gets inaugurated for a third presidential term: An autocrat? A reformer? Putin 3.0? Given the multitude of faces that Putin feels he has to present to different audiences, domestically and internationally, the possibilities are actually endless.
Below, I've somewhat whimsically singled out seven of the most recognizable ones. Whether they correspond to the Seven Wonders of the World, the seven deadly sins – or even "Seventeen Moments of Spring" – are completely up to the reader.
Who will Putin 3.0 turn out to be? Most likely, a combination of all seven. As beauty is in the eye of the beholder, we leave it up to you to consider which most accurately reflects the true face of the returning incumbent of the Kremlin.
1.CEO
This is, evidently, how Putin would like to show himself – and he's had ample opportunity. Early in his first term, he described himself as a manager hired by the people to run a corporation – and Russia Inc. has stuck since then, for good and bad. When the financial crisis struck in late 2008, Putin set off on a nationwide tour of his corporation – swooping down on fledgling factories to hand out wages and resolve disputes between oligarchs.
Has the role worked? Not according to former Kremlin adviser Stanislaw Belkovsky, who has tended to see Putin as a man at the helm of a large corporation.
"I think Putin sees himself as a corporate boss, he even wanted to head Gazprom once," Belkovsky told The Moscow News. "But if Russia is a corporation, then it's very unprofitable. There's no system of management in place."
That may be why Putin's government has tried to take his role as corporate manager even further, with recent plans for a state corporation to develop nearly two-thirds of Russian territory in the Far East and eastern Siberia – one that may get unprecedented powers and will answer directly to President Putin, bypassing a number of federal and local laws. He may not be a literal CEO, and Russia may not be the most transparent corporation. But it has given top management enormous clout in a comparatively short amount of time, even if allegations about senior officials' alleged wealth won't be proven anytime soon.
2.Silovik
Putin is a man of the KGB. He served in the organization for 15 years, ultimately reaching the rank of lieutenant colonel. It is no wonder, then, that when he came to power critics were alarmed over the number of his uniformed friends getting high posts in the Kremlin. By 2006, some 26 percent of state officials had a military background, and of those nearly half came from the KGB or FSB, according to leading sociologist Olga Kryshtanovskaya.
Are the siloviki happy about Putin's return to the presidency? You bet.
"Bless them, they are indeed happy little fluffy bunnies," said Mark Galeotti, a security expert at New York University's Center for Global Affairs and a regular contributor to The Moscow News opinion pages. "Albeit fluffy bunnies with uniforms, guns, great big dachas and every prospect of holding on to all three for the foreseeable future."
Putin has capitalized on his image as a former spy, even though he spent much of his KGB days in Dresden on mundane assignments, drinking the occasional German beer and recruiting the odd informant or two.
It has certainly helped him appear hawkish to Western leaders, who were unnerved by his fiery promises of an "asymmetrical response" to a proposed U.S. missile shield during a 2007 security conference in Munich.
But all that doesn't necessarily mean that Putin, a man of many faces, is primarily a silovik at heart.
"I think that Mr. Putin will have to bang some heads together soon, as, if anything, they are getting a little too cocky," Galeotti said of Putin's touch-and-go relations with the security officers who, during Putin's four-year hiatus as prime minister, had to formally answer to a far more softly spoken president, Dmitry Medvedev.
3. Sex symbol
It started as early as 2002, when a girl group sang, "I want a man like Putin." But Putin's status as sex symbol didn't abate in spite of – or perhaps because of – its sheer unlikelihood: not since Napoleon was a short, somewhat plain-looking man in his 50s so popular with the girls. It's true that one of Putin's predecessors as Russian leader, the 19th-century Tsar Nicholas I, was dubbed "the most handsome man in Europe" for his similarly icy stare, but he was tall and barely 30 when that appellation stuck. Unlike Putin, however, Nicholas never got calendars of lingerie-clad journalism students posing for him on his birthday.
"I think Putin is absolutely still a sex symbol," said Alexander Yelin, who wrote the "I want a man like Putin" song.
"In 2002, he was popular with everyone, including the younger girls," Yelin told The Moscow News. "Now it's more with the older women. They really get excited when they see a man who is simply sober. They don't even care about the [alleged use of] Botox because at least it shows that he cares about how he looks."
4. Patriot
For those nostalgic about the greatness of Russia's Soviet past, Putin had a heartfelt rejoinder: the collapse of the U.S.S.R., he said in 2005, was the "biggest geopolitical catastrophe" of the 20th century.
It was Putin who revived the Soviet-era anthem – not for the sake of homage to Soviet ideology, but out of a sense of pride in his nation's history, and for the same reason that Putin occasionally plays the nationalist card: to placate critics. The same goes for the Victory Day parades that have grown increasingly lavish under Putin.
5. 'Godfather'
Spanish investigator Jose Grinda Gonzales certainly wasn't the first to notoriously refer to Russia as a "mafia state," as 1990s oligarch Boris Berezovsky was dubbed "Godfather of the Kremlin" by the murdered American journalist Paul Klebnikov in his book of the same title. More recently, according to Wikileaks, a number of leaked U.S. diplomatic cables described a world of "kryshas," mafia bosses and senior Kremlin officials all doing business together.
Even if Putin came to preside over such a world, he certainly didn't create it. Most likely, it created him. The first unproven allegations that Putin used his ties in the KGB and the government to enrich his friends go back as far as the murky days of 1991, when everyone was operating without the benefit of "normal" laws. Then, according to the late St. Petersburg City Council deputy Marina Salye, he won unauthorized tenders for friends in the timber industry as part of a food-for commodities exchange. Salye's allegations were never tested in court, and she died, in case anyone was wondering, of natural causes.
By 2010, allegations were produced by a former business associate of Putin's, Sergei Kolesnikov, that the then-prime minister had helped enrich a whole group of friends and had siphoned money away to build a lavish palace on the Black Sea. Whatever the truth of the claims, they fed into an opposition campaign to paint Putin and his United Russia party as one of "crooks and thieves."
The allegations may have struck such a chord because they coincided with Medvedev's campaign to root out corruption. The main reason his campaign failed, critics say, is that it was a top-down effort – when a lot of the corruption probably emanated from the same corridors of power.
"Everyone in this room knows the name of the person from whom this corruption is coming," Kirill Kabanov, head of the National Anti-Corruption Committee, mysteriously once told a small group of journalists.
But whether the allegations about Putin being a Francis Ford Coppola-style "Godfather" are part fact or pure fiction, one line uttered by Al Pacino, as Michael Corleone in "The Godfather, Part III," did come remarkably close to summing up how Putin may have felt about coming back to the presidency: "Just when I thought I was out, they pull me back in."
6. Workers' champion
In June 2009, Putin famously chastised oligarch Oleg Deripaska over his debt-stricken minerals plant in Pikalyovo, where thousands of workers were left jobless and penniless due to wage arrears. "You've made thousands of people hostages to your unprofessionalism and your greed," Putin fumed on national TV. "Where is the social responsibility of business?"
During that economic crisis, Putin became known for flying in and taking the workers' side – a personal trade union leader, if you will. In 2010, after a methane blast at the Raspadskaya coal mine killed nearly 100 people, he ordered salaries to be raised. It is perhaps no surprise, therefore, that every live call-in show with Putin features groups of factory workers lining up, Soviet style, to lay out their problems or show their praise over the video link.
7. Neo-liberal
But lest Tea Party supporters get excited about finding the ultimate socialist bogeyman, consider this: Putin became one of the few world leaders to adopt a flat tax rate of just 13 percent in 2003. And at just 20 percent, Russia has the lowest corporate income tax of all the BRICs, – far below the U.S. rate of 35 percent.
As for Putin's most trusted advisers, looks to the fiscally conservative Alexei Kudrin, the former finance minister who still gets lavish praise from Putin despite having a falling-out with Medvedev. In political culture as Byzantine as Russia's, that kind of trust says something.
Perhaps, in some ways, this surprising face of Vladimir Putin is the one that may come closest to his actual role in the future – particularly as Russia faces the prospect of austerity measures in the wake of the developing double-dip recession in Europe and elsewhere around the world. In his immediate post inauguration orders, we can already see how Putin is making large-scale privatization and economic efficiency two of his key objectives.
Whether Putin is remembered as a neo-liberal or for his other roles will depend largely on how far Russia can escape its current dependence on oil and gas revenues. If energy prices stay high and support Putin's bold spending plans, all will be well. But if oil prices collapse, Putin's government will have the tough task of making unpleasant budget cuts – changing his legacy completely.