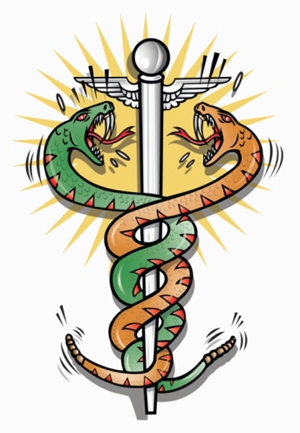 It is long since that business interests have occupied the service activities in India. The profession of a doctor or a teacher is no more considered as a noble one. Both are accepted to be indispensible to the society; yet the Indian society is so ingenious to allow business interests and tactics enter into these once considered honorable professions.
This week's 'Satyamev Jayate' of Aamir Khan discussed the malaise that had entered into the medical profession and how the rich are robbed by the private hospitals and doctors and how the underprivileged are harassed by the exorbitant medical expenses.
The ethics of the profession to serve the people have taken a back seat today because a medical college seat costs around fifty to sixty lakhs of rupees. It was surprising that Aamir Khan feigned shock when the young crowd in one voice screamed that it has to be paid in cash and not by cheque.
The glorified term 'commission' for 'bribe' with the testing laboratories, the medical representatives and the pharma companies were brought to light in no uncertain terms. But, what is the solution? In Rajasthan they have opened 'generic' medical outfits to sell medicines at the production costs to the people. The doctors' amorality had already been discussed in his first episode 'Female Foeticide'.
I find nothing special in this discussion because most of the misgivings are well known. Unless the Indian attitude and mentality changes such illness could not be eradicated. 'Greed' or 'Avarice' is the major virus which has been eating the Indian population transcending all barriers. Unless, that goes away and the lust for pelf diminishes and the criminals are properly punished, we cannot dream of a better society where everyone will get the minimum needs.
India should have been like this since long. Otherwise why in 9th century itself Adi Sankara wrote
'Arthamanartham Bhaavaya Nityam

Naasti Tatah Sukhlesah Satyam

Putraadapi Dhanabhaajaam Bheetih

Sarvatraishaa Vihitaa Reetih'
in his famous 'Bhaja Govindam' conveying 'Wealth is calamitous, thus reflect constantly; the truth is that there is no happiness at all to be got from it. To the rich, there is fear even from his own son. This is the way of wealth everywhere. So seek Govind.'
When Adi Sankara had felt that during that time itself what one can expect in the 21st century where the material and business interests are plenty for every individual and that too in India?