A Trek for Bold and Beautiful Minds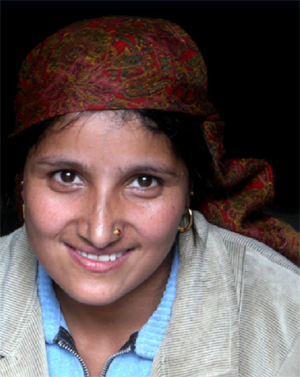 We start from Home and reach Shankri.
Reaching Shankri

From Kolkata we reach Delhi by flight on 09-09-2011 night, avail Dehradoon AC Express at midnight and reach Dehradoon the next morning. We reach Shankri after quite an adventure. Partha and I hire an ambassador from Dehradun taxi union office for Rs. 3610. Four kilometers before Shankri our car has to call it a day because a waterfall has swept away much of the road and has been overflowing the road in such a jubilant mood that no car dares cross the muddy water.

Just yesterday, two locals – one boy and a girl had been swept away by the current, so we had to be very careful. The girl's body was found this morning at a distance of 6 km from here, and the boy, though severely wounded has survived.

With the help of some local people, we cross the road-river.

After walking two kilometer towards Shankri – fully drenched in incessant rain – we get a shuttle jeep, and reach Shankri.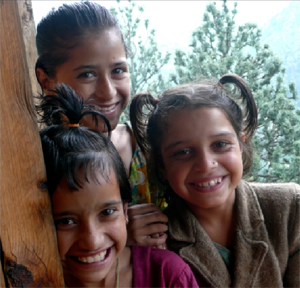 The man who helps us cross the road-river is Surendra Singh Naina. He works with a touring agency. He offers us his uncle's newly built cottage to stay. We agree. Later we learn that the owner of the cottage is actually one businessperson of Delhi. The man comes and stays here for 1-2 month every year. Naina's uncle looks after it, and occasionally, as in our case, he lends it to paying guests.
Naina's house is full of children – they keep us busy in their joys and plays – chirping like birds around us.
Shankri to Kedar Kantha
Trekking Starts

At 8 am in the morning, Naina comes with a porter. He says the porter is Gunga (deaf and dumb). We name him Cha-Cha (Uncle).

Naina's household offers us helping hand in packing our rations and tents.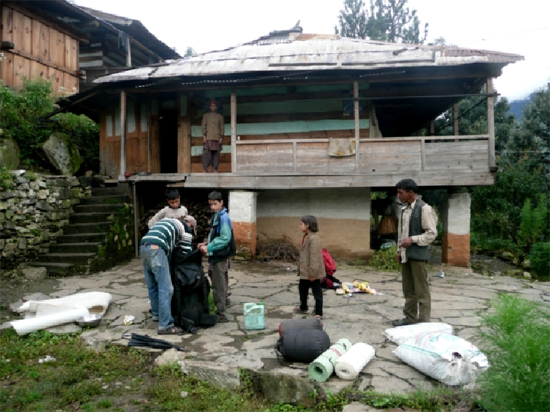 After a good Nasta (food) with Aloo-Paratha (potato and fried bread), we finally start at 10 am. The chirping birds throng as usual. We give them sweets, and they bid us good bye with sweet smiles.

Cha-Cha is about 55 years of age. He is stout – as hill people are – and carries the major part of our luggage – tents, kerosene etc.

The trek starts from a point enroute Taluka, about one and half kilometer from Shankri market. One has to start an uphill climb along a right-side hill.

Enroute Juda Talao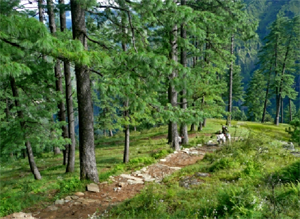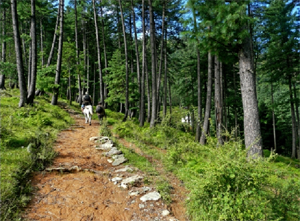 Serpentine elevation takes one through forest rich in flora and fauna.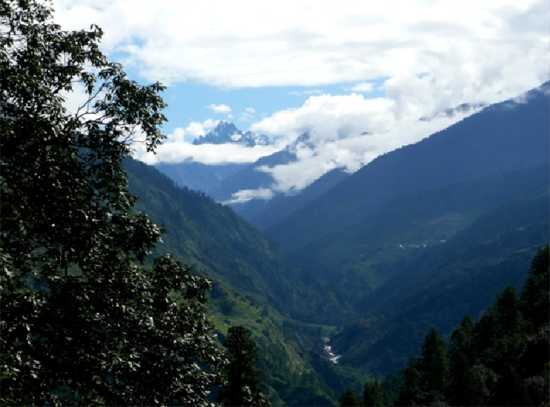 View of Swargarohini Peak and Har-ki-Doon

Enroute one often meets the Gujjars coming down either singly or with cattle.

After 2 km trek an elevated Bugiyal is visible. It is Jaya Nala Bugiyal. A Nala (stream) passes through it. At the backdrop is dense forest and mountains. There is one shepherd tent. We meet the shepherd hoping to get some milk, but he says that today's milk has already been sent to Shankri.

We take some rest beside the Nala. The serene atmosphere re-charges our energy.

First View of Jay Nala Bugiyal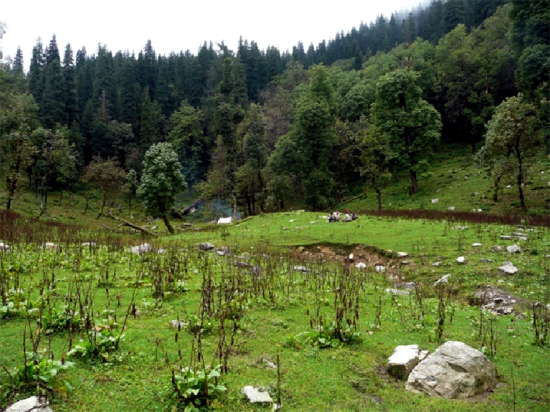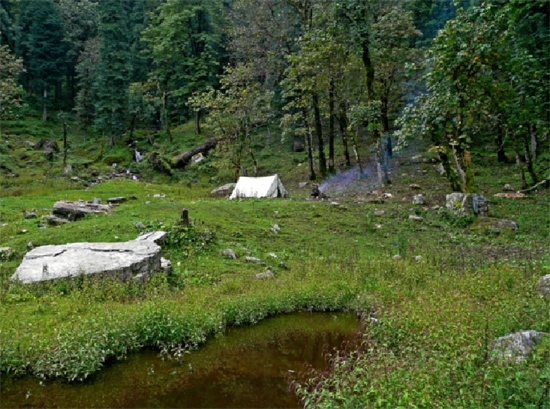 Jaya Nala Bugiyal - 1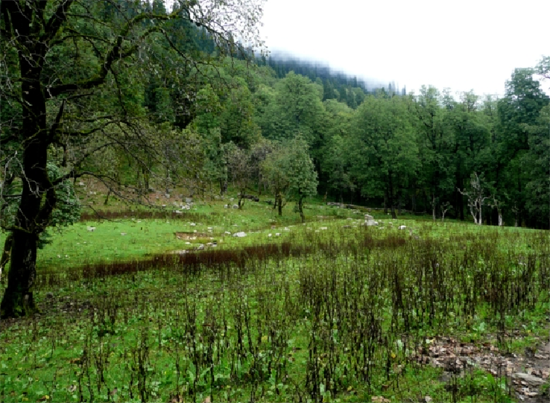 Jaya Nala Bugiyal - 2




Jaya Nala Bugiyal - 3
After about another 1 km arduous trek, another Bugiyal welcomes us. This is Koa Mahali. There are Gujjar huts. The huts are deserted. One passes through it, and takes the last 1 km trek for today.
Koa Mahali Bugiyal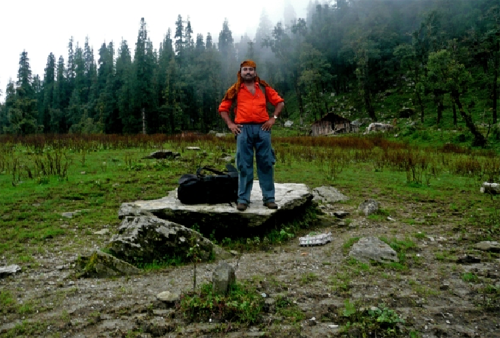 Reaching Juda Talao - First Night Trekking Halt

The jungle path ends suddenly at the rim of a Bugiyal. As one reaches the rim, a Talao is visible. Beautiful undulating grasslands surround the Talao. The water is clear. There are two grassy islands at the middle of the pool. The entire place is surrounded by hills and forests. It is an absolute 'cut-off' experience from the world. No mobile signal is available. Juda Talao is surrounded with dense forest.

Naina selects the best spot over viewing the Talao for our tent. Torrential rain starts no sooner our guide and porter set up our tent.

Soon after setting up two tents, Naina and Cha-Cha get busy to cook our lunch. It is 1.30 pm now. The rain stops as suddenly as it came. It is only 2.30 pm now, and we have plenty of time to explore.

We walk around the Talao, and enter the forest around. Since we are all that are here, the forest does not reserve her verdurous beauty from us. Often it rains in torrents sending us back to the tent. As per Naina's calculation, we have covered only 4 km today:


Shankri (1920m) - 2 km
Jay Nala - 1 km
Koa Mahali -1 km
Juda Talao (2600m)
We feel, the route is about 6 km.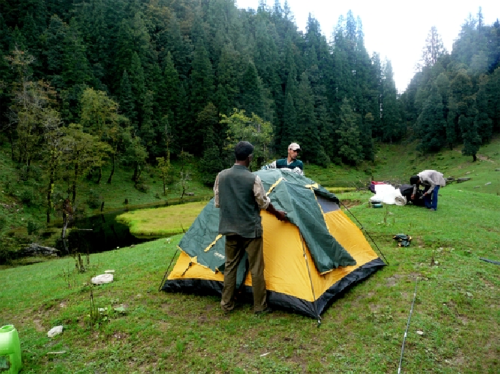 Juda Talao -1 – Camping beside the Lake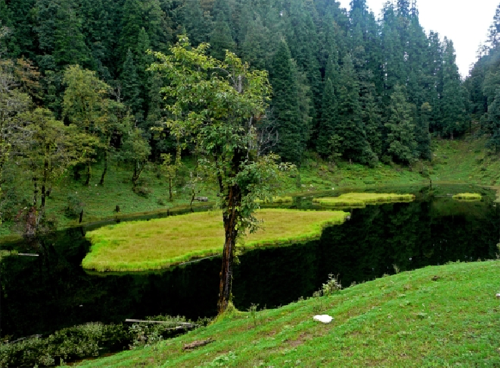 Juda Talao -2 – The Lake and the island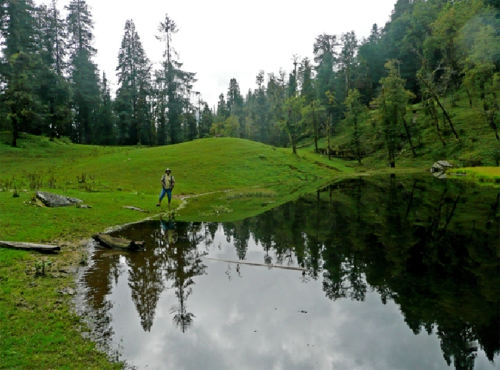 Juda Talao - 3 - View from the other side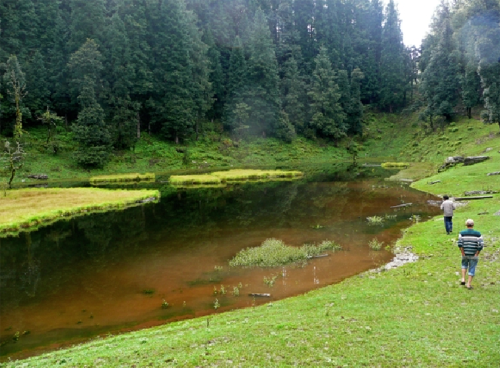 Juda Talo - 4 – Walking by the Lake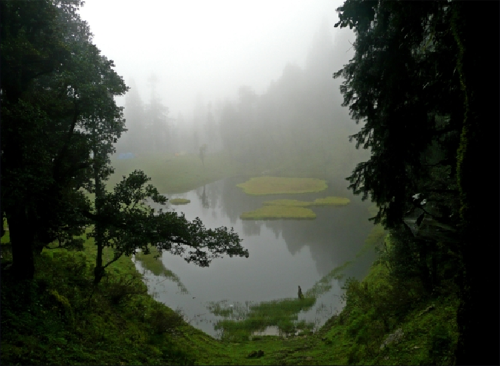 Juda Talao - 5 – Next Morning
Juda Talo to Kedar Kantha - Day-2 of Trek

Next morning, we rise early. But the sky is cloudy and the entire place is wrapped by thick mist. We start at 8 am the next morning. It is misty still, and the Talao seems reluctant to wake up. As we trek on, its dreamy visage is visible through the curtain of mist. The ascent is steep, and as we pass through dense forest with careful steps, birds soothe us.


Enroute Kedar Kantha


Reaching Bujulla Thutch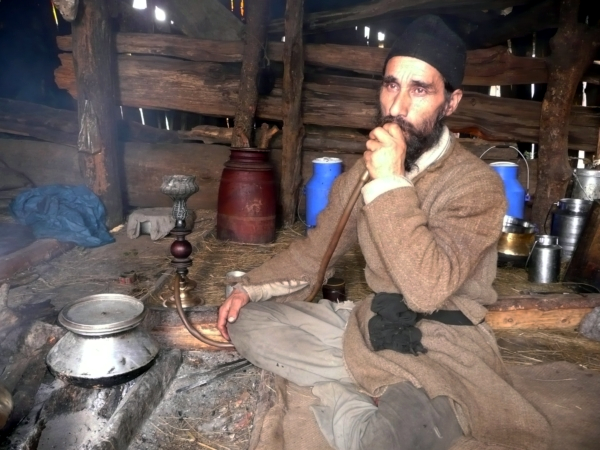 As we reach Bujulla Thutch, a smiling old face greets us. He, and another semi-old man live there in a shepherd hut. As we sit comfortably in the hut, we take part in relay Gargara-smoking. 12 buffaloes graze or sleep lazily. We take half hour rest, drink pure buffalo milk, and then start our final trek again.
Nearing Kedar Kantha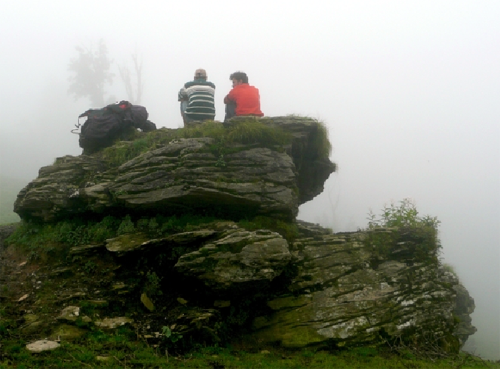 Luckily for us, it does not rain much. After a short trek, the Kedar Kantha ridge is visible, however, we have to drag ourselves quite yet. Finally, we reach Bayna Thutch (3600m). As soon as I am complacent on reaching the Bugiyal, our guide and porter seem to be in a walking-spree as they walk on and on till they reach a flat place just beneath the peak.

Sun and rain play in jovial harmony, as I and my friend Partha take no time to return to 'animal pleasures' of adolescence. We decide to stay here for the next day, and taste the idyllic pleasures of our glorious forefathers.

Clouds hide the mountain ranges for the most of the time, however, unfazed, the peaks are too keen to show us their faces.
Juda Talao (2600m) -1 km
Dunga Thutch - 1km
Monal Thutch
Bujulla Thutch
Bayna Thutch (3600m)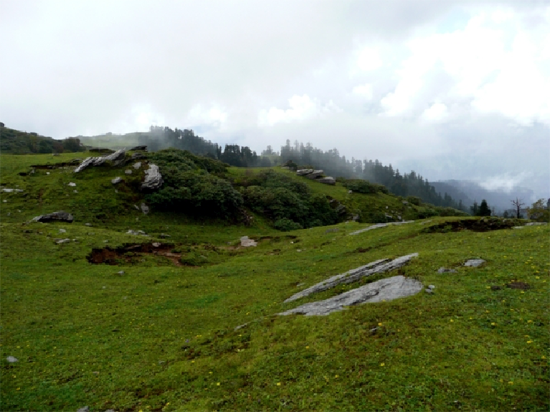 Bayna Thutch (Kedar Kantha Base Camp) – First View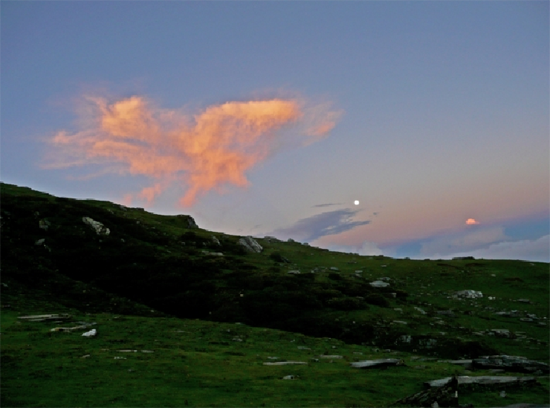 Bayna Thutch at Evening
Reaching Kedar Kantha
We spend a very luxurious time the next day, taking shots to our heart's content, strolling along the Bugiyal, searching angles., as angel clouds envelop us with moist wings.

We trek to Kedar Kantha, return back to Bayna Thutch and stay there.

The next part of the trek would be –
Bayna Thutch (3600m) - 1.5 km
Kedar Kantha Peak (3882m)
Back Shankri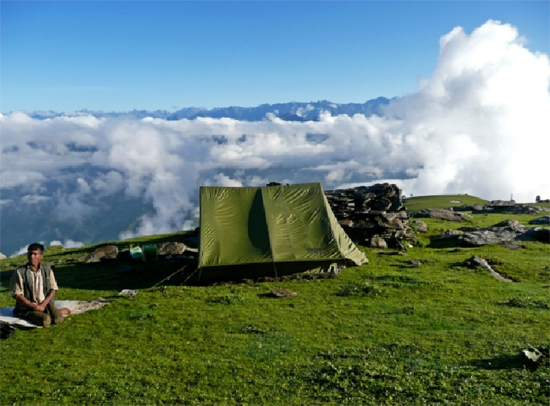 Morning at Bayna Thutch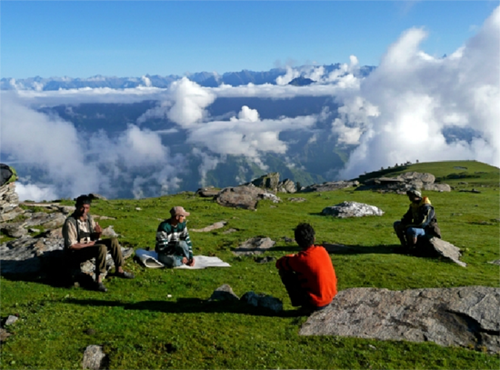 Bayna Thutch : Enjoying Sun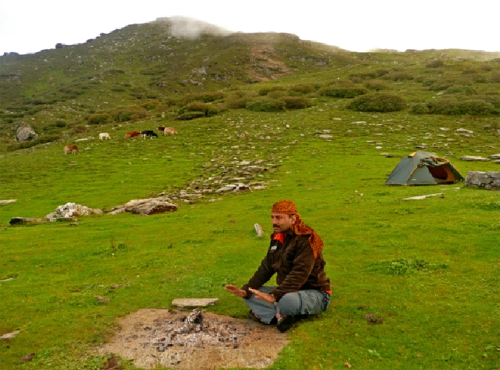 View of Kedar Kantha Peak in the morning
Back Shankri Back Home

Our return trek diverts to the left midway between Monal Thutch and Dunga Thutch, to a beautiful Bugiyal called Tal Kshetra. The descent is more arduous than ascent. We have to negotiate slippery jungle tracks, dry melting leaves, and muddy path. Mossy trees with huge trunks stand like silent protectors of the forest God and pitifully look at us.
Purola to Mori is a wonderful journey, the road dancing to tune of rivers below, and playing hide-and-seek in dense and disciplined pine forests. For 15 km from Purola, the valley is so wide that it confirms that the ancient Saraswati river had its course here.
Trekking Route Information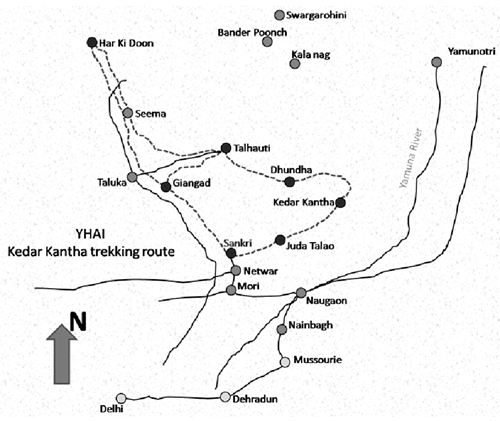 Kedarkantha Trekking Map
Kedarkantha Myth
Actually there are six Kedars, including Pashupatinath temple of Nepal. The Panch Kedars of India comprises of five Kedar temples - Kalpeshwar, Rudranath, Tungnath, Madhyamaheshwar, and Kedarnath.

The myth goes that after the Mahabharatha war, the Pandavas went to the Himalayas to seek the blessings from Lord Shiva. But, Shiva would not appear before them initially. He disguised as a buffalo and hid himself among other buffalos. Bhima devised a plan. He stood with legs wide open rested on two rocks, and the buffalos were made to pass under him. As one buffalo refused to pass under Bhima's legs, the Pandavas identified him as Shiva. Bhima caught hold of the buffalo and the tug of war that ensued resulted in the splitting of the buffalo into six parts. The parts falling in different regions of the Himalayas are the places where the Pandavas later erected six temples. Thus, the five temples in India and the corresponding parts of the buffalo-Shiva are:

(a) Kalpeshwar, Shiva's hair is worshipped.
(b) Rudranath, Shiva's face is worshipped
(c) Tungnath, Shiva's arms are worshipped
(d) Madhyamaheshwar, Shiva's navel is worshipped
(e) Kedarnath, Shiva's behind is worshipped
Kedar Kantha is also called Bal-Kedar. Local people believe that this was supposed to be original Kedar. Shiva came here in shape of buffalo, but when he felt disturbed by some villagers of a local village, he ran away to 'present' Kedar area.