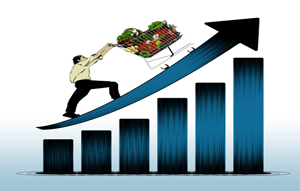 Stubborn inflation and sputtering economy are giving Reserve Bank of India a headache. The central bank in past three years raised short term interest rate 12 times expecting the demand for money to decline, the economy to cool, and the inflation to die. The economy has slowed down but the inflation persists. Now, it appears that Reserve Bank is nervous about the weak economy, so last month it lowered the interest rate to spur the economic growth.

However, it is not possible to lower the inflation and improve the growth at the same time. It is like a cricket bowler trying to out two batsmen at the same time, one is betting while the other is standing at the opposite end of the wicket.

Inflation means one is paying more for an item or a service than one used to, and many of the more important causes are listed below.
Bribe-takers:

Corruption is rampant; bribe-takers frequently rush to buy whatever they can to get rid of their ill-gotten cash. Consequently, they demand more goods and services relative to what is available in the market, causing the prices to go up.


Black money:

It is a significant player in fueling the inflation and affects the same way as corruption. RBI can control white money supply via interest rate, but cannot control black money supply.

Imports: We import oil from other countries to produce petroleum products including petrol for our vehicles. And every time prices of imported oil go up or the value of rupee goes down, we pay higher prices at pump. This is true for everything we import.


Government:

Most of the time money spent by governments – central, state, or local – is being wasted. Welfare, training, subsidy, and others government programs do not yield good results and add to inflation.


Shortages:

If supply is less than demand, then a price of a product will go up. The supply can be less for many reasons; for example, poor rain will produce less grains and vegetables.


Workers:

If wages rise faster than productivity, then labor cost per unit will increase. Businesses will then pass higher cost of labor to consumers in the form of higher prices.


Businesses:

Sometimes corporations and owners raise prices in order to increase their profit margin.


Low productivity:

If factories, offices, shops, and other facilities do not install modern tools and employ latest technology then workers won't be able to produce goods in high volume or provide rapid services at least cost and waste. This means low output at high prices and hurts everyone.


Damages:

Terrorists, mishaps, and disasters cause property damage and injure or kill humans. Helping families of hurt and killed, and rebuilding properties, require money which otherwise could be better spent elsewhere.
Here are two of many solutions.
One, Reserve Bank of India need not concentrate on controlling inflation via interest rate. Instead, they need to soak up an excessive money supply, black and white.
Two, for a few years, the ministry of finance should collect zero income taxes from businesses (manufacturers, whole sellers, retailers, and service-providers) operating in developing states and union territories such as Andaman Nicobar Islands, Arunachal Pradesh, Assam, Bihar, Chhattisgarh, Jharkhand, JK, Lakshadweep, Manipur, Meghalaya, Mizoram, MP, Nagaland, Sikkim, Tripura, and UP.
The idea to free businesses from income tax burden is to encourage them to hire more people and increase the supply of goods and services. Their actions will boost economic growth, increase employment, reduce inflation, and indirectly reduce the violence.

Images (c) Gettyimages.com