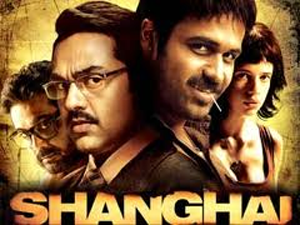 'Shanghai' is a serious but sick film. It is serious because it deals with our corrupt and maligned Indian polity and society and it makes one sick since you come out of the theatre depressed about the nation and population we live with.
Please understand those who have extended excellent reviews on the movie that I am not berating the quality but about the content. When we open the newspaper everyday we read only about the land grabbing, scams, murder, dirty politics and scheming bureacrats. Why repeat them again with much more details and ideas?
I am sure by constantly projecting them in different ways without solutions or activists facing murderous attacks because of politicians and our queer political system is of no use. Nowadays, I am positively against showing the financially backward and uneducated population as 'innocents' and are pawn in the hands of the politicians. When both the IAS officer and a road side driver and vagabond are influenced by the politicians and by our political system, it is the mistake which should own. All the 'poor' population cannot be termed as angels and innocent and also at the same time all the educated are not cunning and vicious.
The good thing about the movie is its technicalities and swift change of scenes and sometime to the point of being abrupt. The re-recording is something commendable as most of the times only the natural sounds have been used without adding extra din. The actors walk through their roles with professional élan. All characters including the activist killed have grey sides; probably to create realistic feel. But, why the Chief Minister of a State should sit in a dimly lit room? I just cannot understand this type of lighting whether under the pretext of artistic lighting or to create an eerie ambience.
The film shows glimpses of versatility of Emran Hashmi and Abhay Deol.
I am sorry. The movie may be a critic's delight but not a feel good one.