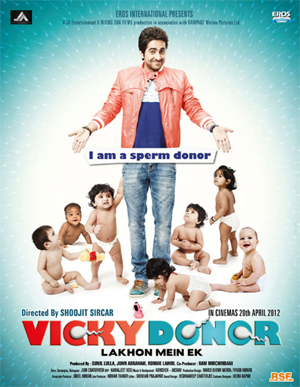 'Vicky Donor' starts as a light hearted, adult subject comedy and slowly sinks into a love story and culminates into an emotional climax and ultimately an enjoyable movie. The topic of 'sperm donation' could not have been discussed or delineated with this much of detail three decades ago in the Indian cinema. The subject has every possibility to slip into intended or unintended crudity or double entendre. But, surprisingly, the movie does not even have the usual pelvic thrusts or glaring cleavages or item number other main stream films have.
Director Shoojit Sircar and writer Juhi Chaturvedi have spun a believable yarn of a healthy, happy, young unemployed Punjabi lad Vicky (played by Ayushmann Khurana) who is persuaded to become a sperm donor because of his strong sperm count by Dr. Baldev Chaddha (Annu Kapoor) whose infertility clinic is in doldrums. Vicky and Dr Chaddha make good business and many couples get benefited and so also Vicky. Vicky falls in love with a Bengali bank employee Ashima Roy (Yami Gautam) and they get married. The man who is responsible for so many children for others could not beget a child because Ashima is infertile which comes to light soon after the marriage. They part because everyone at that point of time sees Vicky as a cheater and has done something grave by donating his sperm. Fate brings the estranged couple together in a moving climax.
In recent years, Hindi films, though many prefer to bank on stars and foreign locales, sudden pleasant surprises come in the form of this movie which is professional, neat and delectable in every section. The new comers Ayushmann Khurana and Yamin perform naturally with least inhibitions. Annu Kapoor's matured performance surfaces in his portrayal of the 'sperm obsessed doctor' and his business.
The supporting characters and the music meld well with the main story sans any irritation.
A neat watchable film on a complex and allegedly dirty(?) subject.