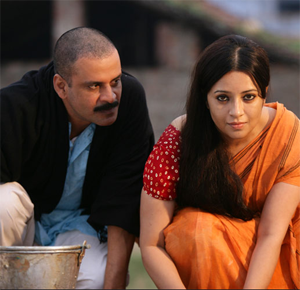 Gangs of Wasseypur - A master presentation, truly a magnum-opus by Anurag Kashyap which displays the finest work of instincts and drama.The movie is quite slow throughout so if you expect it to be fast and melodramatic and try to judge it by the promos and sizzling trailors - you are certainly wrong ! and to those who still believe that its the same as the likes of Rowdy Rathore with a slight desi touch - are still living under shadows.
The Cinematography is unexampled and it supports the story to the core , the trans desi language from Bihari to awadhi and Bhojpuri adds to the taste. Moreover the artists are anatomists of stage and theatre and hence their work has come out with flying colours. The dialogue delivery is schematized to perfection and the profanity envolved does the magic, it enthralls all the desi lovers who have trolled into the multiplex for the very first time. The expressions of lust and anger are fabulous and its Manoj Baajpayi who could bring the character of 'Sardaar' to life.The traditionally mixed desi songs are umatchable and they have been thoroughly researched specially 'Oo womaniya' and 'Im a hunter'. 'Teri keh ke lunga' is an additional background tadka.
All in all its a family movie , but make sure you dont go with your family :p
A few would recognise Tigmanshu Dhulia who has played the role of 'Ramadhir Singh' and is known very well for his fine works like - 'Haasil' , 'Saheb Biwi aur Gangster' and 'Paan Singh Tomar' , this time the director turned actor has marvelled in acting as well and has performed finely.
'Wasseypur' is a small town adjacent to (now in the middle of ) Dhanbad, the movie originates from Wasseypur as it was the heart of coal mines and factories. The movie is a class, it is minutely researched and circumstantially planned, the story revolves around the downfall of colonisation in India, where the Coal and Scrap mafias could be seen growing and are are busy flaunting their prowess and thereby generating business. Regionalism and Communism have taken after Nationalisation of industries and business types. The story engulfs 'Sardaar Khan' (Manoj Baajpayi) who swore vengeance on the man who betrayed his father 'Shahid Khan' and murdered him out of insecurity.
'Sardaar Khan' proves to be a fearless phantom and starts eliminating Ramadhir Singh's gang one by one .....and then...........
If I write ahead it will be unfair - both for the geniality and essence of the movie, so its much better if you go and perceive the very sense of the movie on your own. I cant bet that you would not regret, a person with sense and understanding of regional trends and the history would certainly admire the flick. Moreover even if you would not understand it, yet you enjoy but in part..........
Note: I repeat again, its a very good and sensible movie with core profanity and admirably disgusted gestures of states like Bihar......and all in all its a family movie ........... but Don't go with your family, else the enjoyment goes in vain............. ;)