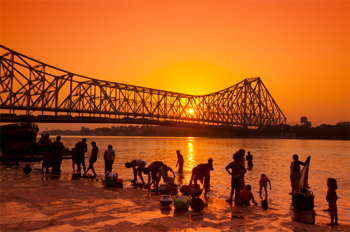 Once declared as a dead city. Kolkata is on her way to regain her past glory. Overburdened by refugee and unemployment problem that made the city out of the gear and devastated by labour problems Kolkata once panted helplessly. But that is past and city may emerge as a great economy if it's potential is capitalised. A visit to Kolkata is indeed a lifetime experience.
To the British, Calcutta was their jewel in the crown. But till recently shunned as an economic backwater by the investers, the present Kolkata is fortunately witnessing a giant metamorphosis. On my recent visit to Kolkata I was heartened to find the broad roads, high-rises, abundances of setus or bridges and glittering malls. The city regained confidence of a glorified past that was withdrawn for years and the state is becoming the chief food bowl of India. The surprisingly clean roads, and the smiling faces charm the tourists who throng to visit this culture capital of the country. It is after all the City of Joy. Unlike in other cities where the crowds gate crash to watch the fashion shows, vulgar films and ramps, this city's intellectuals, litterateurs, poets, classical singers, classical dancers and conventional artists still draw crowd. A civilization is dead if she can't honour its intellectuals and promote vulgar culture and in Kolkata culture exists in its refined form.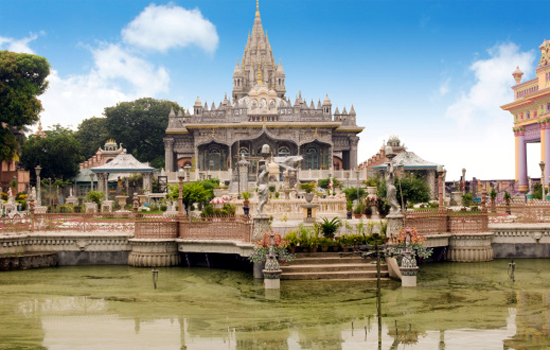 It is a city that is an interesting combination of the east and the west, a fusion of modern and ancient. The lazy Ganges (or it is Hoogly?) passes in Dakshineshwar reminding all of us the great saint Ramakrishna Paramhansa's philosophy of Jata mat tata path. How relevant are his words today in a violence-torn earth! On a moonlit night near the banks of the river Ganges the samadhi of Ramakrishna Paramhansa, Sharada Devi, Swami Vivekananda and Swami Brahmananda at Belur Math (founded by Swami Vivekanada) are overburdened by the flowers of the devotees while nearby in the garden Bengal dahlias are in their blooming best.
A journey from Garia hat to Srirampur was fascninating. I crossed through glittering Esplanade, (the passion of Bengalis, the heartthrob of writers, intellectuals, businessmen, Marwaris and still lights passion in every tourist who throng the city).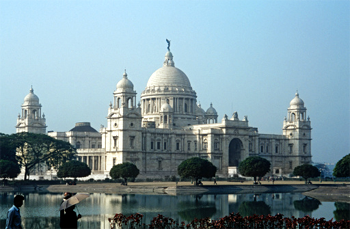 The Victoria Memorial was sparkling in green light when the fountains were in their magical best. The chirping of birds retiring for nests was overshadowed by carols from the Cathedral Church close by. In the cemeteries World War II soldiers and Anglo-Indians sigh. "Alas! Such beauty-no more belong to us!" While returning at midnight through the bridge over the river Ganges one could see once again the moon over the Dakshineswar where once again sparkling green lights lit the ethereal river and the sky. Kolkata is indeed beautiful at night. In the vast expanse of the river the boatmen still take passengers to their individual destinations. In Birla Planetarium the enthusiastic cosmos watchers are looking at the virtual space. Both vast expanse of nature along with technology have opened her way to post modern.
The city is the book lover's paradise. Within his limited resources the enthusiastic father is purchasing books for tiny tots. Boi Mela's popularity is next to enthusiasm of Durga Puja. Science City is one of the best centres providing scientific information in the country. Blasted with information in a knowledge based economy, the city could transform into IT superpower. Once the so called communists had said "If you can do business with China, why not with West Bengal?" In this once communist state, Goddess Durga hopes to bring every year joy and prosperity. Blue prints of setting up of two hypermarkets were ready. Global IT companies such as IBM, Cognizant, Sky tech and Indian giants - Wipro and Satyam were heading towards Calcutta Oh! Kolkata at the time of my visit. Tourists board the air-conditioned delux buses to reach Tagore's Shanitiniketan, Digha, Diamond Harbour, Sunderban, Ramakrishna Paramhansa's native village Kamarpukur and Sharada Ma's house in Jai Ram Bati. Technology, communist ideology, dialectic materialism, nature and devotion held their hands. It is a city that everyone envies, it is a city that is admired by everyone even by its enemies.
This is a city which is Senior Citizen's paradise. This is a city which is creative people's paradise. Youngsters, the representatives of modern generation's purchasing power have accelerated and every week they visit Pantaloons (being most popular) and Westside for their share of shopping, bargaining and eating still on holidays they learn Tagore songs and participate in painting competitions. Bengalis are famous(or notorious) as lovers of food. But now the working women throng Park Street restaurants and the Salt Lake City markets with great enthusiasm, and the Bengali babus don't mind to receive the packaged tuna fish( as opposed to steamed hilsa fish from mother's kitchens) from the working wife's manicured hands. Indeed a giant metamorphosis!
I, belonging to an ancient generation visited Victoria Memorial and wonderful museum to pass through the three hundred years of Bengal's history, watched original paintings by Bengal masters and paid homage to Nataraja, the Cosmic dancer, a 13th century Chola Bronze dancing anandatandavam among other statues accumulaing dust. How can a city die when Goddess Kali protects her and Mother Teresa choses her adjacent territory to construct Nirmal Hriday? How every Indian Nobel laureate is connected to this city in some or other ways? Tagore, Mother Teresa, Amartya Sen or C.V Raman or the Internationally renowed film- maker Satyajit Roy had kissed the earth of this city! From Rabindrannath Tagore to Mother Teresa, from Raja Ram Mohan Roy to Netaji and Nivedita, from Swami Swami Vivekanada to J.C. Bose walked down through the streets of this dynamic city. How can the city of goddess Kali who Herself is the epitome of Shakti and personifies, Kal or time principle suffer the inevitable destiny, the end of time?