Culture and ideology are conveyed in conscious and unconscious ways, they radiate out from us even when we are seemingly silent and inactive. The culture we accrue from birth gathers its own unique patina with age and continues to take shape whilst we are on life's journey. The home, school, the workplace, our friends and the wider society all play a part in the formation of the raft of cultures we are a part of. The world we inhabit is awash with symbols and totems of faith, of capitalism, or perceived success. Each symbol ties people by association to a club or tribe, a bond or fellowship which is simultaneously both inclusive and exclusive. A supporter of Asante Kotoko knows instinctively who his or her rival's teams are, recognizes a fellow supporter and feels pride in the football clubs history.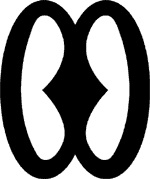 Equally those familiar with Adinkra symbols will instantly recognize the following and know its meaning:
The language we use, the clothes we wear, the food we eat connote much about habit, background and even aspiration. A Ghanaian who actively shuns and derides local food stuffs and outlets in preference for Western brands may wish to convey a sense of superiority, but then again they may well be insecure about their own roots. No one can truly be said to be themselves, for we are so much the product of our families and friends.

We look around us and are surrounded by be-capped wannabe 50cents dressing and slurring their speech as if they lived in Queens or Harlem, a few aspire to be the next Kwame Nkrumah – often without any real understanding how limited his options were.

Independence did not mean a fresh start; it meant going it alone in a world a system where the rules and economic reality had already been decided by key players. Hope, aspiration and a change of flag could only achieve so much.
The culture and ideology that holds us captive will tell us we are free to choose and yet should we stray ostracism and censure soon follow. Many of us feel far safer when we retreat into our cultural redoubt, for then we are safe from having to formulate our own opinions and core values, we can be handed them off the peg and feel gratified that we are following the norm. Yet those who do challenge the received wisdom are invariably the ones who contribute to that thing we deem 'progress'.

So where do they get this spirit of manumission from? Are they schooled to be freethinking? Is it borne out of frustration with the status quo? The world as we know it is full of false prophets and charlatans, sophistry seems to be the order of the day. Could our genetic make up provide the answer or is it all part of some Divine or Diabolical plan? Knowledge is certainly powerful, but what knowledge and from where or from whom? Is education mere inculcation and are those things we value worthless? For some knowledge, second or third hand is a heady brew, a potent palm wine that addles the brain of some, whilst for others it invigorates and even appears to liberate.

No action is entirely without reason or consequences, even the act of typing and reading of a typed page. Our quest wherever we reside should be to discover what has shaped our being, show reverence for what has gone before, and do our utmost not to become slaves of the past or slavish followers of alien cultures and tradition. Through seeking, there is even a chance we may indeed discover something worthy. The quest begins with ourselves and is invariably a lifelong process.