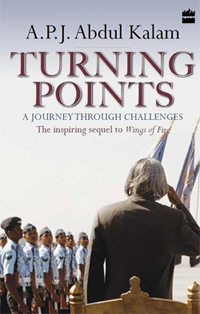 One may regret Dr. APJ Abdul Kalam's political naiveté. One must applaud his intellectual honesty. In his new book about his years in Rashtrapati Bhawan, Turning Points: A Journey through Challenges, he has vindicated the solitary opinion expressed by this scribe in relation to two contentious events that occurred during his tenure.

The first related to the installation of Prime Minister Dr. Manmohan Singh when Mrs. Gandhi was reputed to have sacrificed the post for herself on the urgings of "an inner voice". The second event relates to the defective Office of Profit Bill that was erroneously signed by President Kalam to make it law. A national daily has published excerpts from Dr. Kalam's new book.
Dr. Kalam has written that he did not refuse to make Mrs. Sonia Gandhi Prime Minister. She herself did not stake her claim. The Congress party is putting its own spin on Dr. Kalam's version to reiterate the view that Mrs. Gandhi made a supreme sacrifice. But a careful reading Mr. Kalam's writing suggests otherwise.

He wrote:
"I had a number of emails and letters from individuals, organizations and parties that I should not allow Mrs. Sonia Gandhi to become the Prime Minister of the country. I had passed on these emails and letters to various agencies in the government for their information without making any remarks… At the allotted time, 8.15 pm, Mrs. Gandhi came to Rashtrapati Bhawan along with Dr. Manmohan Singh… she showed me letters of support from various parties… I said…Rashtrapati Bhawan is ready for the swearing-in ceremony at the time of your choice. That is when she told me that she would nominate Dr. Manmohan Singh."
Dr. Kalam has not indicated what letters from which sources he had received and to which government agencies had he forwarded them.
Now read the above in conjunction with what I wrote on June 7, 2004:
President Kalam was instrumental in keeping in office for two years an illegal government that had by law lost its majority in Parliament. All this needs to be recalled not for diminishing Dr. Kalam but because we are on the verge of electing a new President.

"There is no report of the President offering her the post of PM. His letter clearly stated that as the leader of the single largest party and largest pre-poll alliance, he wanted a "discussion" with her. Why should the President have held back? Is it because she could have been a security risk? And hence could not be given access to India's nuclear secrets—making her thereby untenable as PM?
On May 16, 1999, The Statesman carried a report by B. Raman, a retired high-ranking intelligence official attached to the cabinet secretariat. Raman recounted that when then PM Rajiv Gandhi tried to foist a training project by Italian intelligence for RAW officers, the idea had to be shelved. The Italian agent for the project was Walter Vinci, Sonia's brother-in-law, who was connected with Italian intelligence. RAW officers pointed out that Italy was a conduit for nuclear technology to Pakistan. The report was never contradicted. But the day after the Statesman report appeared, Sonia resigned as Congress president… Rashtrapati Bhawan denied that the President discussed Sonia's citizenship issue. But can one not be a security risk regardless of citizenship… Will Rashtrapati Bhawan tell us?"
Then again on June 13, 2005 I wrote:
"Sonia Gandhi did not renounce the PM's post. She was debarred for security reasons. This column requested the President's office to contradict these facts if wrong. The President's office remained silent. It had been quick to rebut Subramaniam Swamy's claim that Sonia's citizenship debarred her from office. Sonia subsequently amended the Congress constitution, created an extra-constitutional post, and became the government's remote control."
So much for Mrs. Gandhi's much touted sacrifice after heeding her inner voice. Unless we know what precise communications the President received urging him to debar Mrs. Gandhi from becoming Prime Minister and to which agencies he forwarded these letters, the reason of her being a security risk cannot be discounted.
The other event related to the Office of Profit Bill is an open and shut case. When the incident occurred I had pointed out that the President had violated his oath of office to preserve and protect the Constitution and law by signing a Bill which Parliament itself had acknowledged was defective. This is what Dr. Kalam has written related to that Bill:
"I received the Office of Profit Bill from the Parliament for approval. I studied the Bill and found that it had many anomalies… I did not find a systematic approach towards deciding the question of what constituted an office of profit. Instead exemption was given to only the existing offices which were occupied by MPs…I returned the Bill to Secretary-General of the Lok Sabha and Rajya Sabha for reconsideration by both the Houses of Parliament. The Prime Minister met me and he was surprised, as I normally send the approved Bill the next day. Why were weeks rolling by with no action, he wondered. I said some action is needed from Parliament… the Prime Minister said that the Parliament has already decided on the constitution of a Joint Parliamentary Committee (JPC) for going into all aspects of the Office of Profit as per my suggestions… I… received a message that the formation of a JPC on the Office of Profit Bill had been approved by Parliament… I immediately signed the Office of Profit Bill. After a few months, Parliament approved the JPC report which was not complete and did not address the problem which I had suggested."
There! Dr. Kalam admits he was deceived by the PM's assurance and signed a Bill which both he and Parliament considered defective to make it a law. What he has omitted to mention is that the original existing Office of Profit Law would have unseated Mrs. Sonia Gandhi and around fifty MPs to remove the UPA government from office.

Not since President Fakhruddin Ali Ahmed signed the Emergency Bill had such a disastrous unconstitutional decision emanated from Rashrtrapati Bhawan. President Kalam was instrumental in keeping in office for two years an illegal government that had by law lost its majority in Parliament. All this needs to be recalled not for diminishing Dr. Kalam but because we are on the verge of electing a new President. The President is required to have political understanding as well as unimpeachable integrity. Dr. Kalam was strong on integrity but short on political understanding. The current aspirants for the post may be strong on political understanding. How do they measure on integrity?