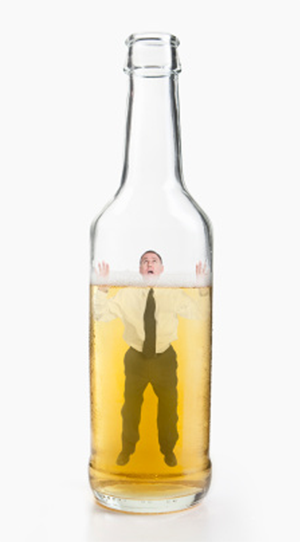 The manner in which Aamir Khan designs his episodes of 'Satyamev Jayate' is akin to something like writing an intelligent screenplay. Though he presents a talk show on some socially relevant topic, he and his team see to it that the invitees and participants present themselves in a manner in which it cover the important purpose of the theme.
The time immemorial alcoholism and its adverse effects were the discussion points in this week's program. Once again, it is a topic which has been dealt with on several occasions and instances in India through all the media in their own ways. Yet, what Aamir Khan presented carried some speciality. Yes. Two people who became terrible drunkards and driven to the point of no return and how they returned to the normal life was described by the two victims. While one was poignant and emotional the other was slightly frivolous and jovial. Surprisingly, a celebrity like Javed Akhtar shared his early experiences in alcohol with all candidness A really heart wrenching and tearful story of a teenager who was killed in an accident of drunken driving of his friend was emotionally narrated by the bereaved father. Such 'hazardous drinking' which seems to be a fashion in India sounded more alarming than actual alcoholism.
The mention of the helping groups and how drinking is not a habit but a disease threw some light that it is, in a way, curable. The higher percentage of 'hazardous drinkers', drinking for fun, and the many accident reports due to tipsy driving proved the point that once again India is more of a hypocritical country because our population considers alcohol consumption is a symbol of rebellion, prestige, societal status and integral part of partying.
Aamir Khan's 'Satyamev Jayate' seems to get equal amounts of brickbats too for his lopsided presentations or topics which have already been covered earlier are given in a new format; like many film stories being served as 'old wine in a new bottle'

Agreed. But, there is nothing wrong in reiterating a good thing and making the public aware of certain social problems. If his star value adds extra charm to the show, I don't think it is a crime.