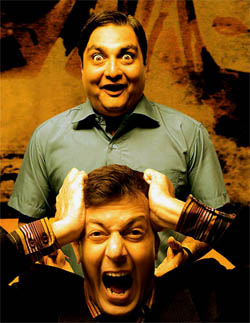 New Delhi
The young, innovative Sagar Ballary, amongst a host of debutant directors, makes his entry this Friday with the comedy "Bheja Fry".

Ballary has teamed up with some of Bollywood's finest actors, Sarika, Rajat Kapoor, Vinay Pathak and Ranvir Shorey, for his first venture.

The film's plot is simple. It revolves around a rich, arrogant businessman and his adventures with a roly-poly income tax officer.

The story goes something like this:

Ranjeet Thadani (Rajat) is a bored, arrogant music company executive who lives his upper class existence by attending "talent dinners" hosted by him and his friends. His life revolves around this stress busting fun but his wife Sheetal (Sarika) hates her husband's habit of poking fun at innocent people.

Sheetal, who is a singer, decides that leaving him will only let him know what she has been trying to do for two years. She leaves his house.

The same day Ranjeet meets income tax officer Bharat Bhushan (Vinay) during a stress busting party. Bharat, a likeable, warm little fellow, is undeniably a big time goof up. His obsession for singing gets him trapped in Ranjeet's house.

He tries to help Ranjeet get his wife back who left him. The result is utter chaos let loose by Bharat, who cannot do a single thing without messing it up further.

Enters Asif Merchant (Ranvir), a tax inspector who is also Bharat's best friend. He is as egoistic as Ranjeet and is always looking to put the other person down. He comes to help Ranjeet at the behest of his friend Bharat, only to discover his worst nightmare come true!

Anant Ghosal (Milind Soman), a music director, is an old friend of Ranjeet. He enters the scene to help Ranjeet find his missing wife.

Ranvir and Vinay had earlier teamed up in the hilarious "Khosla Ka Ghosla". The duo is expected to repeat the same magic in "Bheja Fry" too.