Today, words like climate change, depletion of ozone layer, green house gases etc which were formerly mere terms used in environmental science, have become everyday concerns. The realities of the environment have peaked to a point where they cannot be ignored.
Summer was too harsh for people in India this year, especially in the Northern region. Together with power cuts and power shortage, life was really miserable. People refused to venture out during the day, except those who had no other options, like poor, rickshaw pullers, informal sector workers, manual labourers, marketing and sales people and the like.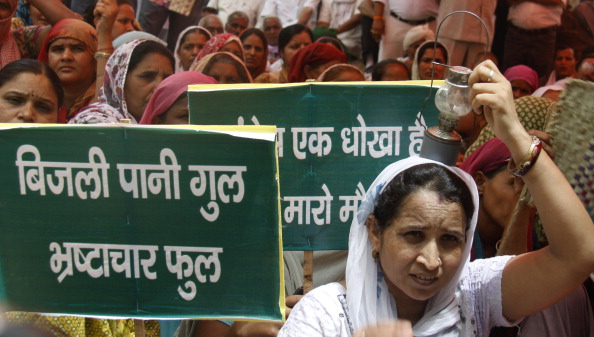 Arrangements for the Green Enterprises Summit that we planned to organize on June 23rd in New Delhi ran into a roadblock owing to the extreme heat. We were unable to move around in the sun, and relying on public transport which had us exposing ourselves extensively to the heat gave us dehydration and even sun stroke! Even my colleagues at Samadhan Foundation, Bhavesh Jha & Amar Singh Yadav, who are from Derbanga in Bihar and Lucknow in UP respectively, were finding it difficult to face the sun.
So we postponed the summit to August 4 since many people suggested organising it in June would be disastrous as there would be very low turnout.
Even winter last year was exceptionally severe. Anita, my wife, who is a journalist in Muscat, came to Delhi to enjoy the winter season but kept on telling me that 'she was finding it difficult' and was ill throughout her vacation.
Yes, climate change is a reality! And worryingly enough, what we are experiencing now seems to only be a test dose, with harsher climes in the days to come! Therefore, living an environment friendly life is something that is being strongly advocated.
Having said that, what can we do at individual levels to address the issue? It could be from using public transport, whenever it is possible to avoiding printing of unnecessary papers that we can surely be avoided are just two examples. Adoption of green practices can come into all aspects of our life. It is not a question of adoption for a few polluting industries alone.
When we buy food in the street, many office goers do that in the cities these days, eat our lunch on a plastic platter. After eating, it is being thrown into some waste water flowing river or some street corner. We are all contributors to this clutter. After a marriage party, the remaining waste, that include, chicken – mutton and other food wastes are often being dumped into a small water flow, which is semi dry or in a river which has little water. So is the case with several of tourism business focussed five star or 3 star and other hotels. We can imagine what would be the end product, when waste is being pumped in tonnes to a static water body. Chickengunia, Dungy and viral infections of several other names are very common in our society. Managing organic waste properly is one of the challenges faced by Municipal administrations across the country.
We need to look at the question of sustainability of our society. How long we can have an economy where we will have to keep on pumping money heavily during a recession in infrastructure development projects, in most cases which do not make much sense? More investment for smooth passage of fast moving vehicles, and 8 lane high ways have become a priority rather than strengthening the public transport system. It is something like the lopsided priority of our planning commission apparatus headed by Montek Alhuwalia, who spent 3.5 million for toilet renovation at his office, when, crores of Indians defecate in public and use street corners and open space as their toilet. An efficient public transport system would drastically bring down CO2 emissions. When people opt for local trains, metro trains, trams and buses etc, cars and two wheelers plying on the road would be reduced significantly. No study is required to prove this. Delhi Metro is the best case in this regard.
However, throughout the world, trend is to expand the economic activities and create jobs somehow thorough all possible investments and expansion of physical infrastructure. But creating green jobs is the challenge of future innovators and entrepreneurial class in the days ahead.
Building the biggest structure is where the competition for and hidden corporate agenda and national agendas of governments lies. Planners have to focus on planning for building a green economy rather than doing things which are not really their jobs, like Montek Singh Alhwalia working for the cause of FDI in retail causing the destruction of millions of street vendors, small retail sector which use very minimal power and still help move this country unlike the large retail chains who would contribute more harm to the environment. In Germany and in several parts of the world, even in the US, people are against WALMART not just for their contribution to jobless growth but also for environmental related reasons as well. WALMART is almost out from Germany but Montek wants them in India. It has nothing much to do with a sustainable development agenda but seems like more of personal agenda and doing a consultancy job.
But when my friend Sudharshan George who is resettling in India after living in Germany for over a period of 14 years refuse to buy a private vehicle. He is living in Hyderabad and using public transport. Similarly, my cousin who came back to Bangalore after a period 10 years of stay in US, Bindu and Sanjay, insist on travelling in public transport. But, many of us are finding it difficult without a private vehicle.
Air Conditioners: are they really required? Will ACs enhance our efficiency? I am not sure. But Air- Coolers will gradually disappear, if the trend continues!
Greening the earth is a challenge. Going to offices using buses, metro rail/local train, bicycles and using air coolers rather than ACs are just few areas at personal level we can contribute in protecting the environment and a sustainable green future!