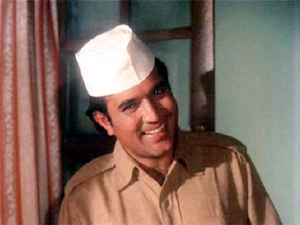 I may sound very crude and cruel; but Rajesh Khanna's professional demise had happened long before. When an artist of his stature falls from the grace both professionally and personally it is equivalent to departure.


I still could not get out of the magic of that man in his late twenties who appeared and taken the whole nation by storm through an otherwise mediocre film 'Aradhana'. That was the first film which enjoyed a year's continuous run in Chennai, Tamil Nadu where Hindi was considered as a demon. The real heroes of the film were Rajesh Khanna and SD Burman and Kishore Kumar. In the opening popular song sequence 'Mere Sapnon Ki Rani' where his repeated antics were more clownish than romantic at the first sight. But, what we saw later was an endearing young man who falls in love, courts his maiden, makes her pregnant, dies all of a sudden and reappears as a dynamic youth again to make us gasp.


His subsequent films like 'Anand', 'Do Raaste', 'Amar Prem', 'Kati Patang', 'Aan Milo Sajna', 'Bawarchi', 'Andaz', and 'Safar' brought some of the best acting facets of the sober, romantic hero. In many absurd films his sheer presence made the film click at the box office. All his success should be shared with the excellent musical scores of the composers of his time RD Burman, SD Burman, Laximkant Pyarelal to name a few. True, he reigned supreme with fifteen solo super hits and he has been given the unique name of 'The Phenomenon' by the press. In the course of time he got type casted and his films slowly started kissing the dust. I, once a great fan of him felt miserable when I saw him in a film 'Agar Tum Na Hote'. Though the film and the songs were once again hit I could not stand the haggard wrinkled face of Rajesh Khanna and his characteristic smile, once captivated his fans and the audience, turned to be pathetic.


There can never be anything as devastating as ageing.


I don't like to write on his forays in politics. His movies became bad to worse and finally it altogether ceased. He went into a hiatus from which he could never make a come back. It should be accepted with a heavy heart that it is humanly impossible with horrible films, failing health and terrible looks to come back and create the old magic. His strength was his unique charm, and alas, that faded away with time.


For me, my favorite star Rajesh Khanna died long back; what happened today was his physical death. But 'The Phenomenon' will be immortal.