Journey of a superstar ends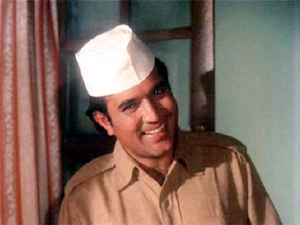 With the demise of Rajesh Khanna, the superstar of 1970s, a meteor has plunged into darkness forever. A greater heart-throb like him shall never appear again in Bollywood and Indian cinema. Combining the acting excellence of Dilip Kumar, sensitivity of Raj Kapoor and romantic style of Dev Anand, this great actor soon became a household name, an icon for romance and a legend in Indian cinema. His style stole million hearts, his dialogue delivery made young men to woo their friends, his guru kurta made many a 'bhadralok' (gentlemen) and his singing style everybody liked to copy.

During 1969-72 every birthday and marriage celebration, all functions, election campaign and picnics had the songs he sang in different films ranging from romantic to philosophical themes. It was Rajesh Khanna all the way. He ruled the whole country. Poor young girls had hard time in controlling their emotions, many pretended to marry his photographs, taking dust from his car and placing on the foreheads and prayed for him when he was not well. A tsunamic effect of love and romance across the breadth and width of India.
Rajesh Khanna was born in Amritsar on December 29, 1942. Against the wishes of his foster parents he took to acting, and shook the Indian film world by his legendary acting specially during a short period beween 1970 and 1972. While presenting him the life-time achiement award in 2005, Amitabh Bachan had said, 'Rajesh Khanna is the superstar, there was never one before and shall be no one after.'
Based on the interviews on TV by Javed Akhtar, Poonam Dhilon, Sabna Azmi, Hema Malini, Asha Parekh, Sharmila Tagore, Mumtaz, Tina Munim, Dilip Kumar and many producers one can fathom the depth that he reached in the hearts of our countrymen. His fame was sky high, his eminence was widespread and his charisma was countrywide. 16 – odd pictures during 1971, all box-office hits, placed Rajesh Khanna in a paradise that none can ever reach.
Messages of condolences are pouring in from many heads of states to common men who miss this charismatic actor. His attraction, his magnetic pull and influence shall not die down. His memory shall remain ever fresh. So long as love and romance shall predominate our lives, Rajesh Khanna shall live till that time.
Rajesh Khanna has once summed up his journey with great emotion:
Izzat shahavate ulfate chahte duniyamei rahate nahin
Jahan mei aaj hun kal koi aur tha, who bhi ek daur tha, ye bhi ek daur hai
Honour, passion, love and longing do not stay on this earth,
Where I stand today, some one else was there yesterday,
that was a journey and this too is another
The nation condoles the sad death of this worthy son of India. May his soul live in peace.