The village of Jajjal is near Bhatinda city in the state of Punjab, and many of the people living there are dying from cancer.  Villagers have indicated that pesticides used by farmers are leaking into the water wells, poisoning the drinking water and causing cancer. 
This news first came to light in 2002, and in 2007 Umendra Dutt wrote an article about this in countercurrents.org detailing how cancer has been ruining villagers' lives and livelihoods.


Images courtesy outlookindia.com
Another village Gaudiyan is near Allahabad city in the Uttar Pradesh state.  It reported several cases of bone deformities in June 2010, according to expressindia.com.  Many medical doctors have attributed this problem to an excessive amount of fluoride content in the drinking water.  Also, those patients who belong to the Fakir community, in which consanguineous marriages are the norm, could have inherited the disease.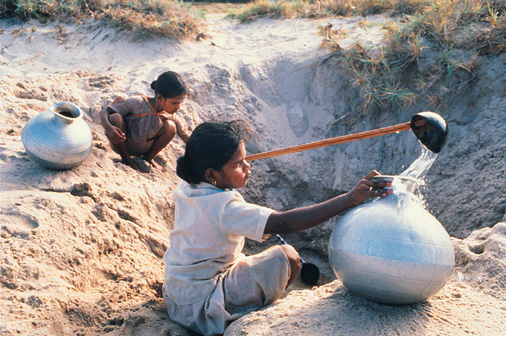 Image (c) Gettyimages.com
In the Gorakhpur district of the Uttar Pradesh state, children living around the flood-prone area have been dying for many years from contaminated water and the encephalitis virus carried by the mosquitoes. The district has witnessed the deaths of thousands of children.
The villages in the Gorakhpur district and of Jajjal and Gaudiyan are just a few of the many places in India that show that governments and leaders have done little to help ill Indians.  What is unconscionable is that governments do not pay attention to problems of any kind, seemingly delaying action for as long as they can.  On June 19, 2012—ten years after the first cancer cases were reported in Jajjal—the central government finally dispatched a seven-member delegation led by a Member of Parliament to listen to its villagers.
In Indian cities, nearly 20 percent of the urban population lives in slum areas.  Water related diseases such as cholera, diarrhea, malaria, and filariasis are taking a heavy toll on the poor.
The point is we have been ignoring the diseases and the destitution that afflict the toiling masses of India.  If we would keep this population healthy and out of poverty, we would have tremendous power to turn India into a happy and prosperous nation.  Unfortunately, our leaders do not seem to understand this correlation.