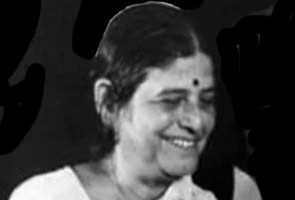 Firebrand women's rights activist and secular humanist socialist leader based in Mumbai, popularly known as "Pani Wali Bai" who had created waves during sixties, seventies and eighties by mobilizing women from local middle and working class women with protest rallies and raising issues concerning sanitation, water,, price rise, black marketing essential items, tribal women's woes passed away on 17th July, 2012 in Vasai, Thane Dist at the age of 84 years.
Mrinaltai was mentored by her family to be a patriot at a very early age. She, quitting medicine, entered street politics in the forties, joining Rashtriya Seva Dal. Influenced by socialist ideals, she started Socialist Party, and began taking up issues concerning the marginalised strata of society. Along with her husband Keshav Gore she also fought for Goa Liberation and Samyukta Maharashtra Movement.
The couple in sixties made Goregaon the key hub of their social activism. In 1961, she won civic election in Mumbai and after a bitter and protracted struggle she managed to get a proper drinking water supply in the city earning a nickname, "Paniwali Bai."A pioneer and visionary, Gore was one of the last of the Socialist pillars in Mahrashtra.
Mrinaltai, as she is respectfully referred was elected to Parliament on a Janata Party ticket in 1977. Gore belonged to that special set of women who took to politics in a period when it was virtually unthinkable for women to be involved in public work. For more than half a century, she had been involved with a series of organisations and leading protests both on the streets and in the corridors of power, focusing on women's rights, civil rights, communal harmony, and trade union activities.
In 2002, in a protest against price rise, Mrinaltai led a rally of hundreds of women brandishing rolling pins from Churchgate to Azad Maidan in South Mumbai. The first time she held a similar protest on the issue was in 1972.
Gore and other colleagues of her husband Keshav set up the Keshav Gore Smarak Trust, which supports community-centered activities and social awareness campaigns and actions after he died in 1958. In 1961, Mrinaltai contested the election for Bombay Municipal Corporation and won a seat in the Bombay Municipal Council. Fighting a hard battle, she eventually brought regular and adequate drinking water supply to the area. For this she earned the sobriquet 'Paniwali Bai'.
After the prices of essential commodities began skyrocketing, Gore was at the forefront in setting up in September 1972 the Anti-Price Rise Committee, which mobilised the largest-ever turnout of women since the Independence movement.
After the Emergency, in 1977, Gore was elected to Parliament on Janata Party ticket. In 1985, she became an MLA again and took up the issue of banning sex determination tests. States Dr. Ranjana Kumari, President of Women Power Connect, Delhi, "For those of us who were active in the women's rights movement in the 1970s and 1980s, the arrival of Mrinal Gore and Pramila Dandavate on the Delhi scene was something of a stunner. They brought with them energy of mass mobilisation of women, for what could be called women's concerns and going to their meetings in Chandni Chowk and other corners of Delhi organised by the Mahila Dakshata Samiti was an experience. It was a true political affirmation of women's power.

Mrinal and Pramila were perhaps, some of the very few MPs that represented the women's movement in almost tangible ways. Women were not part of their agenda. Women were their only agenda."
Mrinaltai was warm, accessible clear-headed and gave many of us the entry into policy-making through their doors. One lesson that emerges from having people like Mrinaltai, Pramilatai and earlier Renukadee Chakravarty in Parliament is that their lobby is clearly the fearless feminist lobby — something that is dangerously lacking in the current membership of women in Parliament.

Politicians across party lines, activists, and hundreds of supporters paid their last respects to veteran socialist, Mrinal Gore, in Mumbai on 18th July, 2012, Wednesday. Mrinaltai was cremated with full State honours. As an elected representative, Mrinaltai voiced concerns of people in the Assembly and Parliament. She left an indelible mark with her selfless and dedicated service. She was regarded with awe whenever she rose to speak in the House as she was always fully documented, logical and great communicator. She was a gifted orator and electrified the atmosphere around her. "She didn't allow anyone to boss over her, nor did she ever boss over her colleagues and friends.

Solving people's day-to-day problems would be a fitting tribute to what Ms. Gore stood for- the rights of the common people to housing, food, shelter, education and health. She had full faith in the socialist vision of social justice and distributive justice.

With the death of Mrinal Gore the country has lost a rare breed of political leader who lived by principles and chose an austere and transparent life over the luxurious lifestyle adopted by today's leaders.

One may have serious differences of opinion with her ideology, for which she fought throughout her political life, but no one can deny her unflinching commitment to her convictions. She lived a simple life and preferred high thinking, unlike the leaders of today. Her dogged struggle for the underprivileged cut across all lines. As a leader who worked tirelessly for weaker sections of society, this year she received 'Siddhivinayak award' for outstanding work on women's issues."

Passing away of such a towering personality as Mrinaltai has ended the Era of selfless dedication to the cause of poor and marginalized. She inspired the whole generation of Women like us. She will remain in our memory for rest of our lives.