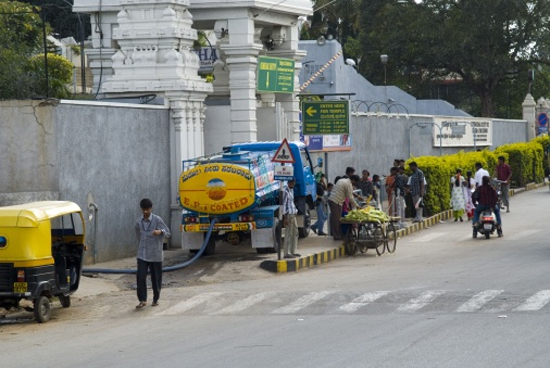 Aamir Khan, this week, had chosen the most important, neglected but abused natural resource by Indians: Water. The ever increasing population, their demands, the growth of industries, the total apathy of the public and above all the atrocious indiscipline prevailing among our country men could be clearly read from this particular episode.
The initial visuals showed the scramble among the villagers in Maharashtra for tanker water while the water from their neighborhood villages has been diverted to the cities through pipelines. This type melee had resulted in the death of a young boy. Lot of bloodshed and agitations have taken place for water! In Bihar the villagers guard their water with rifles! It is a known fact that in most of the public places where anything is distributed free of cost, chaos and stampede resulting in death are common phenomena in India. But, the bitter truth is India is a country which has and gets adequate water! Blame it on our unbridled population and indiscipline!
However, once again the typical Indian hypocrisy comes to the foreground because we are the people who claim rivers as 'goddesses' but pollute them with garbage, dead bodies to toxic industrial waste with supreme irreverence. As one of the participants mentioned there are laws which state that ground water and air are not to be polluted but after all Indian laws are there to be violated.
Indeed, there are silver lines like some group of villagers in many states who created artificial ponds to collect the rain water and use it for their purpose without scarcity. Unquestionably, this is a group effort which should be lauded. The Tamil Nadu Government's Vice Chairperson, State Planning Commission, Santha Sheela Nair who brought the concept of rain water harvesting in the state in the year 2001 through compulsion with the support of the Chief Minister which proved to be one of the best methods of combating water crisis.
Anupam Mishra of Gandhi Foundation earlier mentioned that the public considers the value of land than the value of water below it. True, that is the reason we find most of the new buildings leave neither space for free movement nor leave any part of their compound without concrete so that they can use the space for making money. Thus we prevent the accumulation of the rain water seeping into ground and to increase the water table by regular collection during rainy days.
One can live in India without a single rupee. But, can he/she live without water? Even if one can, for how long?
Indian culture knows how to connect every aspect of life with a noble or divine tag. But, ultimately, we abuse them to the extent possible. We could feel it when the visuals of the rivers of the foreign countries were shown and the conditions of our own 'sacred' rivers.
Do we really have a heart?