Poor Little Rich Slum: Rashmi Bansal, Deepak Gandhi, Westland, Rs.250, pp.190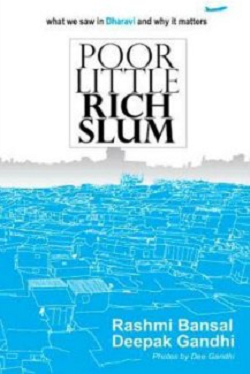 India is unique in many ways; in the entire globe, I am sure India must be a singular subscriber in eulogizing poverty, illiteracy and at the same time keep saying they are doing everything to wipe them out from the society.
What one can expect a book on Dharavi slums?
The title itself tells the contents; 'Poor Little Rich Slum'. 'Poor and Rich'. Oxymoron? Yes. It only describes in detail many positive sides of Dharavi slum apart from the fact that it has many drawbacks, if at all one considers them as drawbacks.
Dharavi promotes business, education, research, women entrepreneurship, health, medical camps, arts…you name it, it is there. Jameel, the first rather big business man in the book who designs dancing shoes for Katrina Kaif, Hritik Roshan and Priyanka Chopra has an office of 10x10 with marbonite floor and a refrigerator but without a toilet. In the first few pages we read that in Dharavi one toilet for 350 people. But, you are surprised to find out the people from Dharavi are so courageous, enterprising, positive, diligent, honest, focused and what not. Notwithstanding the fact that many of them got better opportunities outside Dharavi they are willing to stay back in their 'own paradise' than moving to the other world.
The book identified the successful activists and entrepreneurs from Dharavi and highlights their achievement with cloying encomiums showered on them. The Dharavi business men are globe trotters and activists have been recognized by international forums. After reading this book one cannot but wonder how the rest of the country is anything different from the bigger version of the Asia's largest Slum.
As expected the book concludes that 'Dharavi should be celebrated and replicated' because there every human has the potential to be 'ignited' and poverty is nothing but 'a state of mind'. Ahem, the Dharavian says
'Hum log cement ke ghar mein nahin, insaniyat ke ghar mein rehte hain'
One of the aesthetically laid out and printed books I have seen in recent times. I appreciate.
So, after reading the book I understood that many of us live in 'poverty' because of 'our state of mind'. Let us pass on this message to the new President of India Mr. Pranab Mukherjee who expressed his desire in his first address that 'poverty should be completely eliminated from this country'.