Continued from: "Water, Water Everywhere, Not a Drop to Drink"
The Thirteenth Episode - Satyameva Jayate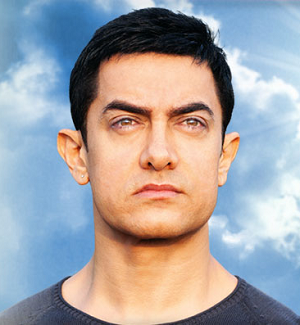 Today's episode of 'Satyameva Jayate' was pure gold. Full of vibrant, positive, hope-generating real life stories, the episode was typical Aamir brand. It was perfect.

What better words to choose for setting our goals than the Preamble of our constitution. What is desirable in today's India is truly enshrined in those limited but pregnant words. Being above from caste, and religion, we should respect all, provide equal opportunities to all; our soil should provide justice to all. We must believe in the power of the people, in our own power. What really gravitated me to this show was its belief that things can change in the first place.
The dream of an honest, hard-working, righteous India must not die. The death of a dream is even more tragic that reality. We must have faith in ourselves. If we get cynical, there'll be no hope for our future generations.
In the second place, the approach of the show did not point finger at others. Today we have so many so called crusaders who are never tired of blaming the system, the politicians, the laws etc. They themselves might never have changed a single life. Here was a show that highlighted 'doers' rather than preachers. Moreover, sensible viewing must be promoted in this country. We get what we deserve. Melodrama, cheap gestures, sensationalism, endless 'eye addiction' to nonsense, the irritatingly unreal 'sas-bahu' stuff is definitely harming people's mentality.
'Satyameva Jayate' too might have had its weak moments. Many people saw the obvious connection to Oprah Winfrey. The critics proclaimed that Aamir wanted to India's Oprah. But as long as the issues are real, what's the harm in using stardom. Sometimes the comments read that Aamir is making money out of tears. I don't buy such arguments. If good work is being done, talked, promoted; I don't have problems. Aamir would have made money anyway. Let people become 'great' if it helps the nation. Even if good activities come out of the seed of personal ambition, there should be no problem. What has been important is the perfect texture of the show, the right mixture of entertainment, pathos, and purgation. The artistic and articulate highlighting of genuine issues has been simply matchless. The whole team of the show did a thorough job.
This last episode was all about heroic deeds, persistent effort, and untiring faith in goodness. Sarvodaya Trust in Gujarat was taking care of quake victims when the communal riots of 2002 happened. The riots added its own victims into the lap of the trust. Both Hindus and Muslims now live together harmoniously. The Muslim orphans follow their own religion while Hindus go with their own practices. It was a heart-warming scene of human love.
In Kashmir, when Hindus were forced by extremist forces to run away from their ancestral land, Asha Bhat and her family were made to stay back by their Muslim neighbours. Today Asha is the elected representative of her village. Sanjiv Bhat left the stereotyped script of life for a well-educated boy from Delhi. He went back to his roots in Bihar to assimilate the marginalized castes into the mainstream.
Sunitha Krinan's story was outstanding. Her Hyderabad based organization 'Prajwala' has rescued about five lakh forced sex workers and children from the illegal trade and has rehabilitated them. Sunitha underlined the ingrained hypocrisy of our society which abhors the victims and adores the exploiters. The customers, the buyers in this trade live respectfully while the forced kids and women are doomed forever.
Naseema Hurzuk in Kolhapur, Maharashtra has changed the lives of as many as eighteen thousand disabled children through her school. Subhashini Mistry from West Bengal has been a vegetable vendor. Today, she and her doctor son are running a huge hospital for the poor. Babar Ali, again from West Bengal teaches poor children of his village. At nineteen, he can be said to be the youngest headmaster of a school in the world.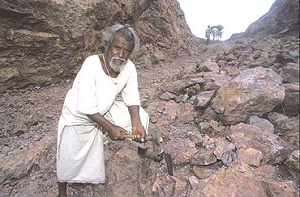 Dashrath Manjhi (1934-2007) was born into a poor labourer family in Gahlor village in Bihar. Dashrath Majhi's wife died without any treatment, because the nearest town with a Doctor was 70 km away from their village. Dashrath did not want anyone else to suffer the same fate as his wife. So he did the unthinkable. He single-handedly carved a 360-foot-long, 25-foot-high and 30-foot-wide road by cutting a mountain of Gehlor hills with a hammer and chisel working day and night for 22 years from 1960 to 1982. This passage reduced the distance between Atri and Wazirganj blocks of Gaya district from 70 km to just 7 km. -
Source Wikipedia
In a village, Gahlor Dashrath Manjhi cut across a hill all by himself in twenty two years to shorten a 70KM distance to 7KM.

In Faizabad in UP, Sharif Chacha buries or cremates un-owned dead bodies spending from his own pocket.
The story of Azim Premji is different simply because here is an able man taking up a noble cause. Wipro Foundation has so far helped 25 lakh students in 25 thousand schools. The idea is marvellous. The Foundation trains teachers. It creates a good creator. Premji talked about his responsibility to give back to a society which has given him so much.

The story of Satyendra Dubey was heart-rending. One of cosy conventions of the corrupt officialdom in our country is return of a complaint to the one against whom the complaint has been made. This helps the criminal in identifying the one who is trying to bring him to justice. This finally leads to the harassment of the complainant or as in the unfortunate case of Satyendra Dubey, elimination of the complainant. The relevant question was that this country perhaps does not deserve honest people like Dubey.
The dream of an honest, hard-working, righteous India must not die. The death of a dream is even more tragic that reality. We must have faith in ourselves. If we get cynical, there'll be no hope for our future generations. There's a large section of Indian society that desperately wants a better India. The expectations have risen. Many upright Indians want solutions. People want to be proud of the country. They don't want the system to let them down. The layers of hypocrisy are peeling off. Many Indians today are asking difficult questions. The answers lie with them alone. Any outer agency will not change things. It's our own work, attitudes, and thinking that will change things. Let's work for the best and also hope for the same.

Image of Dashrath Manjhi courtesy outlookindia.com