Truth is stranger than fiction. But, unfortunately, most of the time we prefer to live in fictitious world. When some amazing realities strike us we feel whether we are really living in an absolutely focus less country like
India
or some other world! Probably, that must be speciality of Bharat.
The last episode of much publicized, criticized, watched and enjoyed Aamir Khan's 'Satyamev Jayate' should have been a humbling experience to many; if not for others, at least for me. He showed some INDIANS who have been thoroughly selfless and service minded who prefer to dedicate their lives for DOING something to uplift this rotten society they were destined to live in.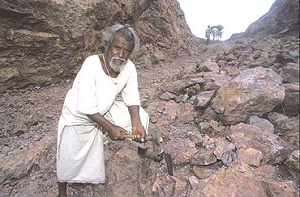 The most significant one was the last; the tireless fight of an old man Dashrath who carved a 360 foot long, 25 foot high and 30 feet wide road by carving the mountain of Gehlor hills with hammer and chisel single handedly for 22 long years to reduce the distance between his village to a place where hospital is available from 70 km to 7km between 1960 to 1982 stood out like a colossus. This nation should feel ashamed of its indifference to such a condition and the media should equally feel guilty for not helping that poor man.
The Desais of Surat had taken up the onus of educating and caring the children of Gujarat quake and riot victims without looking for their religious background. A physically handicapped Nazeema provides hope and life for many like her. Sunitha Krishnan's bravery to rehabilitate the flesh trade victims is heart rending. A nineteen year school boy Babar Ali's efforts to educate his village children in the most backward conditions is soul stirring. Sheriff Bhai's emotional commitment to volunteer for performing final rites for he unclaimed dead bodies bring tears in the eyes.
Aamir Khan added a few more real performers in changing the nation's image without opting for publicity. Of course, our media moguls are also not interested in promoting such activities because they are more concerned with fashion shows, cricket matches, political corruptions and silly talks with film stars.
Being a popular film star might have been advantageous for Aamir Khan in selling the program. But, it is true that he had taken enough pains to make engaging episodes with able direction by Satyajit Bhatkal and the help of excellent research and operating team. His anchoring was something special because being a remarkable actor he did know how to present things with appropriate emotional changes.
'Satyamev Jayate' might have ended. But, definitely it should have stirred the emotions of thousands of young, old and middle aged Indian viewers. His mission is fulfilled if the young audience present during the last episode was influenced to some extent because they are the future of this country.