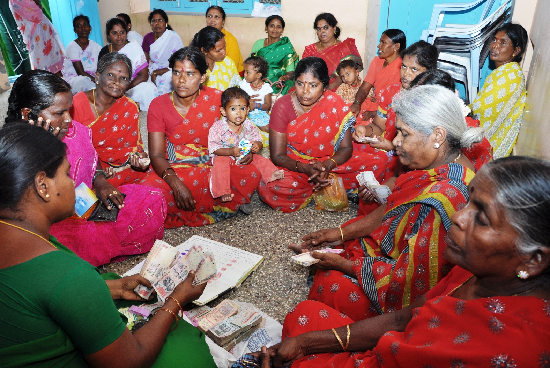 Now in her late nineties, Mathalai Mary still remembers those distant days in which private moneylenders ruled the roost in her native village Karipatty near Salem. Mary borrowed Rs 500 from one among them to meet an unexpected need of her eight member family once but the repayments including penalty interest in the next one decade came around Rs 50,000. The whole family had landed in poverty and there was no recovery since then. Her three sons and two daughters stopped their education at primary level to ensure a better academic future for their bright brother Kulandei Francis. The entire family turned landless very soon by selling off their only piece of land and that too for ensuring University education for Francis, who shoed exceptional calibre and a philantropical bent of mind since childhood.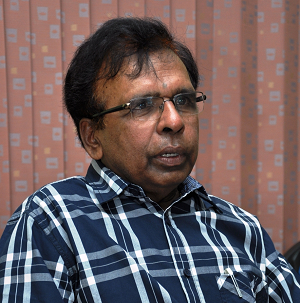 Many years have passed and Mary has turned the leading light over the years for Kulandei Francis, who so far liberated 1,53,990 women of Krishnagiri and Dharmapuri districts of Tamil Nadu and their families from the exploitation of money lenders and provided them a life beyond exploitation. The movement is catching up the whole Krishnagiri-Dharmapuri belt and neighbouring taluks of Vellore district. Interestingly, this is the belt that won international attention in the last two decades because of high rate of female infanticide and extreme level of poverty. The Kulandei Francis movement was indeed a silent revolution in the last three decades of its existence because it never went behind nespaper headlines. Even those in the nearby Coimbatore and Salem came to know about Francis and his organisation Integrated Village Devolopment Project (IVDP) only after he was chosen as one among the six to bag the prestigious Ramon Magsaysay Award, arguably the Asian equivalent of Noble Prize.
The savings-and-credit groups he formed in the last three decades have grown into an all-women movement of 8231 SHGs (Self Help Groups) with a cumulative loan port folio of US $435 million and a reserve fund of US 4 8.9 million. The savings of all the SHGs comes around US$ 40 million. While conferring the award, the award committee found that the IVDP experiment derves appreaciation as it has turned into a financially disciplined, self- reliant, member-owned and member-managed organisation. Further more, the group's solidarity and access to credit have fuelled sucessful village programmes in health and sanitation, housing, livelihood and children's education, including scholarships, performance-based incentives for students and schools, a primary school for tribal children and a computare training academy that so far trained over 5,000 poor children.
The level of ecomic independence brought about by IVDP to the then impoverished families can be seen in the life of Mankamma, a 36-year-old mother of three children from Pananthoppu near Vettayampatty. She used to rear goats while her husband was enaged in masonry work. The income was less and the family was always in near poverty. It was nine years ago, she was attracted by the SHG movement and availed a loan of Rs one lakh to start a rural hardware shop. The shop with modest beginnings is now having a daily business of more than Rs 1 lakh. ``The amount I had repaid in time as the business progressed. The SHG given me two more loans and they made my hardware shop one of the best in the whole area,''she says with proud.
Rajalakshmi of the same village has a different story to tell as she apprached the local SHG 12 years ago after her cow died of an uncommon disease. The cow was the whole source of income for her six member family. She got a loan to start a small idli shop and the shop is still attracting food lovers by providing best idlis. When her son completed plus two with good marks, Rajalkshmi sent him for studies to become a vetrinarian as she thought that would help protect cows in the region from deaths.
``My role is limited to the level of a facilitator and these wonderful women are no acting as agents of change in this poor and arid region. My works were taken seriously by noe so far and so the Magsaysay Award had turned a shock for me,'' says Kulandei Francis, while helping an SHG in making entries in teh accounts register and that too a day after hearing the award news.
Apart from the SHG revolution, this priest turned social worker is undertaking numerous initiatives and the latest one is installation of a computer training centre from inmates of Vellore Central Prison. Perarivalan, who faces death sentence in the Rajiv Gandhi assasination case, is now holding the responsibility of imparting computer education to the inmates using the facility.
Natrampalayam, Anjatty and Kodiyoor on the tri-junction knot of Tamil Nadu, Andhra Pradesh and Karnataka in Krishnagiri was the chosen field of Francis in the beginning and there he conducted night schools in the light of gas lamps and small first-aid centres. Then he initiated a micro-watershed programme and built 331checkdams in sixty agricultural villages in 22 years.
Though Francis began as a Catholic Priest with Fathers of Holy Cross in 1970, he left the order by 1977 and became a full time social activist. ``During my priesthood, I was became part of Caritas India's (social service wing of catholic Bishops Conference of India) charity works and was assigned to work with famine hit people in West Bengal, who were displaced from bangaldesh following the 1971 war. Then I worked with NGOs in Pune and Trichy and landed finally in Natrampalayam to devote myself to liberate people from mone lenders,'' Francis recalled.
``In the begginning, I used to form SHGs for both men and women. But male SHGs started collpasing because of many reasons and one among them was alcoholism. Then I focussed only on women empowerment and that would benefit men also,'' he said.
Like many others, Francis also started the movement by dwaing inspiration from the Micro Credit Movement and he even visited Bangladesh to study micro credit movement of Muhammed Yunus there. ``Later I found micro credit movement is not suitable for our people and my SHG project has nothing to do with it. Organised into clusters and federations, our SHGs are directly linked to banks through group accounts, bulk deposits and loans that have given the SHGs the power to leverage preferential bank treatment. These poor women are managing their finaces effectively and reliably now and even the profit out of loans and transactions also being shared among them,'' explains Francis.
Accordiong to him, now the menfolk of the region are realising that women too can become earning members of the family and support its members. So the female infanticide trend has started diminishing. Women are getting respect and they even constitute financial backup of banks operated in the region, mainly State Bank of India, Pallavan Bank, Bank of India and Indian Bank.
The SHGs are also undertaking a sanitary napkin movement in the region. ``Personal hygine was a bigger issue here in the past and now our SHGs are distributing napkins worth rs 25 lakh. Seventy five percent of the women in the region are getting sanitary napkins through us at 25 percent discount from companies because of bulk purchase. There is a small profit out of the distribution even after the discount and even that money si being divided among the SHG members,'' says Francis.