Media commentators were quick to draw a link between the Pune serial bomb blasts and the appointment of Mr. Sushil Kumar Shinde as the new Home Minister. One begs to differ from their conclusion. One doubts if there was any connection at all between the two events apart from common timing.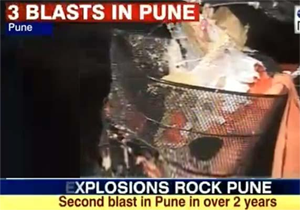 Certain features about the Pune blasts deserve noting. The serial blasts were all low intensity. Yet the ability to conduct these in quick succession at different points in the city indicates a high level of competence and organization. Serial blasts by themselves indicate that it was the work of a terrorist organization.

Why should terrorists issue a warning to Mr. Shinde? On the other hand after Mr. Shinde's performance as the power minister they should welcome his elevation. As Home Minister he offers hope to them.
There was another event that occurred to coincide with the terror blasts which failed to attract the attention of analysts. On the same day as the blasts the government gave a big boost to Indo-Pakistan ties by further promoting trade. The government has given permission to Pakistani citizens and companies to invest in India outside the defence, space and atomic sectors.

This indeed would greatly interest terrorists linked to each other for a common aim across India and Pakistan. Their common aim of course is to prevent any improvement of relations between both nations. Among the terrorists also there appears to be a division of objectives. One section seems wholly committed to permanent rupture between India and Pakistan in pursuance of the global agenda of a major power. This may be described as the global section. The other section appears limited to prizing Kashmir out of Indian control to realize Islamist dreams. This may be described as the Islamist section. Both sections are inimical to improved Indo-Pakistan ties that would get a boost through enhanced trade.
The fact that the Pune blasts were all low intensity to greatly limit damage of life and property suggests that these were organized as a warning. The same blasts could have been engineered through use of lethal bombs. The Pune terror could well have been inspired by the Islamist section. A warning seems to have been issued that terror can be unleashed at will; and unless the Kashmir issue is resolved to the satisfaction of the Islamists it could recur with much greater intensity. Regardless of which transnational section organized the Pune terror, the government should dispel confusion about the prospects of Indo-Pakistan ties. Unless terrorism is effectively neutralized Indo-Pakistan peace moves will be repeatedly derailed by forces hostile to Indo-Pakistan accord through terror.
That is why on April 13, 2012 it was pointed out in these columns:


"The UPA government is encouraging enhanced trade with Pakistan and China in the belief that this will build confidence and defuse India's tensions with both countries. This approach is widely acclaimed by analysts and experts. It is a policy that needs to be pursued with extreme caution.

By pursuing this policy India could be walking into a trap…

Pakistan …recently… had received encouragement from Beijing to increase trade ties with India… President Zardari… said… contentious issues to remain on the back burner while trade is allowed to flourish…

Would President Asif Ali Zardari and Prime Minister Gilani be advancing trade ties with India without clearance from the Pakistan army? Why would Pakistan's Generals allow enhanced trade with India? Why would their mentors in Beijing give them the nod to go ahead?

The reason could be simple. India could thereby get trapped into an arrangement that would be very difficult to exit.

What our government should never forget is that while India is a democracy, however badly governed, both China and Pakistan are for all practical purpose dictatorships controlled by their respective armies…

In dictatorships governments control big business. As trade between a democracy and a dictatorship grows the commercial vested interests influencing the democratic government become more powerful. In time these become unstoppable. The democratic nation becomes a prisoner of commercial interests that would sacrifice the national interest in order to protect and promote commercial profit."
On the light of the above, enhancing trade ties without effectively addressing the terrorist threat could prove dangerously counter productive.

So what might be done?

With regard to that, whether right or wrong, one has definite ideas about how lasting Indo-Pakistan peace might be achieved. The Kashmir issue must be resolved to the satisfaction of both nations to defuse opposition in a section of Pakistan's ruling establishment. Such a Kashmir solution can be achieved if a holistic approach to Indo-Pakistan relations is adopted. Such an approach would be possible if there could exist trust between both governments. Trust could be achieved only if both armies were to reach accord. Both armies could reach accord only through an agreed joint defence strategy. Only after reaching such an agreement would terrorism end.

That is why the governments of both India and Pakistan deserve criticism. They are putting the cart before the horse. Joint security must precede enhanced trade and lasting friendship between both peoples.